The exact strategy I'm following for early retirement with internet money
Writing online is a golden ticket to freedom.
But it can also become an endless rat race if you approach it the wrong way, making you peanuts while bleeding in front of your keyboard.
Instead of chasing likes, subscribers, and other useless vanity metrics, let's see the simple strategy you can use (and that I've been using for years).
What do I like the most about it? You can do this in your spare time.
1. Identify a Bleeding Neck
If you think that expertise is enough to make people throw their wallets at you, think again.
Instead, people will spend their hard-earned money with you if you solve a problem.
Don't just publish random thoughts on the Internet, hoping that'll stick.
Think about who you want to impact. It's about that middle-aged guy who can't figure out how to retire early. It's about the overworked single mom desperate for a side hustle without leaving her kids unattended.
Their issues are your gold mines. Your expertise is just a tool to dig them out.
Why bother with abstract notions like "empowering people" when you can say, "I'll save you X amount of time and make you Y amount of money"? The latter sells like hotcakes because it addresses a bleeding neck.
Not sure where to start?
Spend a week scrolling through social or head over to Amazon. Listen to the grumbles and the desperate questions.
Solve the problem. Bandage the wound. Make $.
2. Build an automated traffic machine
SEO is the best way to fill up your email list with leads on autopilot.
Three simple letters that make social media bros roll their eyes.
Maybe you're thinking it's outdated, a relic from a bygone era. That's like saying email is dead because we have Instagram now. Good one!
The key is knowing how to play the game today, not ten years ago.
SEO is not about stuffing keywords like a turkey on Thanksgiving. It's also not about writing your diary.
SEO is about creating the best resource on the internet for a question people are already Googling.
But don't make the mistake of going damn broad. Instead, niche down.
As an example, I didn't write a single "Email marketing" guide, even though it's one of my expertises.
Those spots are gone.
Instead, I go deep down into product reviews like those around Beehiiv, Substack, or ConvertKit.
To find SEO content that ranks, ask yourself:
What tools/products/widgets are these desperate folks using?
What questions are they punching into Google at 2 a.m?
Those are your golden nuggets.
There are plenty of free tools for this, like Google Trends or AnswerThePublic.
Make your content so useful that people want to bookmark it and share it with their friends.
Google will send you loads of traffic in return, for years to come.
3. Grow Your Email List
You got the pain and the traffic; now what?
Time to start building your email list.
Not having one is like a fisherman without a net. Sure, you may catch a fish with your bare hands now and then, but wouldn't it be better to just cast a net and get a whole school?
Other platforms come and go, but email is the cockroach of the digital world—indestructible.
At the end of each article, include a simple call to action. Give your readers something they can't refuse, like a free e-book or a checklist related to the article.
5% of your readers will give you their email.
Once they signed up and got your freebie? Don't ghost them.
Share updates, tips, or even random musings—as long as it's valuable and keep you on their radar.
4. Create something people want
So, your email list is buzzing and your content's hitting the mark.
Time to level up.
People are reaching out, asking for more. They want to swim deeper into your pool of wisdom. Don't leave them hanging; it's high time to make an offer.
Don't overcomplicate it.
Start with coaching. Hook up your calendar with Stripe. Make your first internet bucks. Sure, coaching is trading dollars for hours.
You want to scale and that juicy passive income, right?
Not so quick, grasshopper.
Start thinking scaling only after you talked to your audience on the phone to make sure you get their pain points right.
Then, package your solutions into an online course.
Standalone courses are rarely worth more than $500. So if you want to make cheap courses work, you need sh*t loads of traffic.
To hit 10 grand a month with a small audience bundle your course with group coaching. Group coaching is extremely valuable for your students (and also more profitable for you).
Show up once a week and double your prices overnight.
It's an easy win-win.
5. Leverage plain-text emails to make dough while snoozing
Now, it's time to make sales on autopilot.
Enter: Automated emails. You may think, "Automated? That's so impersonal."
Not if you do it right.
Automation is just a tool. And like any tool, it can be used to build or to destroy. A hammer can build a house, or it can tear it down. It's all in how you wield it.
I like to create free email courses that soft-sell my courses and coaching programs 24/7/365.
The formula is simple: each email is packed with an actionable insight. The last sentence has a link to a paid offer.
That's your playbook to $10k a month.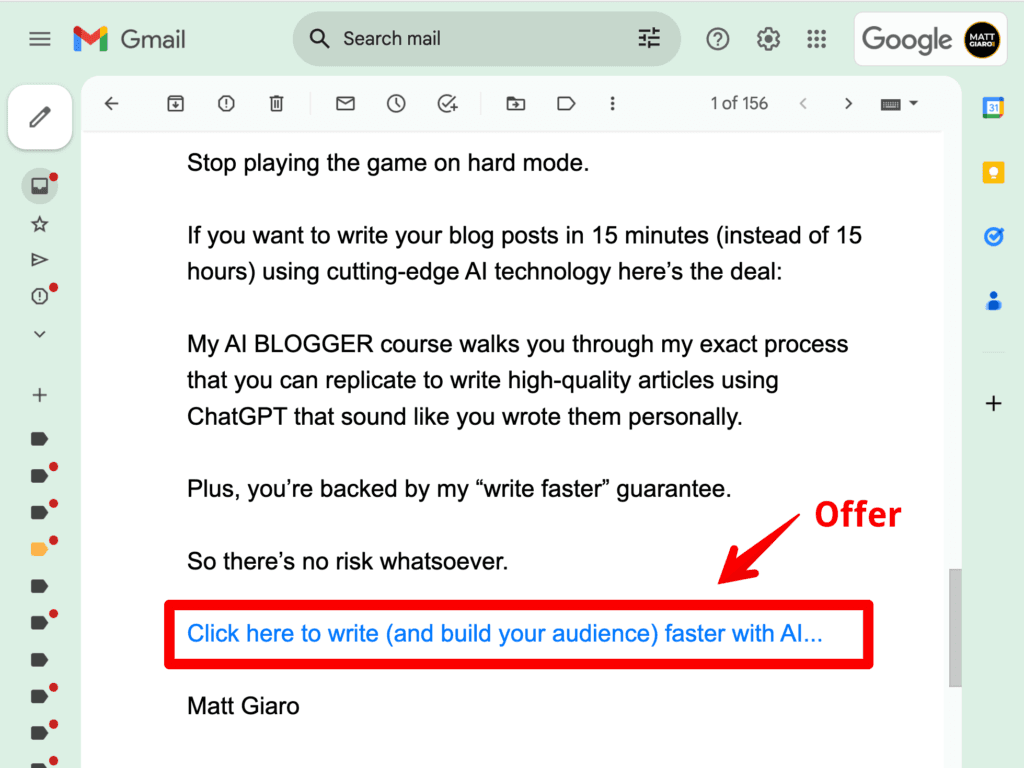 It's not about being pushy. 
But more like, "Hey, if you found my free stuff helpful, just imagine the kind of transformation you'll experience with my full course or coaching program."
Emails are part of a holistic approach where selling is the next logical step in their educational journey with you.
Don't be impatient. Just because someone didn't buy in the first 30 days doesn't mean he's a tire-kicker.
In fact, 80% of your customers will buy after weeks or even months.
I see it all the time. Most of my clients have been reading my stuff for months before pulling the trigger.
Bottom line: Mail your damn list.
Decoding the slow path to big money
Setting up those things takes time.
But 2 hours per day is more than enough to keep the ball rolling.
As an example, I write SEO articles that rank on page 1 (Proof here) in just 30–60 minutes.
The secret here? Don't try to do everything at once.
Rotate between different tasks.
Don't build a course if you don't have traffic. Be strategic. Prioritize.
It's not about the time you have, but about the system you're using.
And if you can stick to this simple system for the next 24 months, I bet my kidney (only one, I need the second) you'll hit the numbers I mentioned.
Amen.
Here are 3 Free courses I've created that'll help (Feel free to pick one):
How to make more money with automated emails (click here)
How to rank your website on Google in just 48 hours (click here)
How to write articles faster with AI that sound like you (click here)