This is a full review of the Beehiiv platform.
By the end of it, you'll know exactly whether you should go for it or not.
I personally send over 1 million emails a year across my different businesses and have tried almost all autoresponders out there.
And today, I'll put Beehiiv on the grill.
Let's get started.
Beehiiv Overview: How Does It Work?
Beehiiv is a blogging platform AND email autoresponder all in one.
You can start something called a publication within your personal account settings.
Think of a publication as a newsletter and a blog combined. A little bit like Substack.
You can have an unlimited number of publications, with a total of up to 100k subscribers. (That's a lot!)
So if you're running different businesses, you could potentially get away with one Beehiiv account to manage them all.
✍️ Creating Content in Beehiiv
Many autoresponders bury the "write a new email" button under many useless clicks.
The folks at Beehiiv got this right by adding a "write" button right at the top right of your dashboard: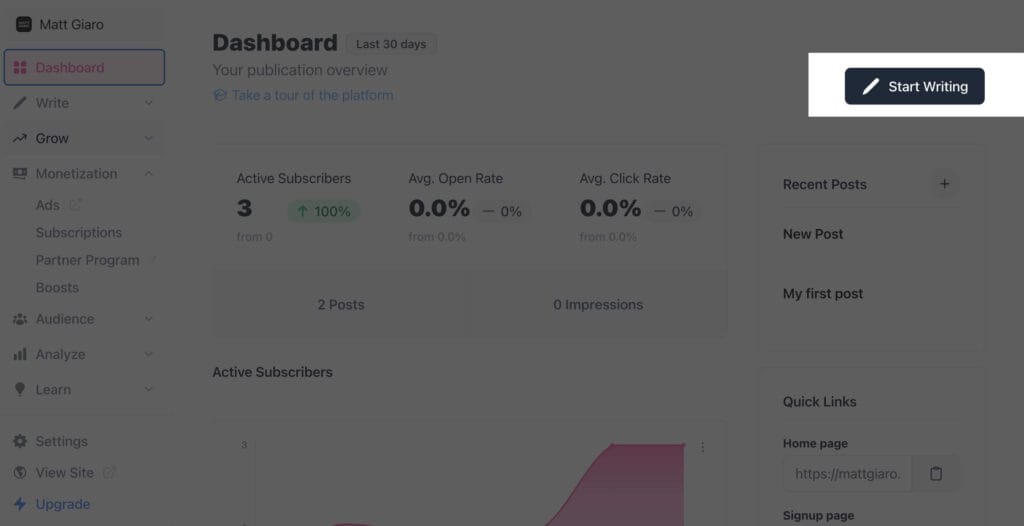 Each content you create can be:
A blog post
An email newsletter
Both
So if you only want to schedule an email, you need to tweak the default scheduling options like this: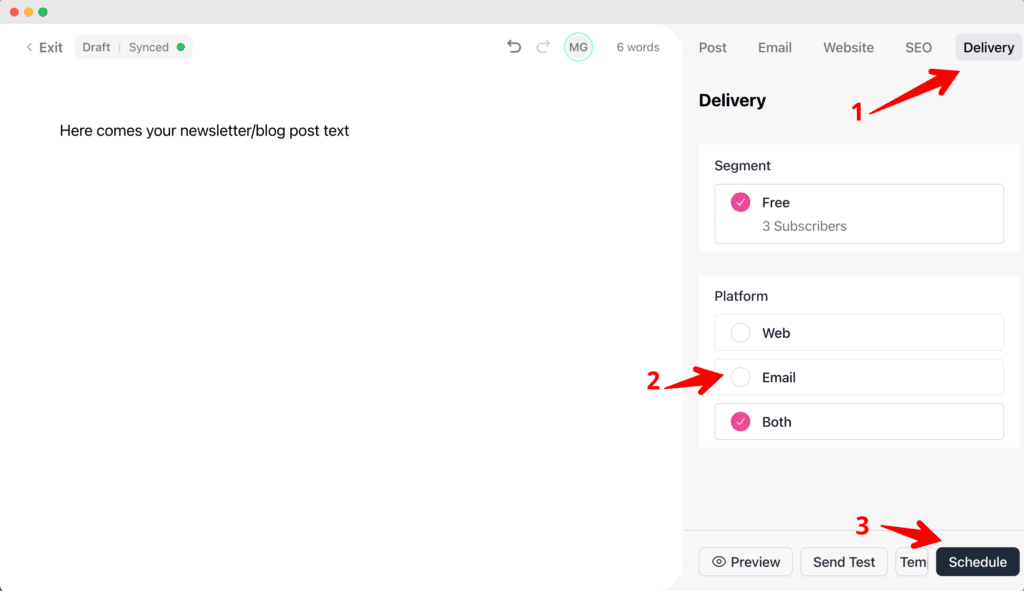 My opinion: I found this quite confusing. By default, I'm using an autoresponder to send emails, not to blog.
It may make sense for folks who don't have a website and want an all-in-one solution. But at least, I'd love to be able to deactivate the blog feature completely to speed up my email sending workflow.
The problem with this is that it adds several more clicks to simply send out my broadcasts.
📤 How To Create an Autoresponder and Welcome Sequence in Beehiiv?
Autoresponders are emails that go out automatically based on certain parameters.
For example:
1 day after signing up, send email A
2 days after signing up, send email B
etc.
On the flip side, broadcasts are emails that go out on a specific date and time.
🦄 Unique Beehiiv Features
There are many autoresponders out there. But let's look under the hood and see what Beehiiv has to offer in terms of uniqueness.
Acquisition source
This is incredibly useful.
I can't believe that no other autoresponder thought about implementing this. That's why I've created a custom tracking system on my end. Beehiiv includes this feature out of the box.
But there are limitations to it.
For example, my custom-built tracking system allows you to know exactly from which article my subscriber came from.
Not only the medium source (like social, blog, etc.).
When it comes to Beehiiv, the only indicator you get is the medium source.
So if the subscriber comes from your blog, then it will simply indicate your website without actually showing you the article that brought in that subscriber.
Here's what I mean:
So while this acquisition function is great, it lacks granularity for geeks like me.
Recommendation feature
Beehiiv has a built-in recommendation feature that allows you to recommend other publications.
And on the flip side, you can get recommended by other publications.
On paper, this seems interesting.
But in practice, first of all, it's pretty hard to discover good publications. The hashtag system is not intuitive. How the heck do I figure out the level of granularity of the hashtags if they're not displayed in front of me?
Second, if I wanted to really recommend another publication, I would actually need to know that their content is worth it.
And third, there aren't many publications available.
I found it kind of disappointing because, again, you're locked into the Beehiiv ecosystem.
So unless you really have a lot of related content creators on the platform, that's probably not something that you're going to benefit from.
For example, when it comes to discovering other recommendations, when I type in the hashtag "business," I only get 10 publications or so.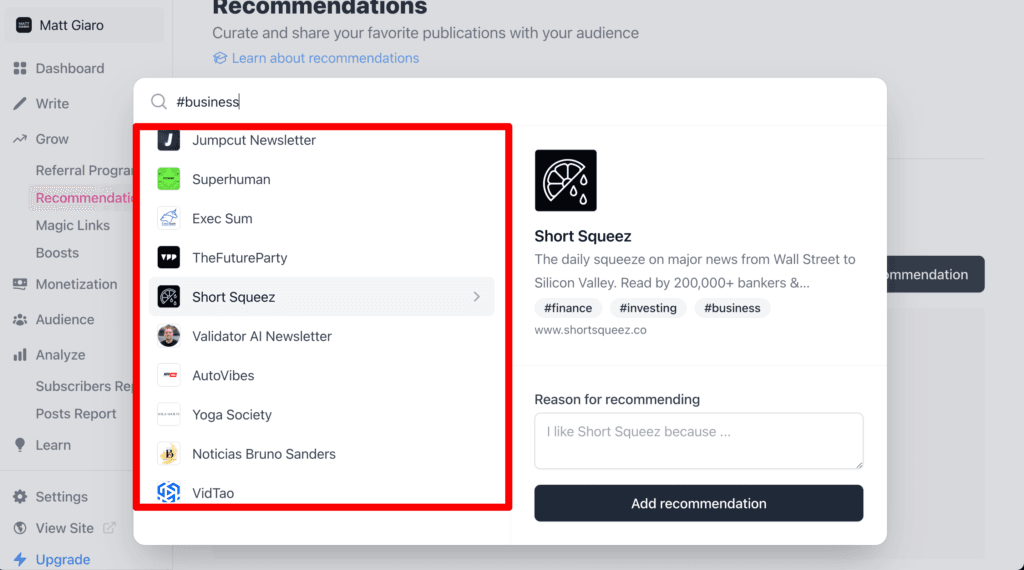 Magic links
Build a custom magic link to boost conversions with one-click subscribe links.
Magic links are another interesting feature. And what it basically allows you to do is to create a link that others can promote, which will directly subscribe the person who clicked the link to your newsletter.
This means that they don't need to go through an opt-in form, and this is very, very interesting and very smart.
So you can actually build this magic link in Beehiiv for almost any platform: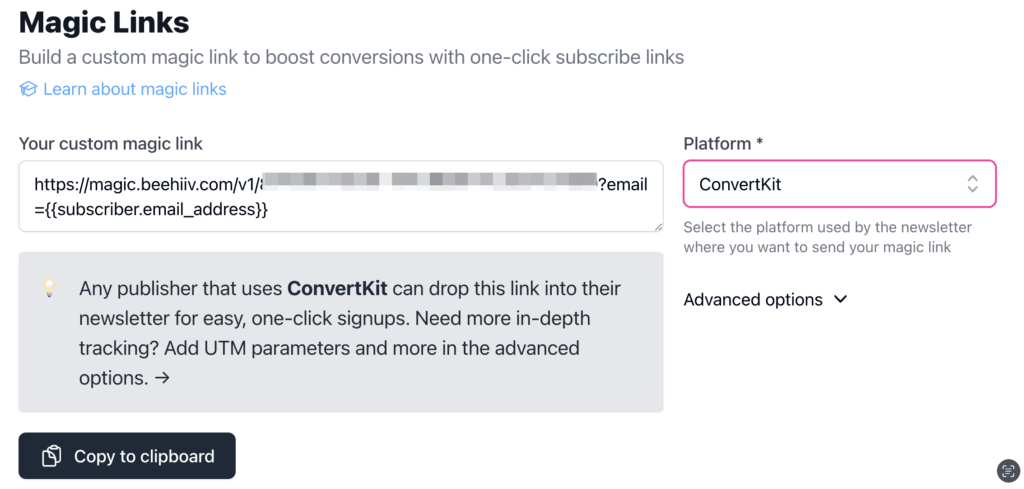 Here are the platforms that are currently listed: Beehiiv, ActiveCampaign, AWeber, ConvertKit, Drip, HubSpot, Klaviyo, MailChimp, Campaign Monitor, MailerLite, Constant Contact, Postup, Sailthru, and literally any other email platform as long as you know to customize the email variable.
Boosts
Think of Boosts as a newsletter ad campaign.
Other publications can recommend your newsletters and bring you new subscribers.
Here's how it works:
You deposit your ad budget into your Beehiiv wallet. The minimum is $50.
Then, you set a target CPA (the amount of money you're willing to spend per new subscriber).
Other publications apply to get approved by you, so you know who is promoting you.
Watch your newsletter grow.
Beehiiv states that the average CPA is $2.25, and the conversion rate from ad to subscription is around 50%.
You need to be on the Scale plan (at $99/month) to be able to use this feature.
It's worth noticing that this feature does not work with the free trial.
🤑 How to Make Money With Beehiiv?
Beehiiv's positioning is to be a platform that empowers creators to create (and make money).
In this part, we're going to check out the four money-making methods Beehiiv has baked into their platform in detail.
Underneath the monetization tab, you have four different options for how you could make money with Beehiiv as a platform itself: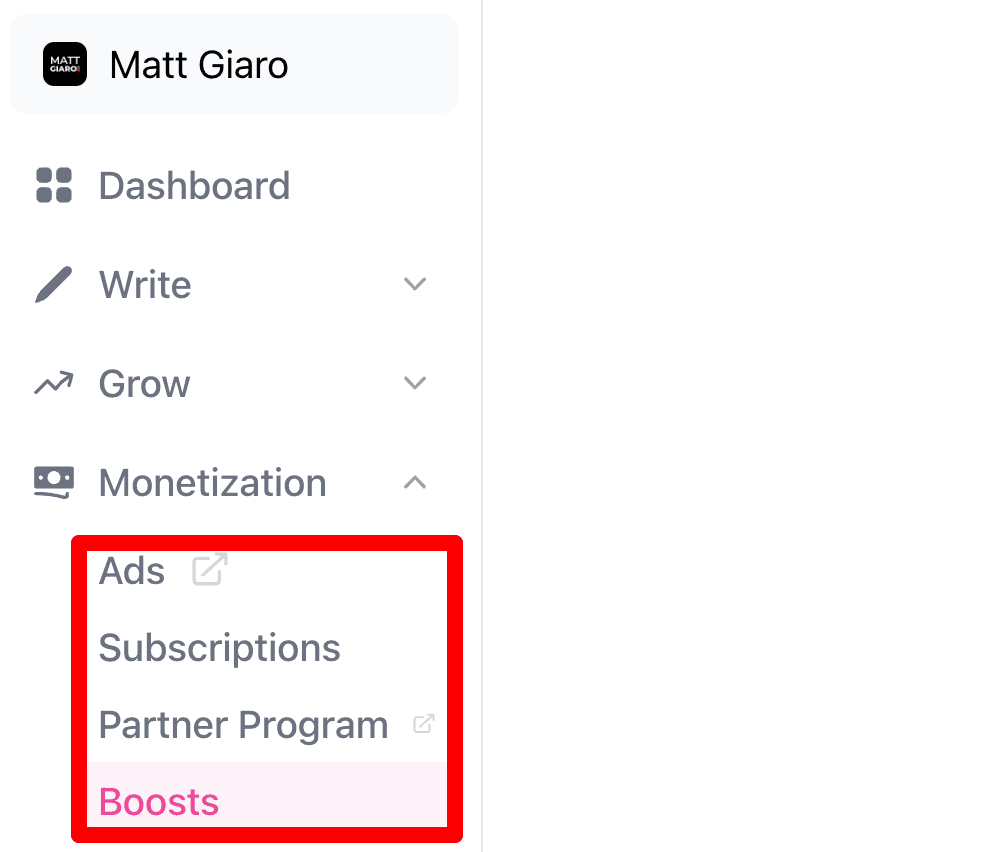 Ads
First of all, you have ads, which means that you can run ads for other companies in your newsletter, and they'll pay you to be featured in your newsletter.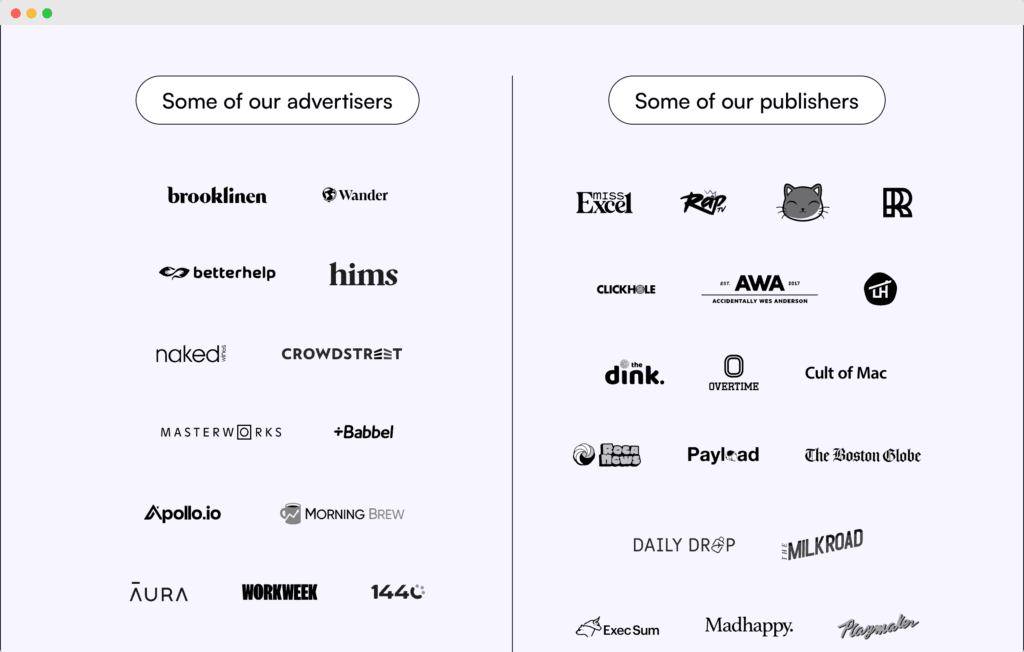 Subscriptions
The second option are subscriptions.
Which means that you can turn some of your newsletters or articles and put them behind a paywall.
Think of this as a paid Substack.
Beehiiv Partner Program (Referral & Affiliate Program)
The third option is the Beehiiv partner program.
It's nothing else than becoming an affiliate for Beehiiv and making money when someone joins the platform.
It's not to be confused with the Medium Partner Program, which is a program that allows you to get paid based on the number of people who are actually reading your Medium articles.
Beehiiv's affiliate program shares 50% of the revenue for 12 months. The payouts go out via Stripe.
While the 50% seem faire, I love affiliate programs that pay for a lifetime, even if the percentage is smaller.
Call me greedy if you like.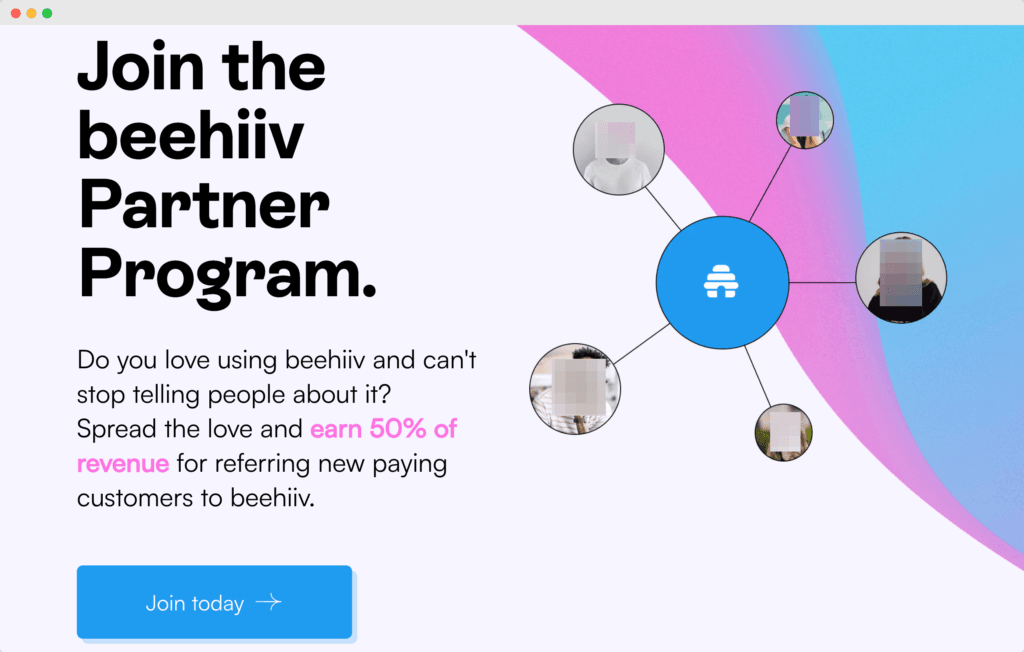 The rules to get credited are like so:
The user has to sign up to Beehiiv within 30 days of clicking your link AND
You can only get the commissions for the first 12 months.
So if someone joins, stays on the free plan for 6 months and upgrades then, you'll only get a commission for 6 months.
Boosts
The fourth option is Beehiiv Boosts.
It allows you to apply to promote other people's newsletters and get paid in return for these recommendations.
Different Ways to Embed Beehiiv Forms on Your Website
To get people on your email list, you need a form where they can enter their email.
The form creation process on Beehiiv is pretty straightforward.
Here's how it works:
Give the form a name
add a header, a description, a placeholder, and a button text.
You can also modify and fine-tune the color palette. (By default, it will populate the colors that you've chosen at signup – which is a nice bandwidth saver.)
Then you can also tweak the typography, add a specific font for the header, the body, and the button.
You can customize what should happen after submission. Should it either show a success message or redirect the subscriber to an external page, such as a confirmation page on your website? Up to you.
Once you've created your form, you have three different embed options.
Number one, you can simply copy and paste a full-width feature.
Number two is copying a fixed-width feature.
Or number three, you can simply go for the slim embed.
Even though it's pretty simple, it certainly lacks some kind of customization.
For example, if you'd like to add a custom field signup or other specific things, this is something that you can't do right now.
Also, if you'd like to integrate your contact forms with tools that aren't fully integrated with Beehiiv, you can't do that either.
Depending on your current tech stack, these limitations could be a huge dealbreaker.
Contact Management
Tags, Lists, or Just a Database?
There are basically two ways of thinking about contact management: tags or lists. In Beehiiv, there are no tags or lists.
The only difference Beehiiv makes is if the subscriber is a paid one or not.
So there's no way to filter out clients from your coaching programs or courses.
Perhaps by adding a custom field. The problem is that you can't specify custom fields on signup, and that's not supported with their Zapier integration either.
The fact that Beehiiv doesn't use any tags or lists can be quite disturbing at the beginning when you get started.
That is one of the biggest drawbacks.
What Is a Segment in Beehiiv?
Beehiiv recently introduced Segments.
This function aims to provide insights about newsletter subscribers and their engagement with the content.
Segments allow you to understand the source of subscribers, compare their engagement levels based on different sources, track the number of subscribers who have opened 100% of newsletters, and evaluate the effectiveness of your acquisition channels.
Segmentation offers two types of segments:
static segments that don't update
and dynamic segments that update frequently based on changing subscriber
You can access Segmentation through the Audience tab in the navigation bar.
Beehiiv Pricing: How Much Does It Cost?
Beehiiv's pricing model is quite simple.
There's a 3-tier pricing model from 0 to 100k subscribers.
There's a 14-day trial for all plans.
Right off the bat, you'll probably want to go for the mid or high tier because there are crucial functionalities you'll need anyway.
Now, you might be tempted to pick the cheapest plan. But trust me, the middle or top plans are where you want to be. Why? Because they've got the stuff you really need to make more money.
Automations
Beehiiv recently announced automations.
The huge drawback is that automations are only available on the Scale plan.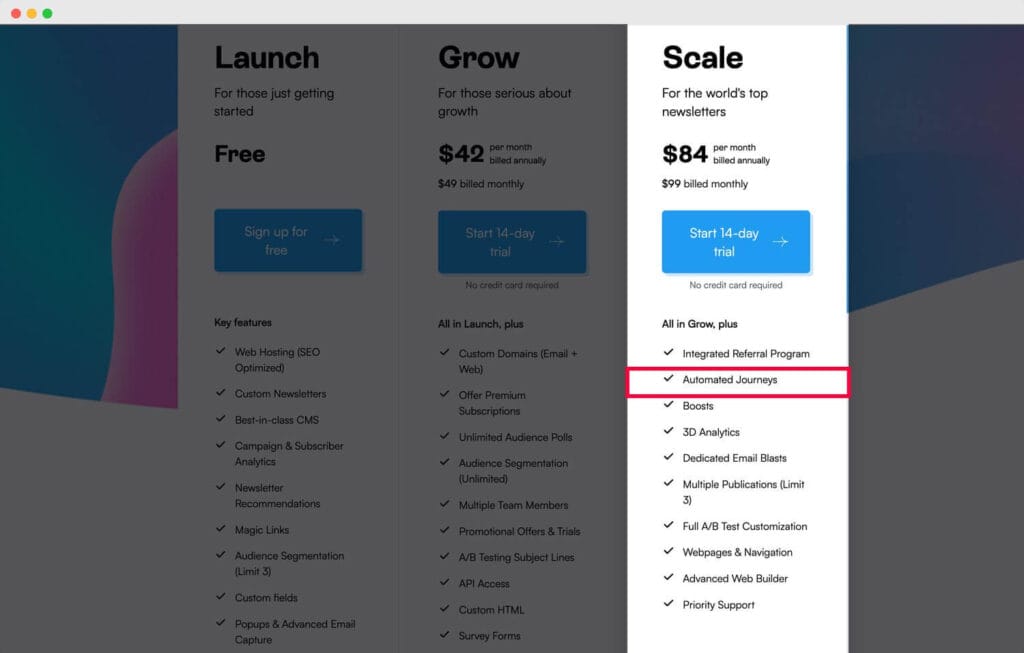 🔌 Integrations
Integrations are crucial.
Depending on your current tech stack, you might need more or fewer integrations.
Picture this: you sell a product on Gumroad or Teachable and would like to import that customer into Beehiiv.
That's why integrations are crucial.
Without integrations? You're left to do the heavy lifting, running around like a headless chicken.
You're doing the work that robots should be doing. Not cool, right?
Online Course platforms
If you're currently using tools like Podia, Teachable, or Gumroad, you'll hate Beehiiv.
Because it doesn't integrate with them out of the box.
But there's a workaround with Zapier (I'll explain that in a bit).
But what about premium WordPress themes like Thrive Theme? Nope. You can't integrate that either.
You would need to be able to create custom HTML forms to at least make it work with many third-party tools.
Zapier
Zapier is like digital duct tape and allows different tools to work together.
The good news? Beehiiv has Zapier integrations.
Here they are: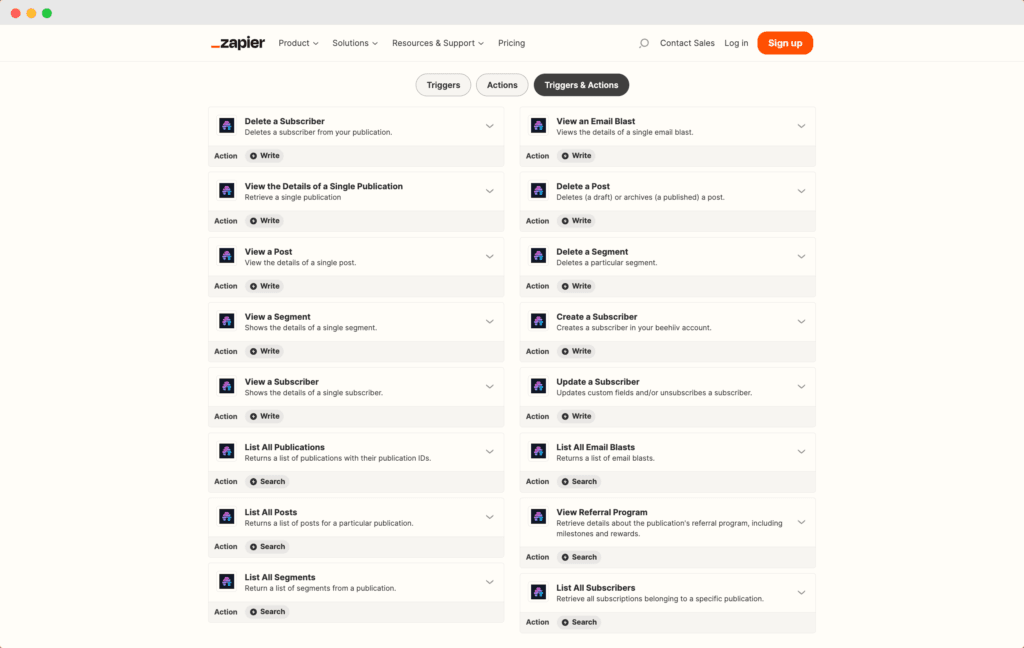 👨‍⚖️ Conclusion: Is Beehiiv worth it or not?
Here are the things I consider mandatory: creating a welcome series (automation).
For that, you need to sign up for the Scale plan, which costs $99/month on a monthly basis or $1,008 ($84/month) per year.
Beehiiv isn't cheaper than any other autoresponder out there unless you have 10k or more subscribers.
For example, ConvertKit charges $100 per month when reaching 10k subscribers.
MailerLite charges $105 per month after reaching 20k.
But automations like that aren't enough.
I want to be able to create custom workflows based on specific triggers. For example, if I tag a contact with "client," then they should receive follow-ups based on their purchase.
That isn't possible with Beehiiv.
Even though there are custom fields, you can't create automations with them.
As you can see below: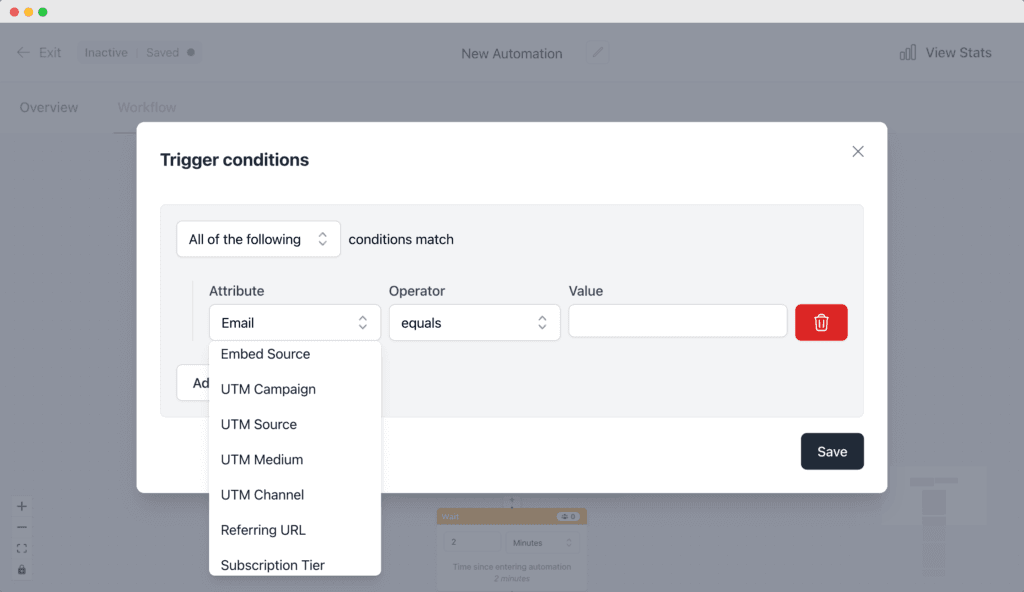 Beehiiv SEO
When it comes to SEO for your blog articles, Beehiiv gives you the following options.
You can't add canonical URLs which is a problem if you create your content elsewhere or want to benefit from past content you've created.
However, you can customize slugs, metatitle, and description for each post:

Unless articles you publish on Medium, your Beehiiv articles won't benefit from a strong domain.
In my book, building a website on such limited SEO options is a no-go unless you're using a subdomain for your Beehiiv posts.
Conclusion: Who should use Beehiiv and who shouldn't?
The short answer: Creators who don't need a lot of integrations and who stick to the basic newsletter model.
If you're using the basic creator model of sending out an email, sponsoring newsletters, etc., Beehiiv works.
But as always, simplicity comes with a lack of customization.
If you also:
sell online courses,
want to create evergreen campaigns,
look to sync your contacts along your tech stack..
You'll hate Beehiiv.
Plus, I'd consider it worth the scale plan money if you have 10k subscribers or more for the reasons mentioned above.
But the best thing is to test it for yourself.
You can get started right here…
How does Beehiiv Compare To Other Platforms?
Beehiiv vs Medium: Medium and Beehiiv share the fact that both allow you to blog. But Medium got better discoverability. However, Medium ain't an autoresponder.
Beehiiv vs Substack: Substack is the closest competitor to Beehiiv. Beehiiv has way more autoresponder options than Substack. But Substack has better discoverability.

Beehiiv vs ConvertKit: ConvertKit is an autoresponder per say. Not a blogging platform. ConvertKit will be better if you look for a real autoresponder.