Are you hesitating between ConvertKit and Substack?
This in-depth guide will give you all the information you need to make the right decision.
Let's get started.
What is Substack?
Think of Substack as a blogging and email marketing platform all at once.
Substack has taken the blogging world by storm with its user-friendly interface and simplicity that even non-techies can embrace.
It offers a seamless experience for writers to create and distribute their content without any hassle.
What is ConvertKit?
ConvertKit is the #1 email marketing platform for creators.
It's used by top guns and is a well established player in the email marketing industry (although it's pricey.)
While ConvertKit does not have any blogging feature integrated, bloggers often use ConvertKit as their autoresponder.
🔍 Discoverability
When you publish your articles on Substack, they are automatically showcased on the Substack algorithm and platform like so: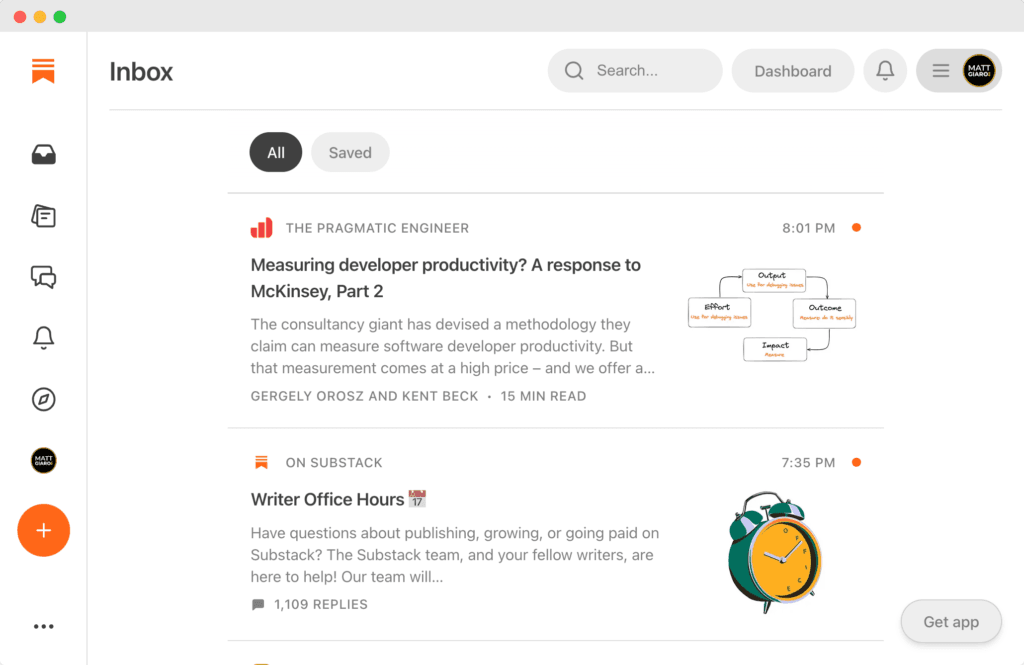 This means that just by publishing, you have the opportunity to reach a wider audience and grow your email list.
But Substack also operates like a newsletter platform with a built-in newsfeed feature that also sends your Substack articles to your email subscribers.
When using ConvertKit to send and write emails, you don't have direct access to a community or algorithm that can distribute your articles to a wider audience.
This means that you need to build your list on your own and can't rely on any discoverability.
Recently, ConvertKit also launched the Creator Network feature which allows you to recommend other creators (and let other creators recommend you.) ConvertKit reports that this feature helps increase your subscriber base by 10%.
If you're starting from scratch and have NO traffic, then Substack is better than ConvertKit because it allows you to get discovered by hundreds of thousands Substack users.
🔄 Email automations
If you want to use emails to grow your audience and generate sales, then you probably want to set up a welcome series.
A welcome series is a series of email each new subscriber gets when they first join your list.
The main difference between ConvertKit and Substack is that Substack does not allow you to create automated email marketing campaigns like email welcome series (or sequences.)
🔌 Integrations
Creating content often requires you to use different tools.
Let's assume you're selling an online course using Gumroad. Then you certainly want to import your customers into your autoresponder, right?
This is where Substack falls flat on its face.
Substack has no direct integration with any other tool (and no API). Which means you can't automatically import new subscribers.
ConvertKit, on the flip side, integrates with almost any tool out there. It also has an API and works with Zapier.
If you need to integrate and sync your email list across different platforms, go for ConvertKit.
👥 Contact (And List) management
The more you're going to rely on emails to drive revenue to your business, the more you'd like to get better features to manage your lists.
Substacks offers no segmentations or tags to manage your list.
It's only one giant list.
ConvertKit allows you you to add tags, custom fields, and create custom segments based on different parameters.
💸 Pricing: Substack is Free, ConvertKit Costs $
Substack is free.
They only take a 10% cut if you switch to a paid newsletter model, which I would not recommend when you're just starting out.
You'll grow faster with free content, and ultimately make more money with an online course than a $20 subscription (unless you have a LOT of volume.)
So you can send out emails for free with Substack without ever worrying about paying a cent.
However, it's fairly limited. ConvertKit follows a different pricing model, with plans based on the number of subscribers you have and the features you want to use.
So if you're on a budget and don't want to spend a dime on sending emails, then Substack is better than ConvertKit.
🎨 Customization and Design
Substack's limited customization options might sound like a drawback, but let me tell you why it's actually a good thing.
With Substack, you can't get your design wrong because, well, there isn't much room for fancy bells and whistles.
And that's a blessing in disguise! Instead of getting lost in the rabbit hole of endless design choices, Substack forces you to focus on what truly matters: your content.
Who needs flashy designs when your words can captivate your readers?
Substack's simplicity ensures that your message takes center stage without distractions.
So, if you're ready to cut through the noise and deliver content that truly resonates, Substack's limited customization options are your secret weapon. Embrace the power of minimalism and let your words speak for themselves.
On the flip side, ConvertKit offers a whole different level of customization options.
With ConvertKit, you have the freedom to design your emails and landing pages exactly how you want.
From choosing unique templates to tweaking:
colors,
fonts,
and layouts
You can create a visually stunning brand experience that reflects your personality.
This level of customization allows you to craft a cohesive and visually captivating brand image that resonates with your audience.
So, if you're someone who wants to make a bold statement with your design and leave a lasting impression, ConvertKit's extensive customization features will be right up your alley.
It's all about finding the right balance between content and design to create an immersive and memorable experience for your subscribers.
📬 Deliverability: Get Your Emails Seen!
Deliverability is the fact of your email actually hitting your subscribers' inbox.
You may think that EVERY subscriber on your list is going to receive your emails, right?
WRONG!
Especially with spam filters, don't take this for granted.
There are many factors that have an impact on deliverability.
From personal experience, I found that Substack emails go primarily into the Promotion tab on Gmail, which is a huge bummer.
ConvertKit has a way better 'inbox hit' rate.
And one of the best ways to prevent this from happening is to build domain credibility.
In short, the more people read your emails, the stronger signal it sends to email service providers like Gmail or Outlook not to flag your emails as spam or promos.
On ConvertKit, you can actually build up this credibility for your own domain.
But on Substack, there's no way to do that.
The risk is that in the long haul, you may need to "build up" your credibility again when switching to another provider.
Want better deliverability? ConvertKit trumps Substack.
🧩 Integrations and third-party tools
Substack falls short when it comes to integrating with third-party platforms like Teachable, Podia, and other learning management systems (LMS).
Let's face it: Substack is all about newsletters and content distribution, not running comprehensive online courses or memberships.
So, if you're looking for a seamless integration that automates your course management or offers advanced features, Substack will disappoint you. It's not designed to handle the complexities of a full-fledged LMS.
Substack is all about simplicity and delivering written content, so don't expect it to be your go-to solution for managing all your needs in terms of email marketing.
ConvertKit, known for its robust integration capabilities, allows you to connect with a plethora of third-party tools. Whether you need to integrate with your favorite CRM, LMS platform, or marketing automation software, ConvertKit has you covered.
If you're looking to run your whole business like selling courses, etc. on Substack, you're on the wrong path.
Both ConvertKit and Substack allow you to embed a signup form on your website.
Substack does not allow you to modify anything. Simply go to settings and copy and paste the code.
On ConvertKit, you can edit the design.
Conclusion: Substack or ConvertKit?
If you're all about simplicity and just want to gather subscribers and send basic broadcasts, Substack can work for you.
It's straightforward, plain text, and has that handy discoverability factor.
But let's be real here: if you're looking for a fully functioning autoresponder that offers advanced features like automations and seamless integration with third-party tools, Substack falls short. It's like a stripped-down version of what you actually need.
So, if you're serious about taking your email marketing game to the next level, you might want to explore other options that offer the functionality and flexibility you require.
Don't settle for less than what your blogging or newsletter efforts deserve.
And if you want to monetize your expertise and make more with emails, then you might want to check out my free course below: