Are you hesitating between ConvertKit and MailerLite?
Look no further.
I've personally tested and used both platforms and wrote this in-depth review to help you make the right choice.
Since many email autoresponder reviews online are biased to earn affiliate commissions, I won't include any affiliate links in this post.
Sounds great? Then let's dive in.
Contact Management in MailerLite and ConvertKit
🏷️ Tag-first approach
What I like about both platforms is that they use a tag-first approach.
For a strange reason, MailerLite does not use the word "tag" but "group."
This means that there are no lists (as it's the case with AWeber, GetResponse, etc.)
This allows your email list to stay organized without inflating the monthly price you're paying. (Other autoresponders have a shadow way and charge charged multiple times for the SAME subscriber just because they are on more than one list.)
🥷 Blacklist
As you delve deeper into email marketing, you'll discover the need to ban certain individuals from receiving your emails.
Unless Birdsend or GetResponse, MailerLite, and ConvertKit DO NOT have a blacklist feature.
Which means that you can NOT effectively ban specific individuals from receiving your emails, not to say block entire domains, which is especially beneficial when dealing with disposable or undesirable domains.
Sure, there are some workarounds.
But I would have expected a native feature out of the box!
Both user interfaces are pretty simple and straightforward.
Here are examples of the menus on both platforms:
Integrations and Third-Party Apps
Both ConvertKit and MailerLite integrate with Zapier and have an API.
They also integrate with popular tools like Thrive Themes or Thrive Cart.
However, ConvertKit has better native integrations than MailerLite.
Integration with course hosting providers
Almost every platform has built-in integration with ConvertKit.
MailerLite is generally pretty well supported in terms of integration, like Podia.
However, if you're using tools like Teachable, Gumroad, or Thinkific, you would need to use Zapier to be able to connect the tools together.
Statistics
Both ConvertKit and MailerLite provide pretty accurate data in terms of open rates, click rates, bounce rates.
They also allow you to measure all important metrics you need, like a detailed timeline with statistics for each subscriber.
Here's how it looks like in ConvertKit:

And here how it looks like on MailerLite: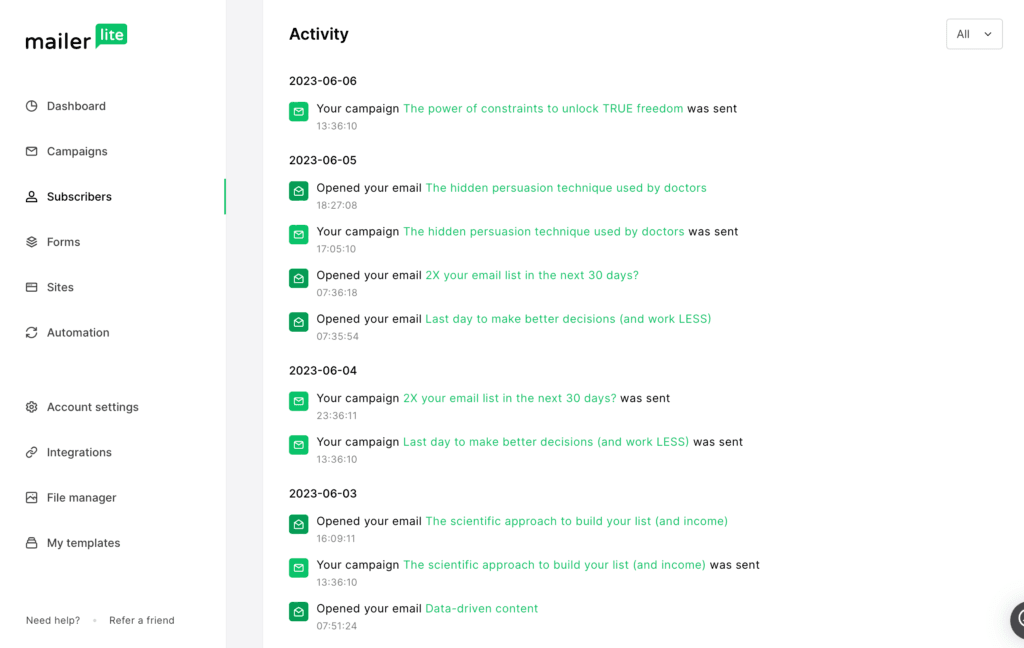 But many have been reporting ConvertKit slightly inflating their open rates.
I've noticed that on my end, too.
Support
Customer support these days is always tricky.
I found that MailerLite and ConvertKit have more or less the same type of support on paid plans.
You can get a reply via pretty fast, often in 2 hours.
But the reply is not always answering your question. Something to live with.
Email Deliverability
What's the point of sending emails if they don't get delivered to your subscriber mailboxes?
That's when deliverability comes into play.
Both platforms have good deliverability. So nothing to complain about on both ends.
Pricing: ConvertKit vs. MailerLite
Free Plans: What can you do with zilch?
Both ConvertKit and MailerLite have a free plan.
Not to say that free plans are usually very limited.
On ConvertKit, the free plan does only allow you to gather 1,000 subscribers. You can't create automations or a welcome series which automatically forces you to upgrade to a paid plan.
MailerLite has the 1,000 subscriber limit too BUT you can create email automations!
The better free plan is definetly with MailerLite!
Paid Plans
ConvertKit is overpriced. MailerLite's pricing is way more down-to-earth.
If you choose to pay monthly, 5000 subscribers on Convertkit will cost you a whopping $79/month, as $32 on MailerLite.
The plan that I suggest you pick with MailerLite is the Growing Business plan which is way enough for most people.
You save over 50% every month with MailerLite for almost the same functionalities!
Definitely something to think about.
Automations
Both ConvertKit and MailerLite allow you to create powerful email automation.
While it's not at the exact level of Active Campaign, most content creators should be fine with the options provided by both platforms.
In MailerLite, you can start automations based on the following:
When a subscriber gets tagged (joins a group)
When a subscriber completes a form
When a subscriber clicks a link
When a custom field gets updated
At a specific date
On ConvertKit:
Subscribes to a sequence or a form
Completes a sequence
Clicks a link
Tag added or removed
Purchases a product through another provider (Teachable, Gumroad)
Using some workarounds, you can achieve almost all ConvertKit automation rules with MailerLite.
Example:
There's no MailerLite trigger for "tag removed"; however, you can create separate automation. When let's say, the user finishes this sequence, you can add an action to remove the tag.
Autoresponders
Creating autoresponders in ConvertKit is easy because you can simply add a new autoresponder by clicking the plus sign.
You can create all those autoresponders on the same page.

On MailerLite, setting up an autoresponder series takes you more time because the interface requires you to load several pages to get it done.
Broadcasts
Both platforms allow you to send broadcasts to your list with similar options.
You can include and/or exclude specific tags or segments.
The user-interface is pretty similar so there's no significant difference.
Email Editor
Email Editors are an important part of your email marketing workflow. The reason? You'll spend a lot of time in dealing with it by copying and pasting your email content.
ConvertKit's email editor is way better and more user-friendly than MailerLite's. MailerLite's editor does not handle well copying/pasting and is way too clogged with too many useless features.
However, both ConvertKit and MailerLite allow you to create a custom template that can be used for every one of your emails so that you don't have to redesign everything from scratch.
Landing Pages
Both ConvertKit and MailerLite allow you to create landing pages pretty fast.
There's no noticeable difference between them.
Signup Forms
When it comes to creating forms, both MailerLite and ConvertKit offer user-friendly options, albeit with some differences in approach.
MailerLite provides a form builder that allows users to create customized forms with a drag-and-drop interface, and enables you to add and arrange form elements with a few clicks.
ConvertKit, on the other hand, takes a simpler approach to form creation. While it may not offer the same level of customization and design options as MailerLite, ConvertKit excels in its simplicity and user-friendly interface. Users can quickly create basic forms by selecting from a variety of form styles and modifying the content.
Esthetically, I found ConvertKit's "out of the box" form design more beautiful than MailerLite's.
MailerLite vs. Convert: Which one should you choose?
ConvertKit is simply too expensive compared to MailerLite.
You can achieve nearly the same results with MailerLite as with ConvertKit but at a much lower cost.
Yes, MailerLite's editor may not be the prettiest, but it does the job.
On the other hand, ConvertKit excels in making the process of creating autoresponders, forms, and one click segmentations easier and faster.
However, when it comes to everything else, both autoresponders are pretty much the same.
So, if you don't want to waste your money, go for MailerLite. Don't buy blindly into the ConvertKit hype.
Choose affordability without sacrificing performance.
TRY MAILERLITE
& GET MY COURSE FOR FREE
Use my affiliate link (without extra cost to you.) Mail me your receipt. And get my FREE 60-minute MailerLite Crash Course (Value $97) for FREE: