Are you looking for a definite answer to know if you should choose Systeme.io or ConvertKit?
Look no further; this detailed comparison will show you what service to use.
Main differences between Systeme.io and ConvertKit
ConvertKit is an autoresponder, whereas Systeme.io is an all-in-one marketing platform.
This means that Systeme.io includes an autoresponder but handles much more, like building funnels, hosting courses, etc.
So this comparison will mainly focus on the email marketing feature difference between ConvertKit and Systeme.io.
🎨 User interface
Both tools are quite similar in terms of user interface and ease of navigation.
They have a menu at the top, which makes it easy to navigate to the tools you're looking for.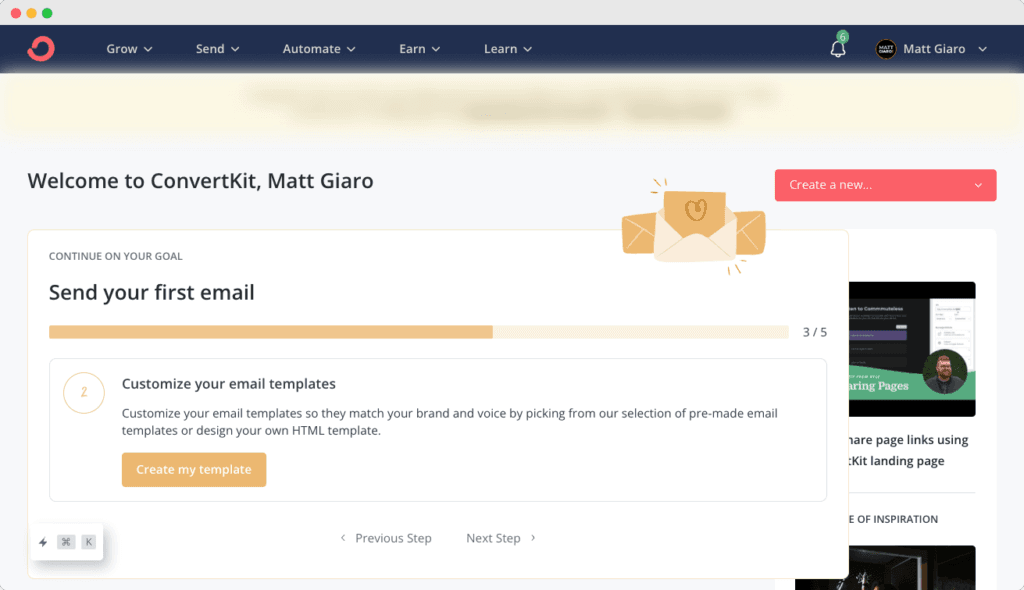 Note that for Systeme.io, since there are a LOT of functionalities, the way how the site is structured is very clean and easy to navigate through: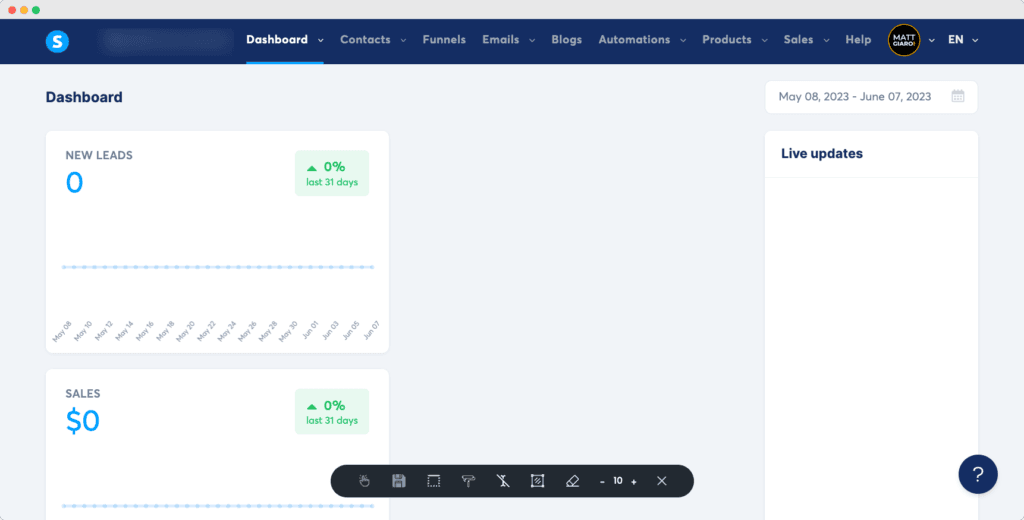 🖥️ Forms and landing pages
Both tools allow you to create forms and landing pages.
You have more options to customize the landing pages on Systeme.io than on ConvertKit.
You can also copy and paste and integrate those forms on your current website.
🔌 Integrations
API
While ConvertKit has an API which allows you to create some customized workflows, Systeme.io does not have a public API.
Worth noticing that only power users and automation geeks or software developers worry about APIs.
For the ordinary human, that's not something you should worry about because there's a Zapier integration.
Zapier
Both platforms have a Zapier integration.
Zapier is a popular no-code automation platform that allows you to make different apps "talk" between them and create customized workflows.
Here's what you can do with Systeme.io vs. ConvertKit in Zapier: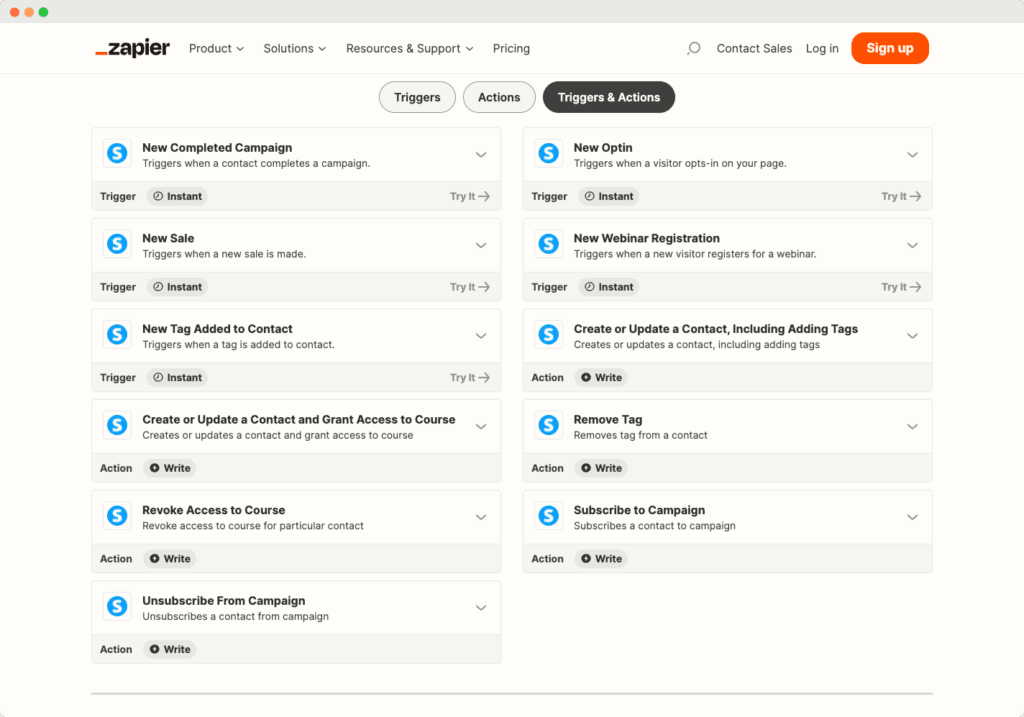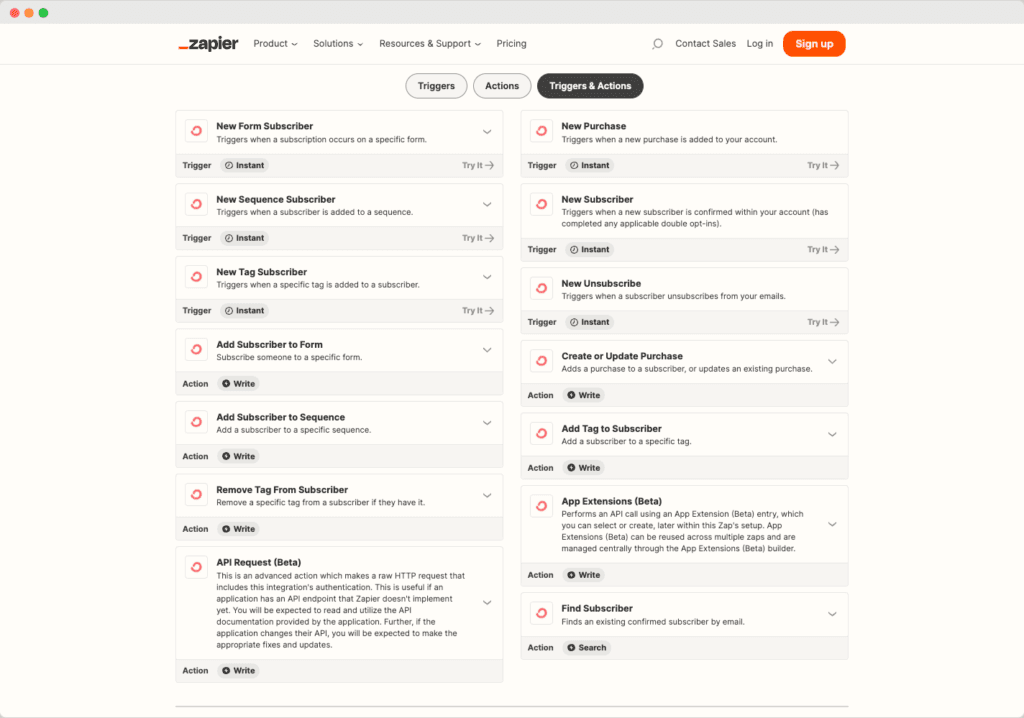 As you can see, both systeme.io and ConvertKit offer you the basic triggers and actions you'll probably ever need.
However, ConvertKit an interesting option Systeme.io does not have which is the "Find Subscriber" Action. This can be handy if you want to look up a specific contact like when creating a custom tracking system.
Native Integrations With Other Tools
ConvertKit has built-in connections with popular tools like:
Podia
Gumroad
or Teachable
This allows smooth integrations with all the different services.
In contrast, Systeme.io is, as I mentioned, an all-in-one platform. That's why they don't prioritize these direct connections.
Systeme.io aims to provide all the necessary tools within its own system, so it might not expect users to heavily rely on external tools.
If you know that with your systeme.io account you can host courses, it does not make much sense to pay extra for another course hosting platform. Hence, the integrations seem useless.
Thus, Systeme.io have fewer built-in integrations with third-party platforms because it's simply an all-in-one stop.
So if you're looking to only use the email marketing platform by Systeme.io, be aware of the limitations to integrating that with your current tool stack (if you already have one).
Else, you could simply get started with one tool: systeme.io
🏷️ Contact Management in ConvertKit vs. Systeme.io
Both Systeme.io and ConvertKit use tags instead of lists to organize your email subscribers and contacts.
That's the state-of-the-art way to effectively manage email subscribers – so nothing to complain about!
You can tag contacts based on their interests, behaviors, or preferences, and you can tailor your email campaigns to specific segments of your audience based on their tags.
📤 Sending Emails: Broadcasts and Autoresponders
Both platforms allow you to create broadcasts and autoresponders.
The time to create them on both platforms is quite similar.
Note that the ConvertKit editor has more options (styles, etc.) and has fewer bugs than the Systeme.io email editor.
If you're sending plain text emails, then Systeme.io can handle that without many issues.
However, if you rely on custom styling, then I'd recommend ConvertKit.
📦 Selling products in Systeme.io and ConvertKit
Convertkit and system allow you to hook your account to a stripe account. Which means that you can create order forms on both platforms.
With the native ConvertKit feature, you can sell the following:
Ebooks
Paid Newsletters
Albums (for musicians)
Coaching (one-time or recurring)
Presets (mainly for graphics: like adobe Lightroom or similar)
Notice that you can't sell online courses with ConvertKit, which is probably a deal-breaker.
Systeme.io, however, allows your customer to create an account and a member's area with videos, images, texts, and quizzes.
It also goes way beyond that by allowing you to create acquisition funnels and evergreen campaigns.
🥋 Conclusion: Systeme.io or ConvertKit?
If you're looking for an all-in-one stop, Systeme.io is better than ConvertKit.
The reason is that Systeme.io offers a wide range of functionalities and is not only an email marketing platform.
It is an all-in-one marketing platform that combines features like funnel building, email marketing, course hosting, and automation.
However, if you're only looking for an email marketing platform, Systeme.io does the job, too (and for way cheaper than ConvertKit.)
But you need to be aware of the Systeme.io integration limitations to your current tool stack:
If you're already using tools like teachable, Gumroad, think fit, thrive themes, etc., and don't plan to move everything to Systeme.io, then there's a cheaper alternative to ConvertKit.
It's called MailerLite, and you can read my full comparison between both tools right here.