Considering Birdsend as your autoresponder?
Save time and useless shifting by reading this review first.
Buckle your seatbelt because this is the most in-depth Birdsend review you'll probably ever read on the internet.
I'm an autoresponder maniac (and with tools in general).
In my opinion, a tool should make your life as a creator easier, not harder.
Yet, most autoresponders (and tools in general) make things too damn complicated and are not user-friendly.
Unless other services charge way too much for sending simple emails, I decided to give Birdsend an honest try.
For two reasons: their pricing and their API.
Unless other reviews, I've paid for this tool from my own pocket (and it myself.)
I've sent over 80,000 emails with Birdsend over a 4 month period.
So I have tested the tool on the ground long enough to do this review (and paid for it with my own money.)
Let's dive into the good, the bad, and the (really) ugly about the Birdsend autoresponder…
Birsend features
Birdsend has most features you would think of for an autoresponder.
Here are some examplese:
Sending broadcasts & sequences (automated emails)
Creating and designing opt-in forms
Simple if this then that automations (rules)
Powerful API
and much more
I am going to dig deeper into every function as you read along.
Birdsend Pricing
Birdsend is probably the cheapest autoresponder out there for creators.
Birdsend pricing starts at $9 per month for 1,000 contacts billed monthly. You get 20% off when you choose the annual plan.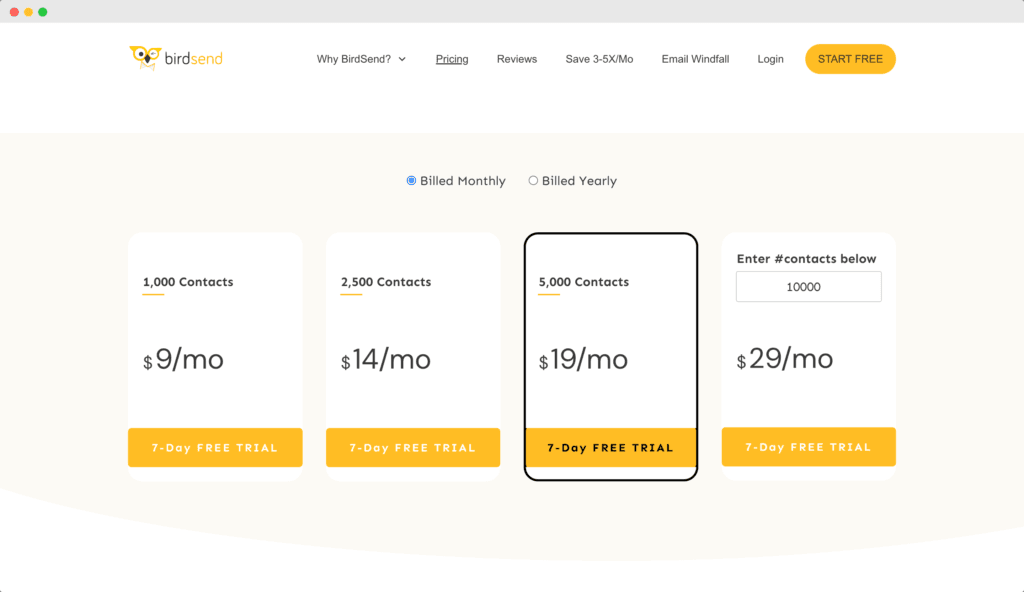 Pro email marketing tip:
As for any tool, I would not recommend jumping on board for one year straight. Use the monthly plan, test things out, then decide if you want to go yearly or not.
So there isn't much to complain about the pricing here. Simply keep in mind that you get what you pay for. (More on that later)
Contact Management in Birdsend
🏷️ Tag-first approach
What I like about Birdsend is that they are a tag-first autoresponder.
This means that there are no lists (unless Aweber, GetResponse, etc.)
This allows you to have a clean database and doesn't inflate the price. (With other autoresponder thieves, you get charged multiple times for the SAME subscriber just because they are on more than one list.)
🥷 Blacklist
The more you use email marketing, the more you'll see that there are people you want to ban from receiving your communications.
Birdsend has a "do not contact" feature that acts like a blacklist; that's good.
Furthermore, you can ban based on domain (for all those stupid "disposable" domains out there).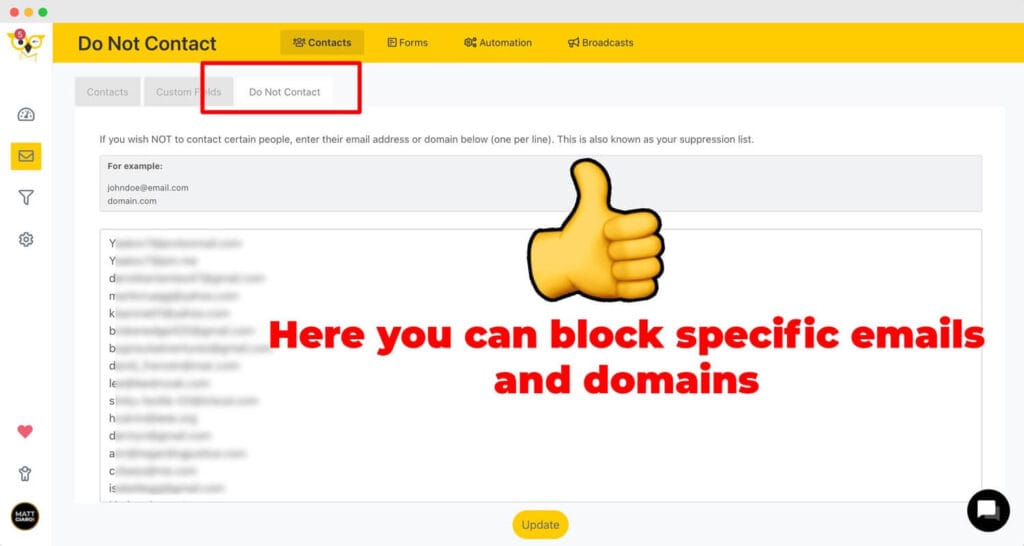 As an example, other providers like ConvertKit don't have a blacklist!
You have to find workarounds to make it work… How stupid is that? The folks at Birdsend got it right by implementing this feature right out of the box.
🔎 Contact Search
When using your autoresponder, you'll probably be going to search for contacts a couple of times per week.
A handy search function would have been appreciated. (Hint: a simple search box would have done the job…).
The folks at Birdsend could have made things simpler.
I have to click through different buttons to finally search for a freakin' email. (I told you I'm maniac…)


(Plus, there's no way to create a shortcut to search an email directly with a query right from the address bar like Birdsend.co/[email protected])
Boo. 👎
↕️ No opt-in segmentation
If you have multiple customer avatars, you want to segment them right when they opt-in.
The workaround I found was with Zapier and their API.
As an example, I want to segment people who subscribe to my newsletter based on specific criteria at signup: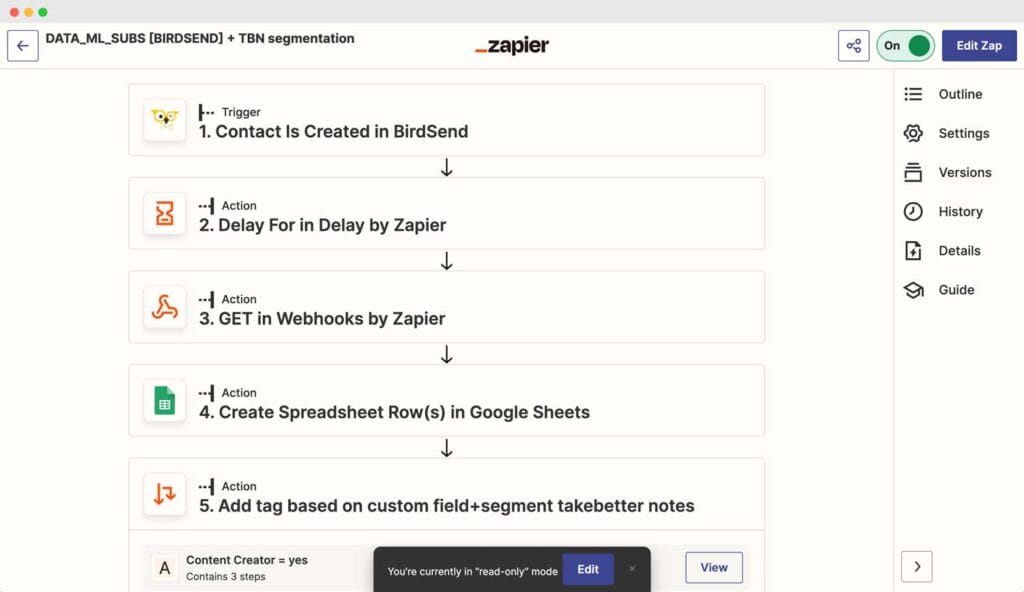 Only issue? Tagging gets delayed for about 10 minutes… so it messed up all the whole customer experience too.
(Do you patiently wait for 10 minutes for an email to arrive? I don't)
Boo again. 👎👎
Can't move contacts within a sequence
Let's assume you want to import contacts who are already on another autoresponder on day 3… you can only import them starting from day 1.
You can't move your contacts around in the sequence. That sucks. (But ConvertKit or other alternatives are no better.)
Tripe Boo. 👎👎👎
Sending emails with Birdsend
You use email software… to send emails.
Yet, 99% of all autoresponders make sending emails complicated. You must click through 500 different buttons to get it sent out.
Let's see how Birdsend handles this...
Sending a broadcast with Birdsend
It takes you at least 13 clicks and 5 different pages to schedule an email in Birdsend.
Not the smoothest experience. But at least their editor does not mess up the formatting as other providers do.
So Birdsend isn't the best, nor the worst experience when it comes to sending out a broadcast.
Just okay.
Email Editor
You can copy and paste HTML, create a split test easily, and resend it to non-openers after a specific period.
Ultra simple 👍
Sending plain text "simple HMTL" emails
My way of sending emails is inspired by the great Ben Settle that I've also interviewed on my podcast.
Plain HTML emails. No images, no bells, and no whistles whatsoever.
The psychology behind it? I want my emails to look like personal emails.
So how does Birdsend handle this?
While I can simply paste HTML code into the editor, Birdsend adds an annoying gray background to it (which doesn't look personal at all).
It looks like so: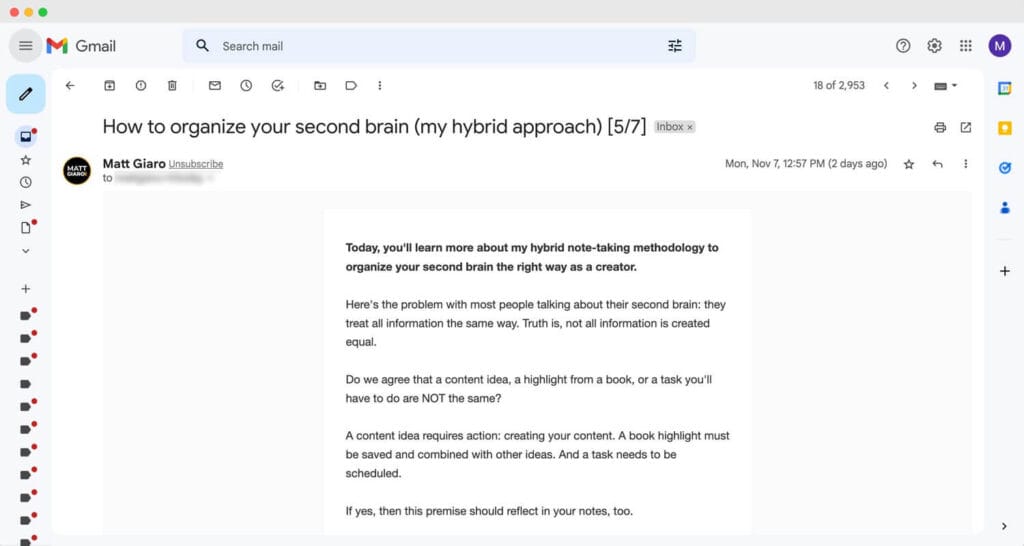 Worse thing? This "no-feature-way" of sending emails has been planned since 2019.
Since then, crickets: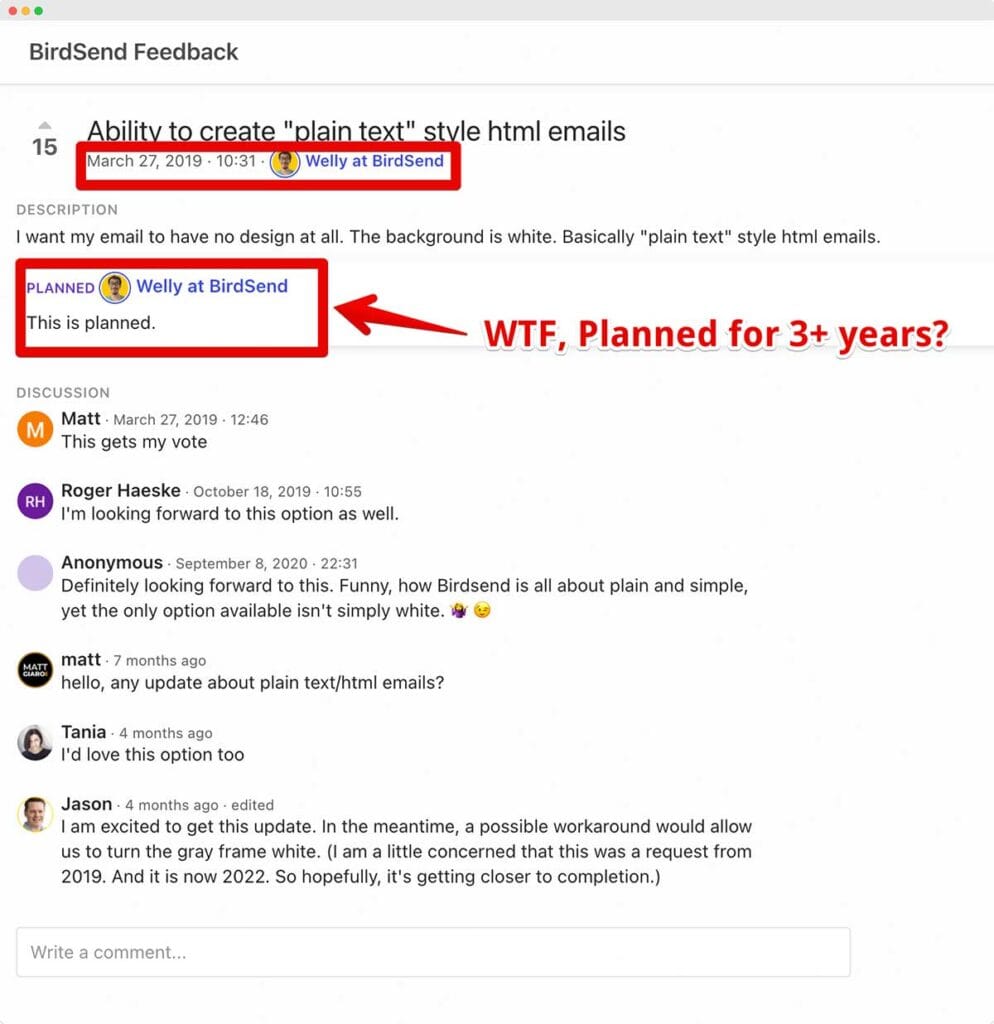 🔄 UPDATE: The request of sending plain HTML emails has been fulfilled on 2/1/2023 👍
Autoresponders (sequences) in Birdsend
The next part of sending emails is creating sequences or autoresponders.
One of the best ways to manage autoresponder sequences is their "one-page" feature. Like ConvertKit, you can manage everything and drag and drop things around.
Thumbs up. 👍
But wait a minute… what's the nonsense of evergreen vs. standard sequence?
Evergreen vs. standard sequence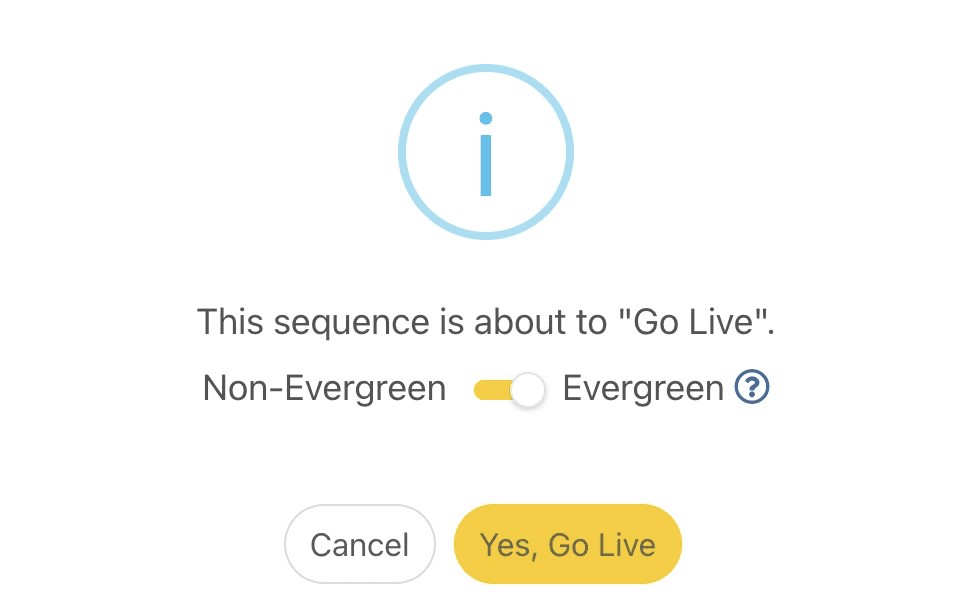 Here's the example of an useless feature that just confuses the cr*p out of me is evergreen vs. standard sequences.
In terms of semantics, a sequence is, by default, evergreen. Since everyone who subscribes to it gets emails regarding when they joined it.
No, the folks at Birdsend know it better: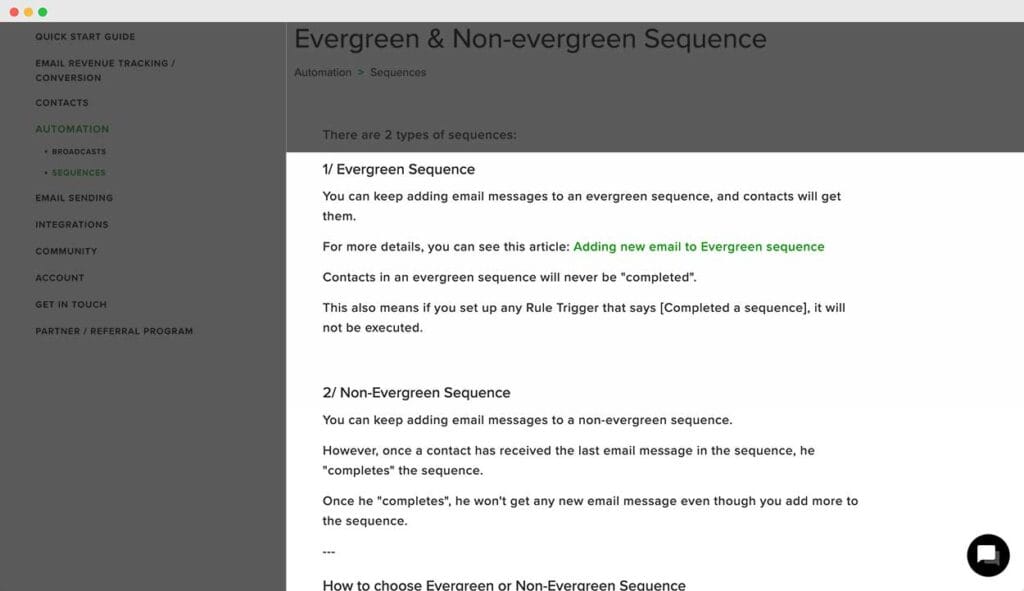 This makes no sense because, let's say a subscriber reached day 40 of your sequence, but you only planned until day 34. They won't get your email on Day 35.
And since you can't move contacts around, this just adds more and more confusion to it.
You can't create automation when your sequence is "evergreen," for example: After completing the autoresponder sequence, apply tag XYZ.
Boo.
🔌 Birdsend Integrations and Automations
Birdsend lacks integrations with popular blogging tools like Thrive Themes or Thrive Cart.
But with their simple HTML forms, you can find a workaround with almost any serious tool.
Plus, I have to say that their powerful API offers other workarounds using Zapier and other no-code tools.
Limited Zapier Integration
Unless other autoresponders, the Birdsend/Zapier integration is quite limited.
Here are the triggers and actions available: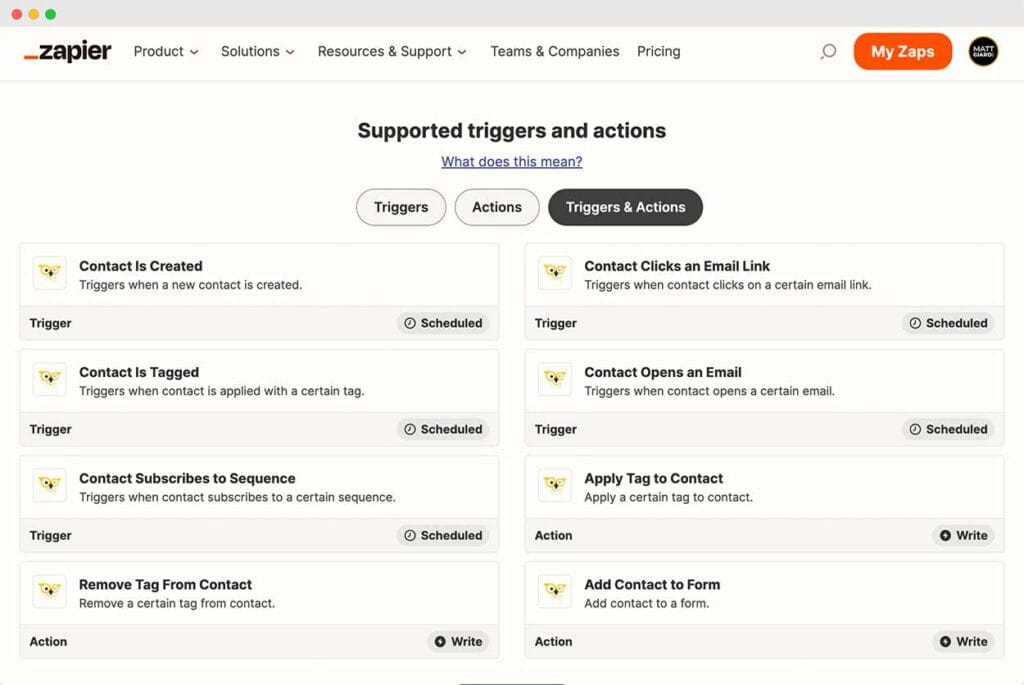 For more in-depth automation, you need to use their API.
Birdsend API
The API is solid and offers rock-solid options.
Nothing to complain about that. In fact, I assume it's one of the most robust and complete APIs when it comes to autoresponders.
Thumb up, guys. 👍
Statistics: Clutter and Lack of Basics
Graphs are cool. But is a graph like this effective?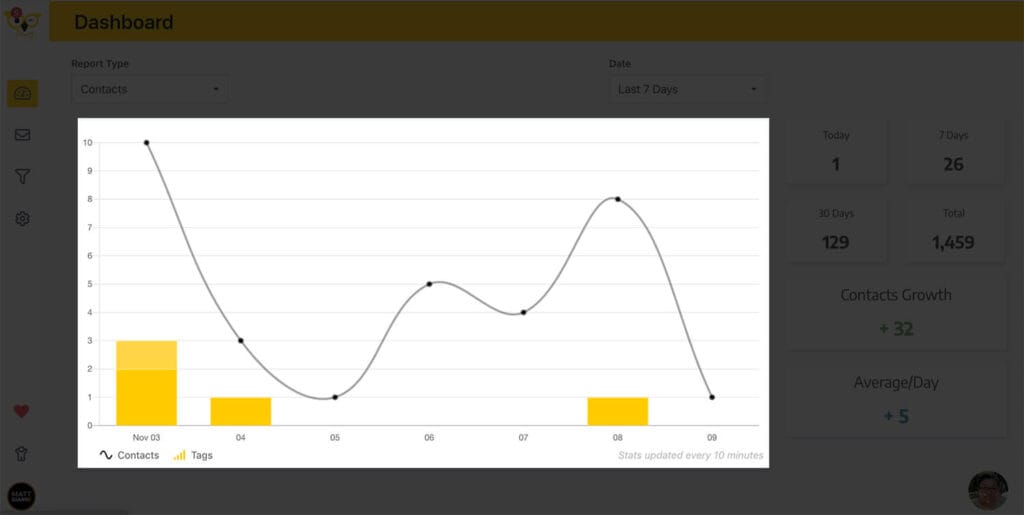 Not in my way of processing information.
Plus, the yellow gradients are just impossible to differentiate when you have multiple tags.
A simple table would have done the job.
Another minus point for the ugly user interface.
What when it comes to other stats?
Well, you can get opt-in form submissions, LTV etc., that's cool.
There was also another HUGE concern: there was NO contact timeline. Which means that you couldn't check the history of the emails sent to each user.
However, after publishing this article, Welly (Birdsend'sco-founder) reached out to and implemented the contact timeline as so: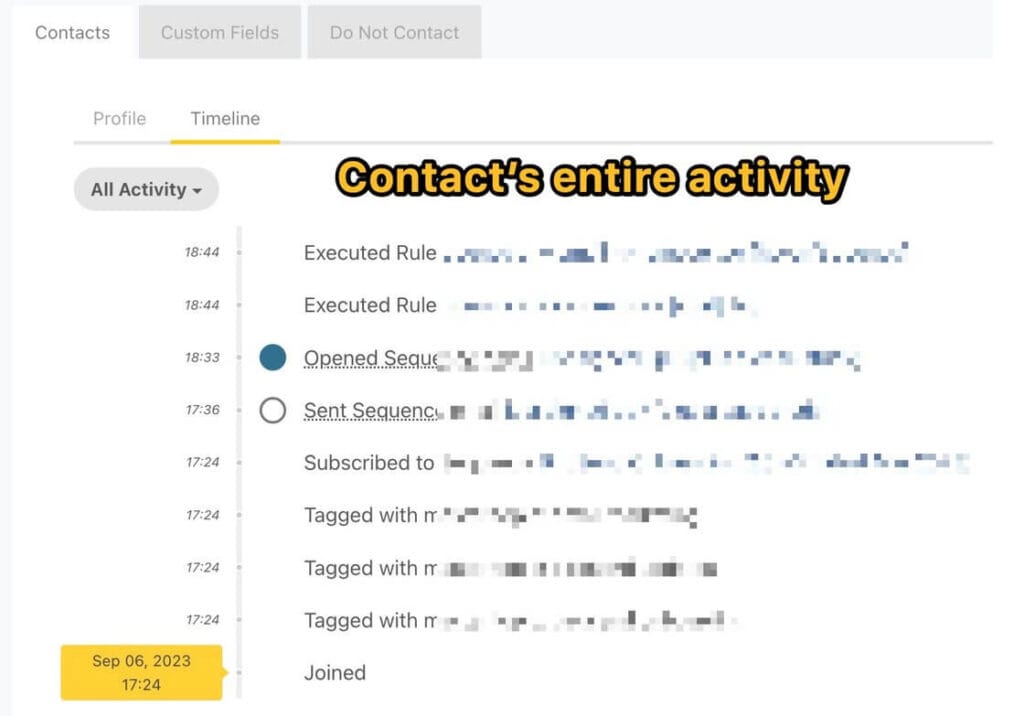 That's great news!
There's still something missing here: The tracking pixel. It doesn't work properly. (If you don't activate "show image" in your email provider, even if the contact opens it, it's still marked as "unread".) This is especially annoying when you chose the "auto-resend" and email.
Here's an example:

If you're data driven, the pixel issue needs to be addressed.
Birdsend Support
9 companies out of 10 suck at customer support.
The folks at Birdsend are not doing great in solving everything, but at least their reply is not completely off track.
With a cheap autoresponder, don't expect to get someone on the live chat 24/7.
I can live with that. And that's not necessarily a bummer.
Support usually replies within 24 working hours.
Birdsend Migration Service
Let me tell you this right off the bat: Their migration service is useless. (As most autoresponders…)
They cherry-pick who they want to migrate and who they won't. Given the fact that migration is one of the biggest hurdles to switching, as the CEO of a SAAS company, I would have made this service free. Especially if you look at customer LTV.
Birdsend email deliverability
What's the point of using email marketing if your emails are not getting delivered?
Here's the ugly story….
From one time to another, I got people telling me they didn't receive some of my emails… (Thanks to the lack of statistics in Birdsend for every email address.. I couldn't verify it – so I don't know if that's true or not.).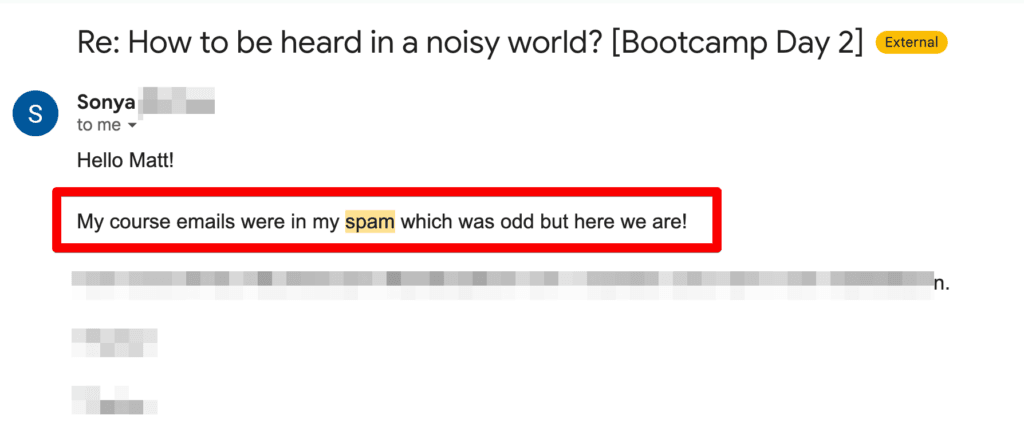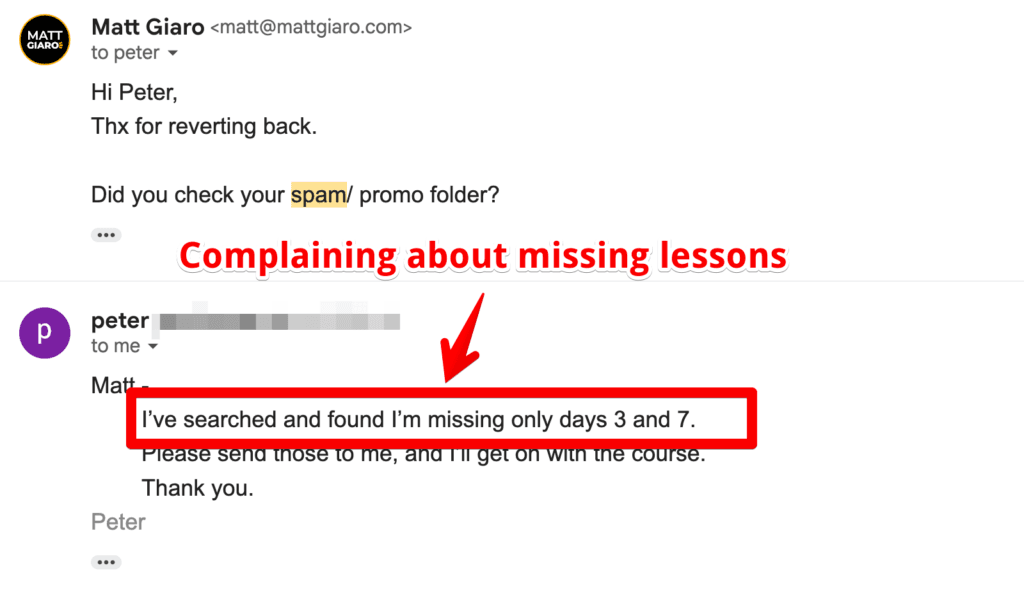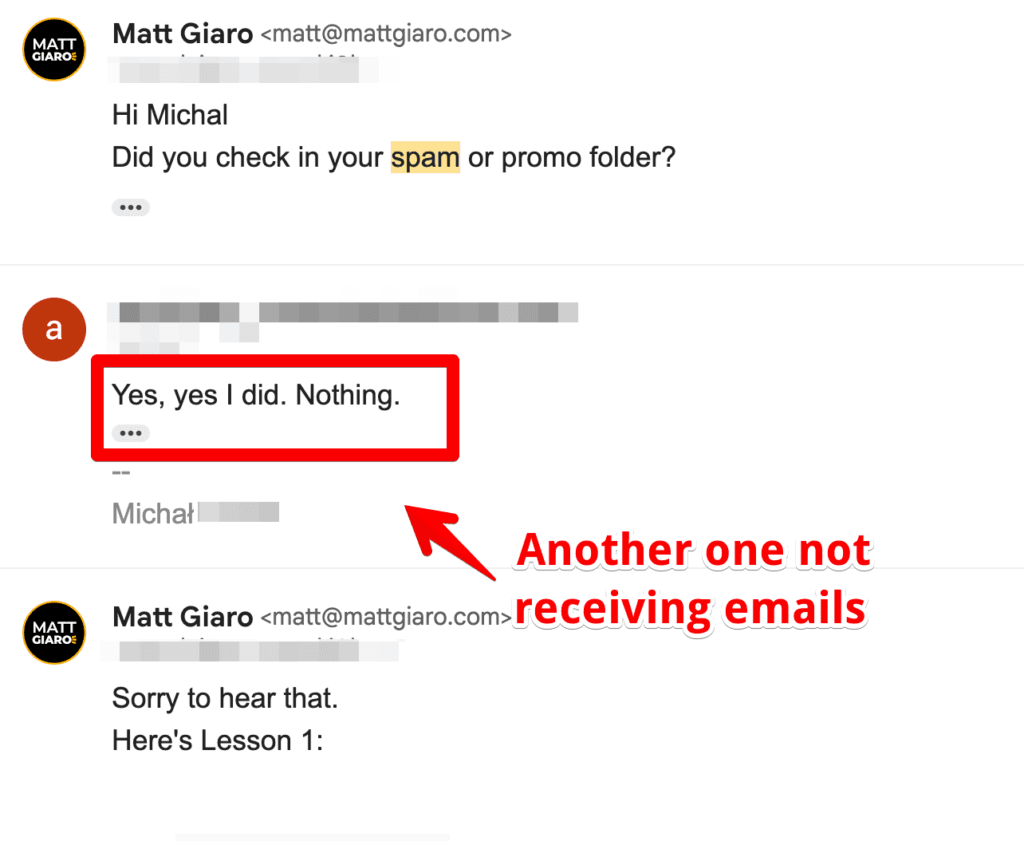 So for all the stuff mentioned above, Birdsend has been a Rubik's cube that I tried to tame patiently.
But when I decided to shift is when I saw my sales going (almost) flat despite having new subscribers enter my sequence every day.. (The few sales you see below are new courses launched to my existing list and who've already interacted with me in the past. This is why the sales aren't flat at 100%. But you don't need to be a nuclear rocket scientist to see CLEARLY see the rollercoaster here.)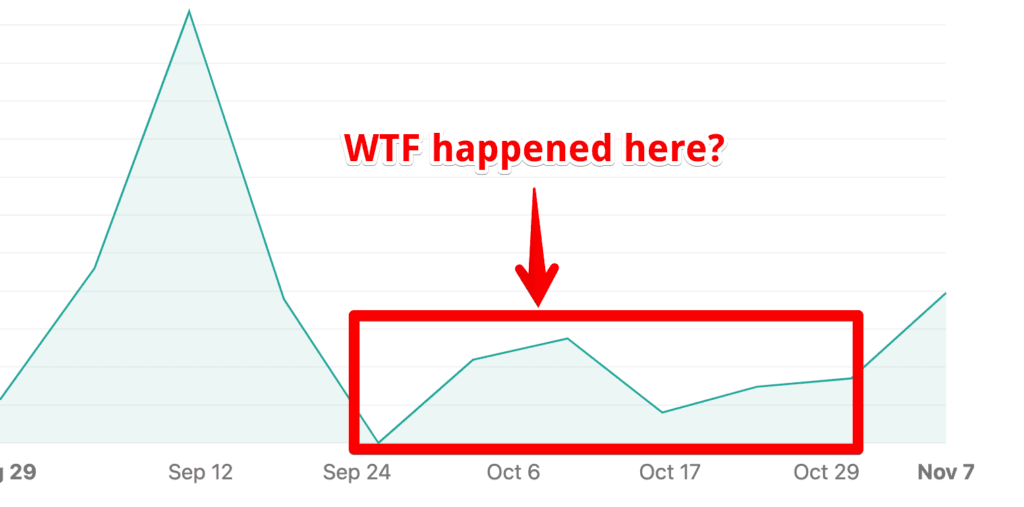 I knew my funnel was working. I've been running it for 6 months now.
But why did the freakin' sales go (almost) FLAT?
What could explain that? Simple.
My emails are not getting delivered and are being trapped in the f* SPAM folder.
So I did my due diligence.
I set up a brand new Gmail account. I did not open any of my emails (so that I could see how my emails perform on a complete stranger who never interacted with me.)
I took the exact same email body, from address, and subject line.
Then I sent it from:
1- my original inbox
2- a third-party provider (Mailgun), and finally..
3- tested it from another autoresponder. (In this example, ConvertKit.)
Here are the results:


Ugly, eh?
Especially when email marketing is your #1 sales channel. This sucks.
ALL EMAILS were delivered to the mailbox except the one sent from Birdsend using their servers.
After contacting their support, I asked to activate sending using my own domain…
And I escaped the SPAM folder immediately.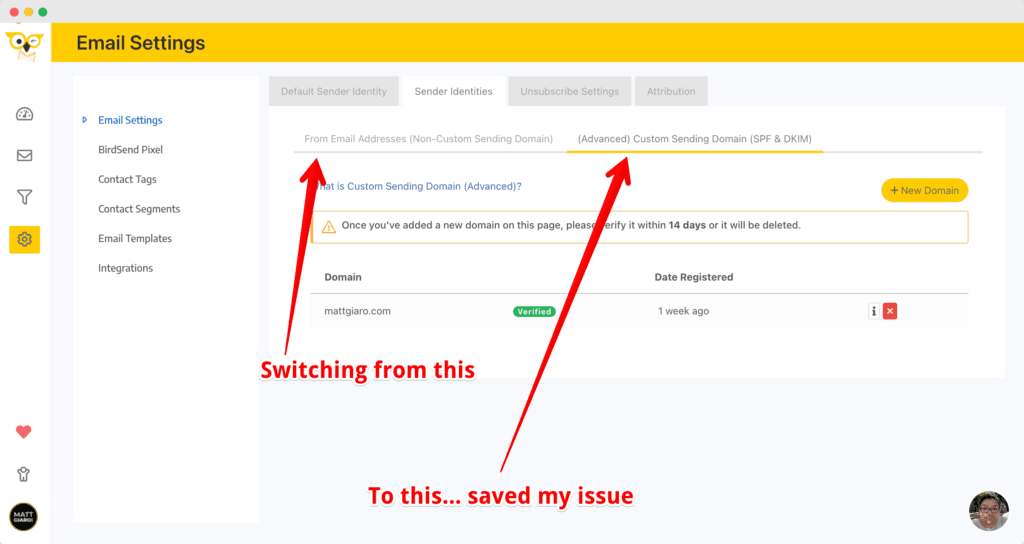 Here's what they said after sharing this story with them: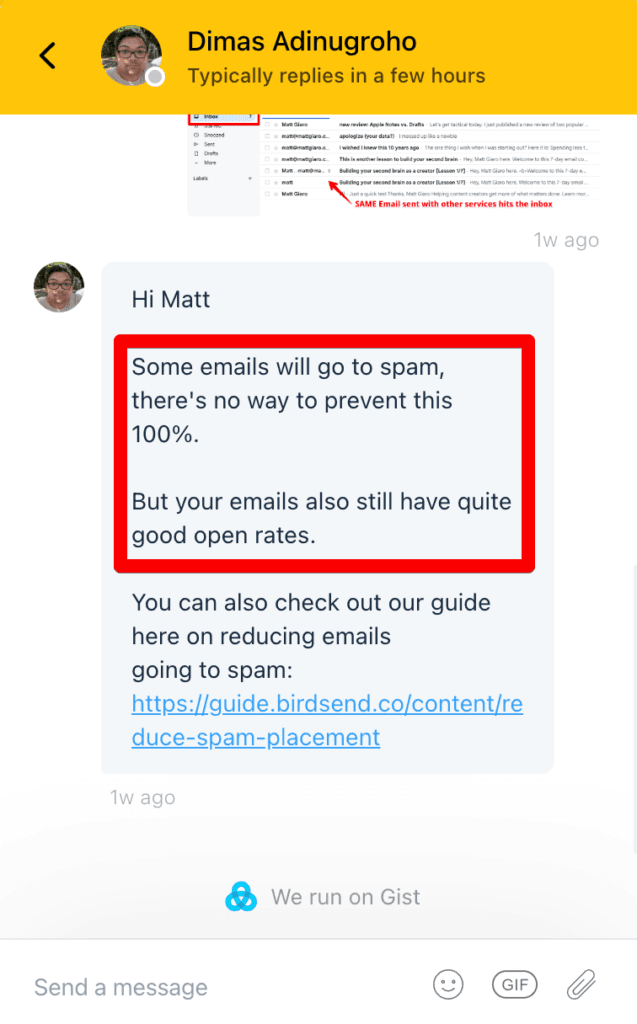 Who to blame?
I've been using the Birdsend domain as they advise on their website.
And it's completely confusing why the same email gets trapped using Birdsend's domain, but not getting trapped with Mailgun AND ConvertKit.
The only conclusion is that maybe something is wrong with Birdsend IPs/domain?
Birdsend: Should You Choose It or Not?
All this brings me to a simple conclusion: Birdsend is NOT for everybody.
Birdsend Cons 👎
Major Issues with Birdsend:
Deliverability using their domain (Critical)
No segmentations at sign up (Critical if you need this)
Medium to low issues:
Tracking pixel not working properly
Ugly interface (that's a personal matter, I know)
Lack of fast bug fixes and slow improvement
Automations may take some time to start (adding a tag can get delayed up to 10 minutes – that sucks if you rely on segmenting your opt-ins)
Birsend Pros 👍
Cheap
Email editor
Plain HTML forms
Autoresponder scheduling
Well working and documented API
Easy automatic resend to non-openers
As with every email provider, you must keep an eye on your email deliverability.
Beyond Birdsend
No matter what email marketing software you're using, what you need above all is to learn how to write emails that sell.
Learning email marketing is one of the best skills you can develop today.
Sign up for my free email course below to learn how. ⬇️