Bear is a popular note-taking app that works on the Apple Ecosystem.
Now comes the question: is bear the right app to build your second brain?
Being a paid bear user for years, let me share my biased (but honest) opinion.
The purpose of your second brain with Bear
The purpose of a second brain is simple: it's to be to retrieve and re-use all the information you came across in a meaningful way.
And what you're going to learn today will help you decide if Bear is the right app to go for or not.
Bear App Advantages for building your second brain
Quick capture
When it comes to jotting down your ideas, you don't want to put your whole day on hold. You have an idea. You stumble across something interesting you don't want to forget. The solution? Dumping it into your second brain.
Bear is one of the fastest apps on the market. Opening it takes less than half a second.
You could also use customized shortcuts (as described below) to make the process even faster.
Blazing fast app
Plus, being a bear user for 3 years, I don't remember the app crashing or lagging.
Syncing works like a charm
With the Pro plan, Bear used your iCloud account to sync your notes between your devices. Not to say that this works like a charm. True, I had some conflicting notes. But over the past 3 years this happened only a handful of times.
Super-powerful tag system
What sets Bear apart from any other note-taking app is its powerful tag system.
Tag Icons
What I love about tags in Bear is that you can add icons to each one of them. I've been missing these features in all other writing and note-taking apps I've come across over the years.
ARE 99% OF YOUR NOTES GOING TO WASTE?
Let's change that now!
✍️ Sign up for my FREE Email Course and learn how to Turn Your Notes Into Online Content & Monetize Your Expertise:
Your information is safe. You can unsub anytime.
Updating Tags
When you update a tag Bear updates it across all the notes with the same tag.
Let me explain:
Let's assume you've created a tag called self-help. You also tagged a bunch of other notes with the same. Now, you want to change self-help to self-improvement. All you need to do is edit the tag on the tag pane, and all notes will be automatically updated. How smart is that?
This allows you to keep your second brain flexible and agile in taxonomy changes.
In short, the app grows with you!
Nesting Tags
In Bear, You can also easily nest tags under another. As an example
books/harry-potter will create 2 tags: the "books" tag and will nest "harry-potter" beneath it. This is perfect for organizing your second brain and keeping the bigger picture and the clutter away when working from a nice level-headed 35,000 ft. View.
bear app backlinks
If you're an adept of the Zettelkasten note-taking methodology, you know how important links are. If not, check out my free course down below.
The good news is that you can easily add backlinks in Bear by typing [[ and then choosing the note's title.
But keep in mid that there are some severe limitations and drawbacks to backlinks that I will share with you below.
Markdown Editor
I hate rich text editions. The reason? When you copy and paste from one app to another, it almost always messes up the formatting. This is why I've become a markdown adept (and addict) over the years. The good news is that Bear works with the markdown syntax. This means that you can work blazing fast and format your notes the way you want.
You can also personalize the editor fonts, line size, font size, etc.
Is Bear the Most beautiful Second Brain app?
Bear was awarded Apple's design award in 2017.
And I have to say that I can't compare any other app to bear in terms of design.
It's one of the best designed (if not the best) apps out there.
And boy, does that play when it comes to enjoying using your second brain. When you like the aesthetics of an app, you're more likely to engage with it. This is the essence of building your second brain, no matter the tools.
Pricing
The Free version of Bear comes with severe limitations.
The most important one si that you can not sync your notes across all your devices.
But you can try Bear 100% for free on one device and see how it goes (this is way better than having to buy it upfront)
The pro version costs less than $20 per year (or less than $2 per month), making it a pure bargain compared to other mainstream note-taking apps.
Keep in mind that you'll use iCloud as your cloud storage for your notes. If you're mostly taking plain-text notes, you shouldn't be worried at all.
As an example, I have 1988 notes on Bear, and it takes up roughly 152MB on my iCloud storage.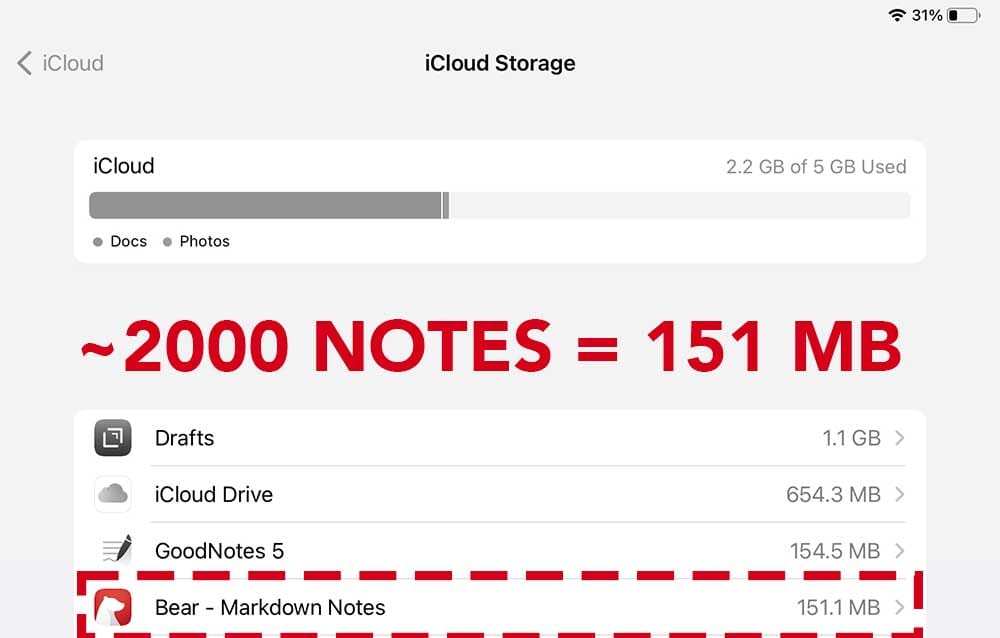 Geek it out with iOS Shortcuts
The Bear app also has an awesome integration panel with iOS shortcuts which means that you can build almost any kind of workflow you want.
Here are all the Bear Shortcuts actions available:


As an example, I have specific shortcuts to tag a note with specific tags automatically.
Or, append things to an already existing note.
This is very handy and saves you times every time you want to capture something.
Exporting your Notes with bear
With Bear, you own your data.
There's an option to bulk export your data in various formats directly within the app: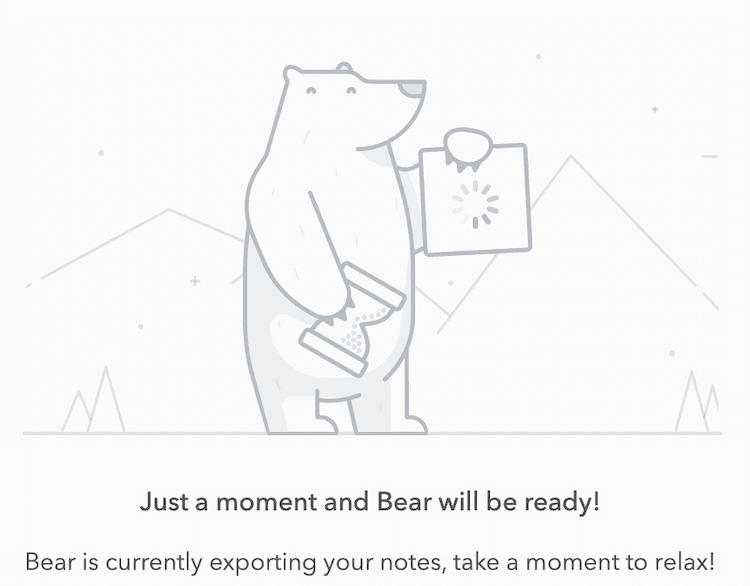 It's very fast, too.
On a Macbook Air with M1 chip the export roughly takes 10 seconds (for over 2000 notes).
You can choose to export your notes through a variety of formats:
TXT
Markdown
Text Bundle
Bear Note
RTF
PDF
HTML
DOCX
JPG
TaskPaper
ePub
Drawbacks of using Bear as your second brain
Beyond all the awesomeness I mentioned, Bear isn't perfect.
There are still some drawbacks to consider depending on the devices you're using or the note-taking method you're following.
Accessing your notes from other platforms
As mentioned earlier, Bear works only on the Apple eco system.
This means that you can not access your second brain with Android or Windows.
But the bear web app is in the works.
Limited Linking Functions
While linking is Bear is better than in Apple Notes or Evernote I can't say that it suits my needs.

Here's why: As a link power-user, I need better back and forth navigation and a way to see the incoming and outgoing links at a glance.

This makes it a dealbreaker to use Bear as my zettelkasten.

Using Bear As Your Second Brain: Conclusion
In my biased opinion, Bear is one of the most beautiful and best-looking note-taking apps out there.
The only thing lacking is implementing the power of backlinks and what comes with it like the graph view.
If you don't rely on backlinks when taking notes, and want a lightweight, fast, and gorgeous looking experience, Bear is a great solution to build your second brain.
When it comes to me, I still use Bear every day as a capturing tool in my second brain workflow.
While tools are important, what's even more important is how you take notes.
If you'd like to build your second brain and turn your notes into valuable content, then feel free to check out my FREE email course below 👇