This is a Linguix vs. Grammarly review.
If you've been hesitating about which app to choose to correct your written words, then this article will show you how.
I've been a Grammarly user for over two years and recently picked up Linguix to give it a fair try.
Here are the results.
But first, some context:
I write every day.
This means that I have to rely on solid tools to run my business. As I'm pretty good at cranking out content fast, my raw first drafts often have typos and poorly written sentences that need to be polished.
Where Grammarly shines
Grammarly is the OG in the writing corrector field.
Grammarly has some unique features, including:
Native keyboard on mobile
Native apps on all platforms (Mac, Windows, iOS, Android)
Ability to set a tone
Plagiarism check
etc.
One of the interesting things is that you can set goals so that Grammarly can give you tailored suggestions to what you're trying to achieve.
As an example, here are my goals in Grammarly: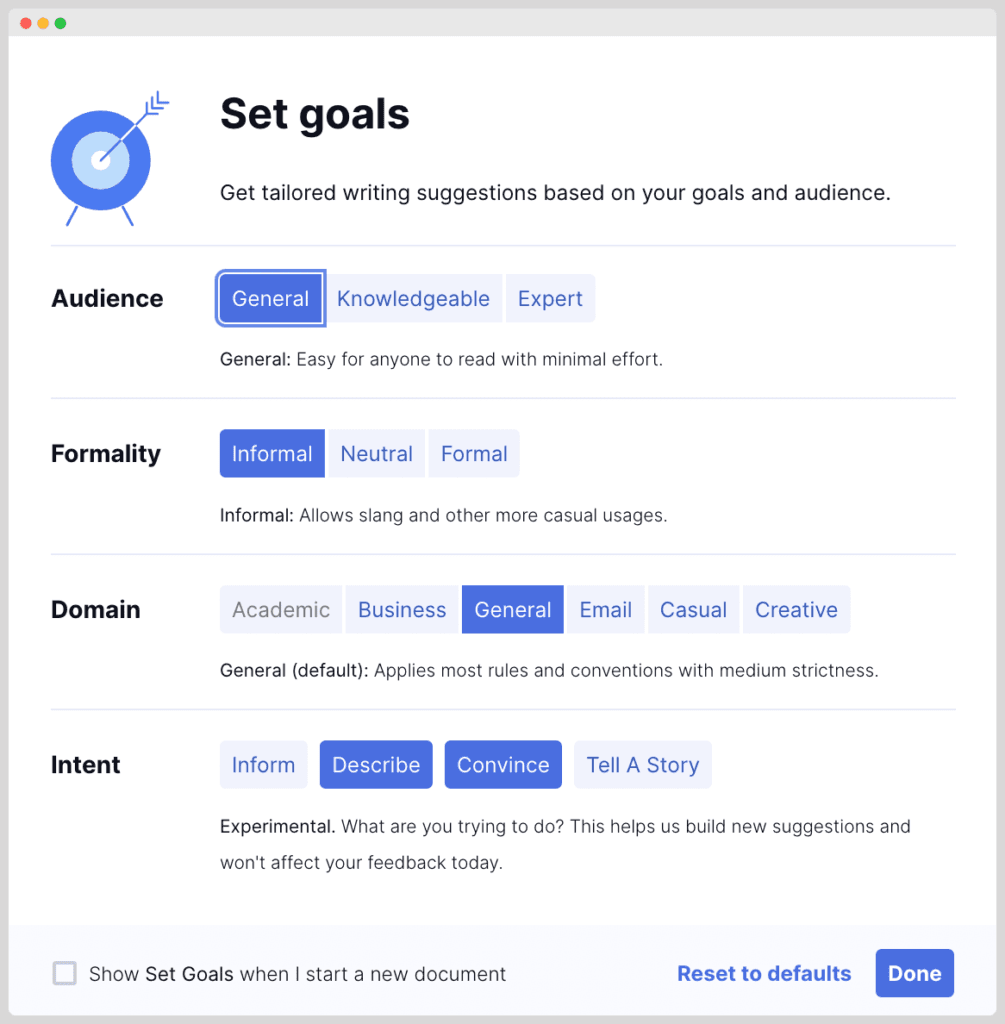 Linguix offers a similar but less powerful feature with only 2 options to choose from to improve your writing.
(Yet not sure if this reflects in the suggestions or is purely for gathering user data…)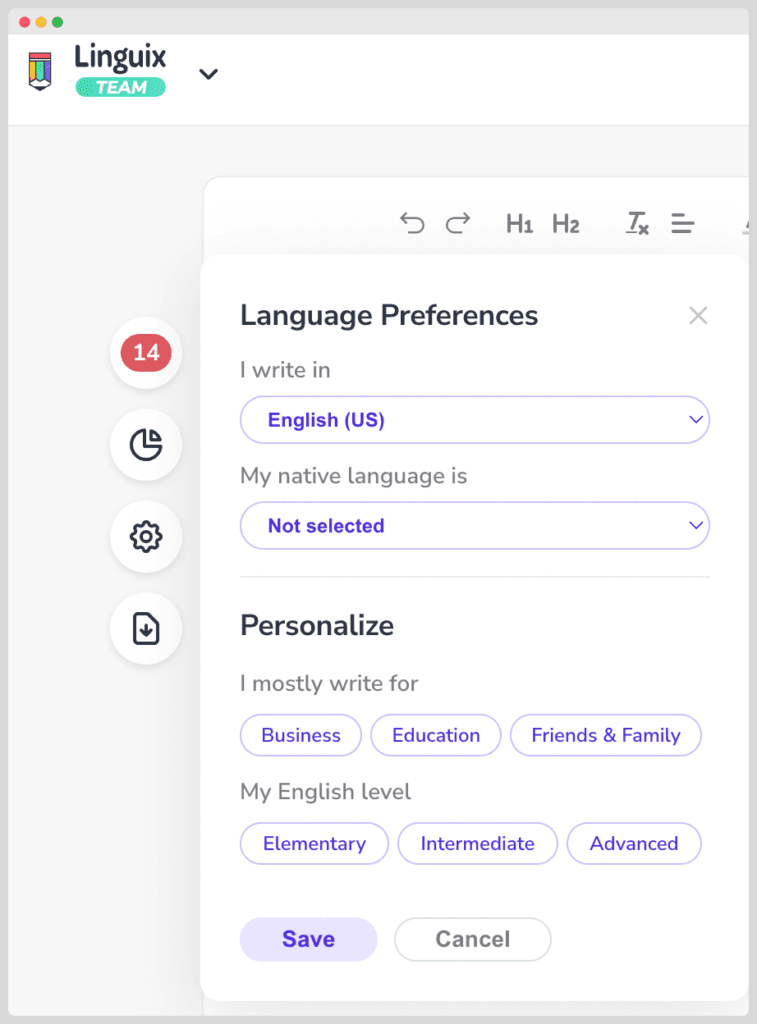 Grammarly Cons
But Grammarly ain't perfect.
For example, one of the things that annoy me is that the editor is painfully slow. It may take up to 20 seconds to check a pasted text.
Plus, it sometimes misses out on some mistakes that Google Doc picks up easily.
Other annoying suggestions that come up all the time in Grammarly are the commas and the punctuations alerts, which aren't that accurate…
So while Grammarly certainly has room to improve, it's a good enough solution trusted and used by many that do the job.
So if that's the case, why have I been tempted by Linguix?
Why I was tempted by Linguix
I stumbled across Linguix on Appsumo. Their LTD was $59. Given the fact that my Grammarly subscriptions cost almost $150 per year… replacing Grammarly with Linguix would have been a no-brainer and ridiculous bargain. Next logical step? Give it a try!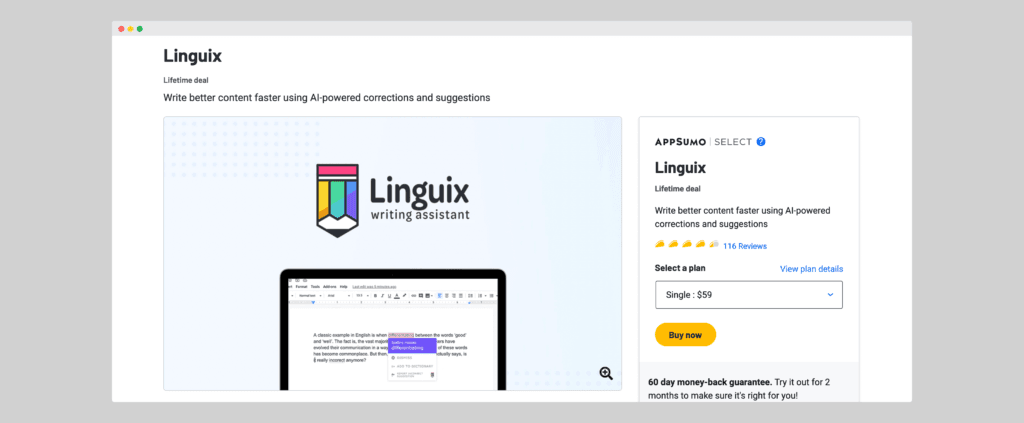 Similiarties Linguix and Grammarly
Linguix works more or less like Grammarly.
You have to create a document to start the check.

Given the fact that there are no native Linguix apps, you have to log into your account and then create a new document and paste in the text you want to correct.
On the left: Linguix. On the right: Grammarly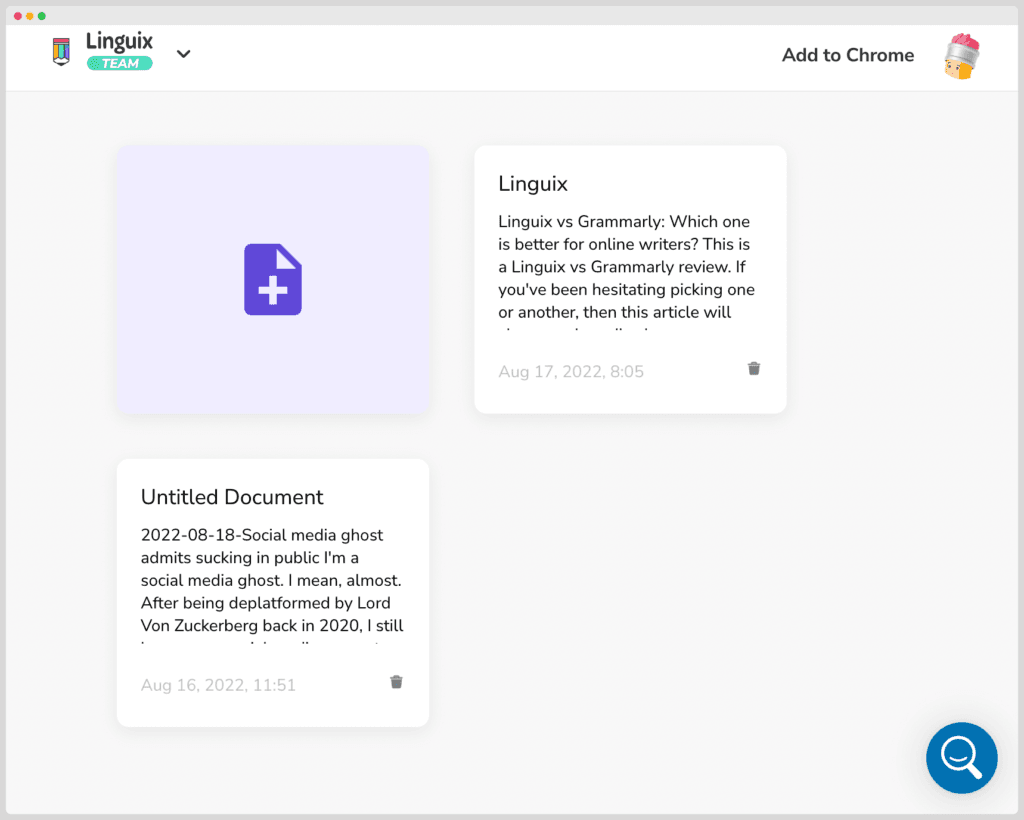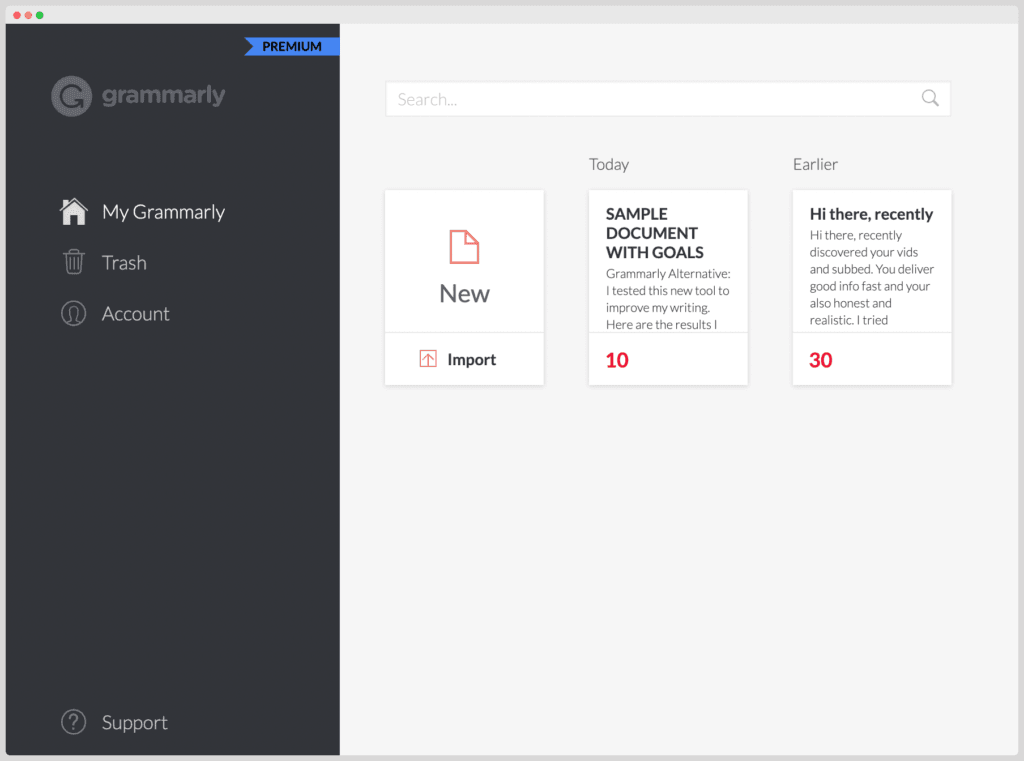 While the Linguix UI could have been improved by reducing the number of clicks to create a new document. But you can still bookmark the "new document" page to get quick access to it. Point for Grammarly.
Ease of correction
You'll find the misspelled words underlined in both apps. Click and pick the right suggestion. But unless Grammarly, there's no explanation whatsoever.
While Grammarly puts the suggestion on the right-hand side, I found that the Linguix suggestion underneath the word itself made way more sense. In a text with a lot of mistakes, I find myself losing a lot of time in Grammarly simply navigating back and forth between misspelled words/suggestions. This is a stupid waste of time. Point for Linguix.
On the left: typo in Linguix. On the right: typo in Grammarly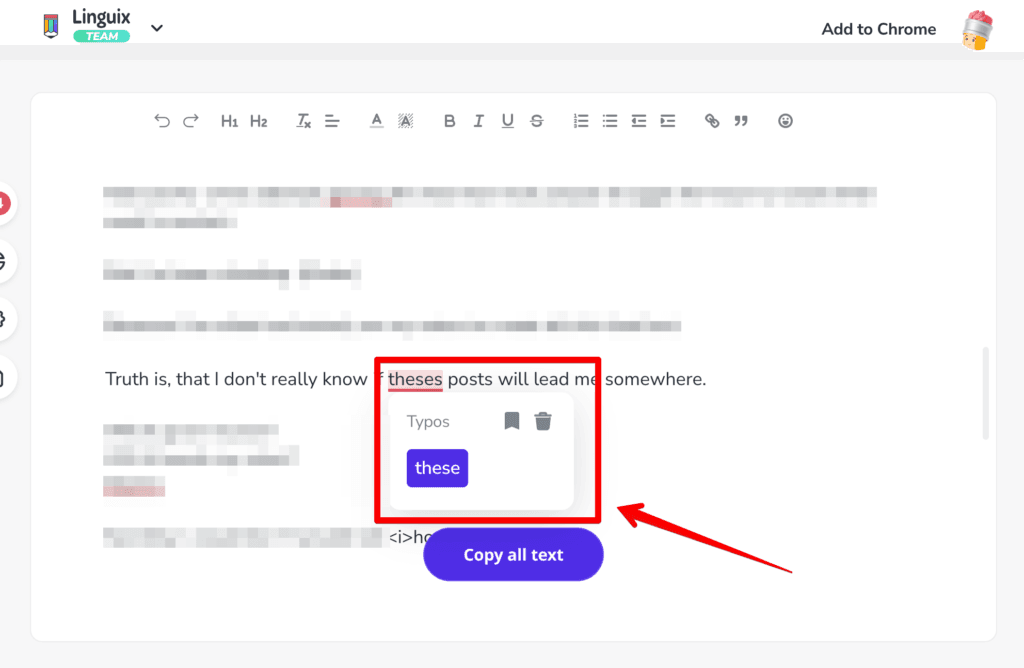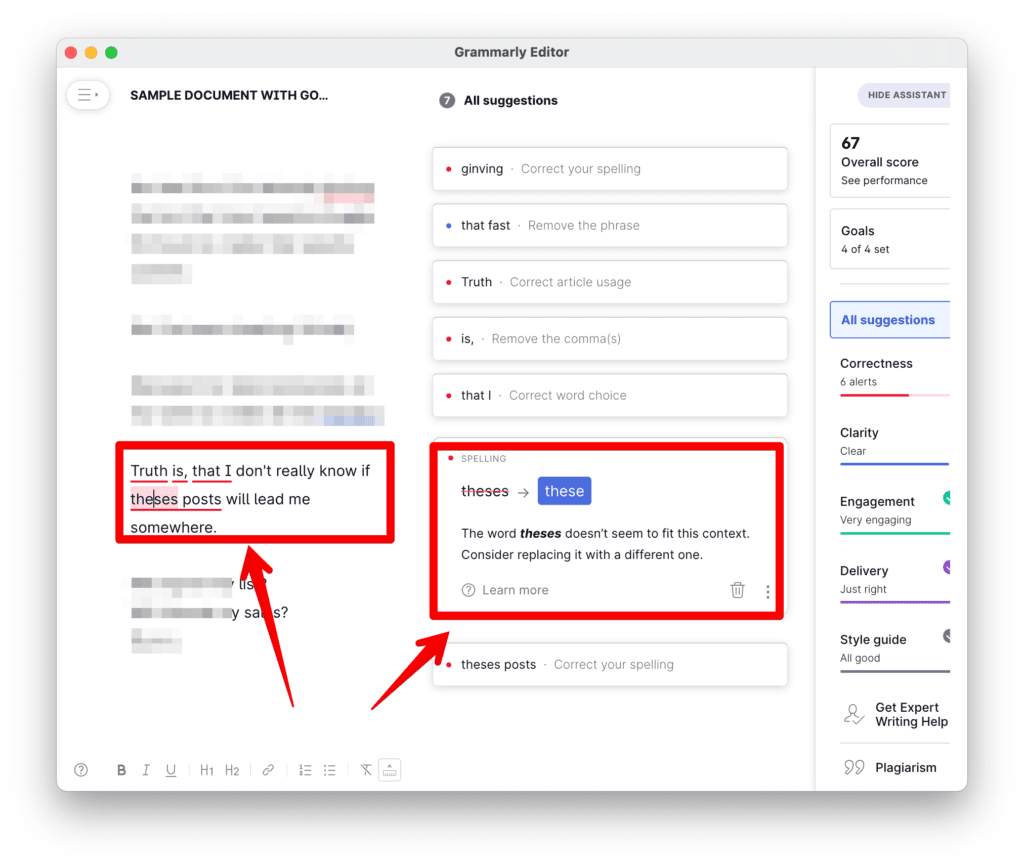 The annoying thing for Brave and Adblocker users: You have to deactivate your Shields/Adblock. Else the editor won't work properly.
Another interesting feature of Grammarly is that sometimes it allows you to correct all the misspellings at once. This is not available on Linguix.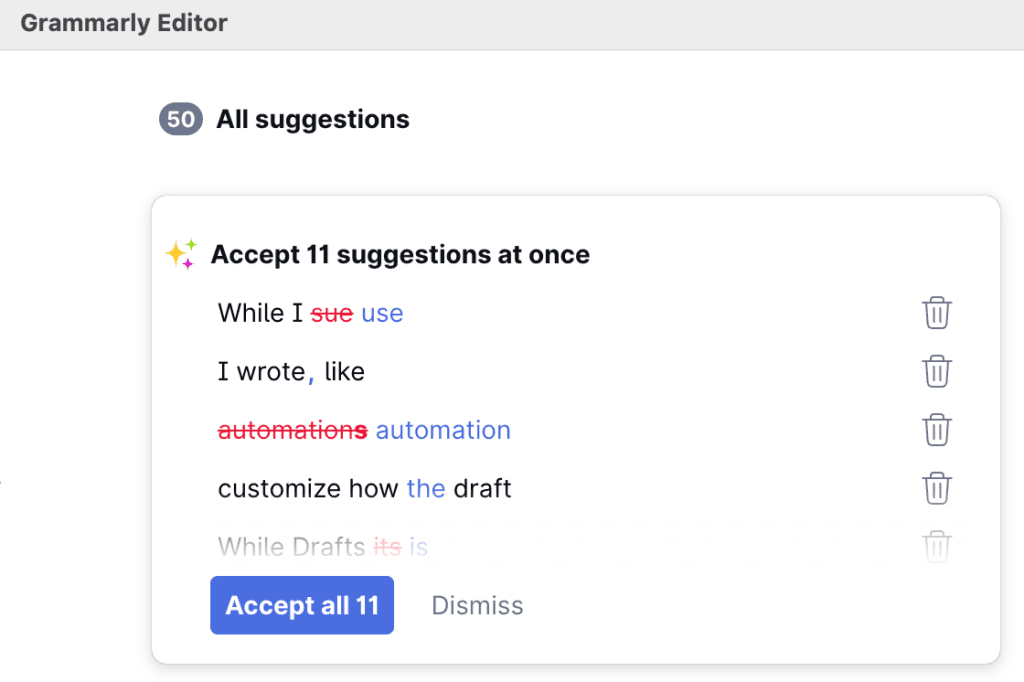 Another point for Grammarly.
Sample text review in Linguix vs. Grammarly
To do an honest side-by-side review, I simply took a real-world raw draft and pasted it into both apps to see the correction suggestions.
Linguix picked up all the typos and misspellings. Nothing to complain about that.
But one of the reasons I have a Grammarly subscription is that English is not my native language. This means my sentences may sometimes be awkward and lack clarity or conciseness.
Here are some examples:
Linguix vs. Grammarly: Conciseness

As you can see on the screenshot above, Linguix didn't pick up anything, while Grammarly suggests removing three words.
Which one sounds better?
They only work when they feel the pressure that they have to get something out there. (Linguix)
or
They only work when they feel the pressure to get something out there. (Grammarly)
For me, the wordiness of my original sentence is terrifying. Point for Grammarly
Linguix vs. Grammarly: Clarity

As you can see, the Grammarly suggestions made a lot of sense. Since it may seem to be a tiny difference… when you write every day, all these little improvements start adding up.
Which one to choose: Grammarly or Linguix?
Linguix is quite good at picking up typos… but that's it.
The reasons why I'll stay with Grammarly is simple: I need the improvement suggestions.
So if you're ONLY looking to correct your Typos, Linguix does the job. You can't go wrong about it.
But if you want something more robust, with writing improvement suggestions, then stay (or go) for Grammarly.