So you want to start writing on Medium but may be wondering if it's really worth it?
I've been creating content for over a decade. And I've been writing on Medium since November 2021: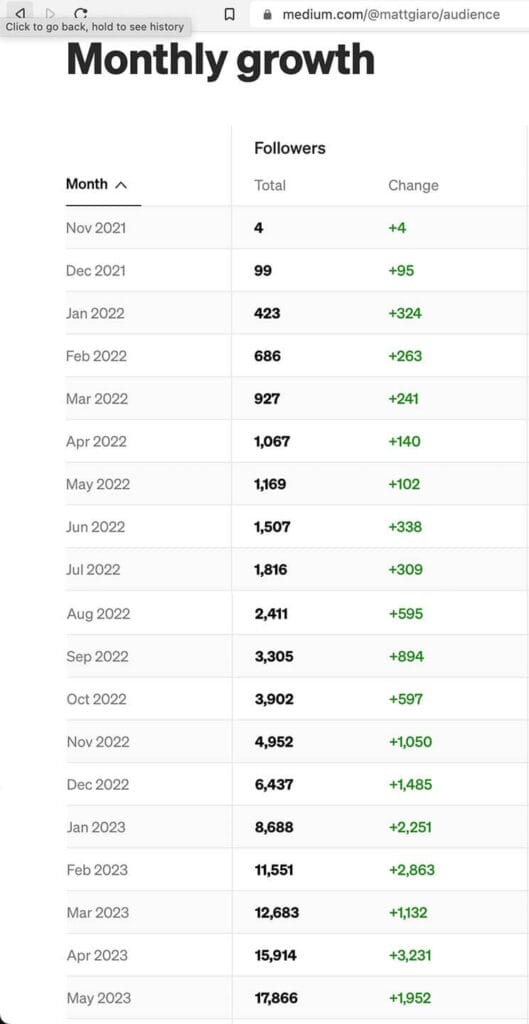 Today, I have over 18k followers on Medium. It's also been one of the best ways to build a profitable email list.
So in this article, I'm going to share with you the good, the bad, and the ugly.
Let's get started.
Why write on Medium?
There are several reasons why writing on Medium is a great way to get started writing online.
Connect with your audience from day 1
Medium is one of those platforms where you can directly tap into an audience pool of avid readers. In fact, Medium's monthly visitor count is 170,000.
Even if it's less than Twitter or other social media platforms, it's still a decent amount of eyeballs. Especially when you're starting from zero.
Get started almost instantly
You can create a Medium account and start publishing your writing in as quick as a few minutes.
The editor is clean, simple, and copying and pasting from almost any text processor or document simply works.
So if you don't want to spend days or weeks setting up your own blog, then you can't go wrong writing on Medium. At least to get started!
Sharpen your writing skills based on feedback
The fact that Medium allows you to get traction pretty fast allows you to understand which topics resonate with your target audience and which do not.
It also forces you to sharpen your skills, especially if you want to make your way into publications. (Publications are kind of curated magazines where you can submit your articles to get more exposure… and they force you to "raise the bar" of your writing to get accepted.)
Making Money on Medium as a writer
I know. You don't want to just "write". You want to make money, too.
80% of Medium writers rely on the Medium partner program to make money.
The Medium Partner Program is a way to put your content behind a paywall and get paid based on the $5 membership that many readers pay to Medium every month.
If you want to make a full-time living as a writer, relying on the Medium Partner Program will definitely not move the needle.
Why? Because it just doesn't pay well enough.
This is why I encourage you to find other ways to monetize your writing like online courses.
Is Medium still worth it?
So now comes the question: is writing on Medium worth it?
Well, it all depends on what you mean by "worth it". Is it worth it to become a better writer, know your market better, and start getting momentum? Definitely.
There are plenty of writers on the platform you were able to build an audience piggybacking on Medium articles. I've been one of them.
Writing on Medium helps you focus on what matters: crafting content people want to read. You don't have to spend your energy on finding the best WordPress theme and spending weeks personalizing it and dealing with technical issues.
If you simply want to write and get paid and make a side income, the Medium partner program can be an option.
As everything is life, there's an opportunity cost. So the next best question to ask is where else can a writer build his audience?
If you're an introvert like me and can't stand social media, it simply seems that there is no better solution for the time being than Medium.
So stop overthinking, and start writing.
Will Writing On Medium Work for you?
Yes and no.
First, you need to make sure that your potential audience is reading on Medium.
Here are some examples of niches that work well on Medium:
Then, you also want to commit at least 3 articles per week to get started.