So you're hesitating between Gumroad and teachable to start selling online courses (or digital products)?
This guide has you covered.
I've been creating and selling online course since 2014 and this guide will show you exactly the best option to get started.
Worth mentioning, I'm using Teachable by the time of writing this review, but as you'll see I'll be completely transparent about what I like and hate.
Sounds like a deal? Then let's dive into it.
Why choose Gumroad or Teachable?
If you want to sell your online courses or digital products, you have two options.
Either you could self-host everything. Or you can use all in one solutions like Gumroad or Teachable.
The problem with self-hosting
Self-hosting everything is like assembling a complicated puzzle. You're juggling different tools for different jobs. It's not just the price tag that'll make your head spin, it's the steep learning curve each tool brings and how to link them together.
Gumroad and Teachable: (Almost) All-in-one
But here's the silver lining – Gumroad and Teachable.
They're the Swiss Army knives of the e-learning world.
They've got it all under one roof.
You can connect your Stripe and PayPal account. Check.
Want to create snazzy order forms? Check.
Looking for seamless integrations with autoresponders? Double-check. Sales pages? They've got you covered.
Content hosting? They'll handle it with ease.
Opting for these platforms is like hitting the easy button.
Sure, you may save money if you go down the self-hosting route, but it comes at a heavy price and learning tag.
You can bypass the chaos of managing multiple tools, and focus on what truly matters: delivering top-notch content to your eager learners
Especially, when you're just getting started.
Don't waste your time on learning 500 different tools.
But why did I say "almost"? For the simple reason that you'll probably still need an autoresponder and a website.
📦 Number of Products You Can Sell
Quantity matters, especially when you've got a mountain of courses or products ready to sell.
And guess what? Not all platforms are generous with their limits.
Take Teachable. They've put a cap on the number of courses you can sell at once. For a prolific creator, that's like trying to stuff a circus into a clown car.
But for most people, the 50 courses plan limit on Pro account is will probably be enough: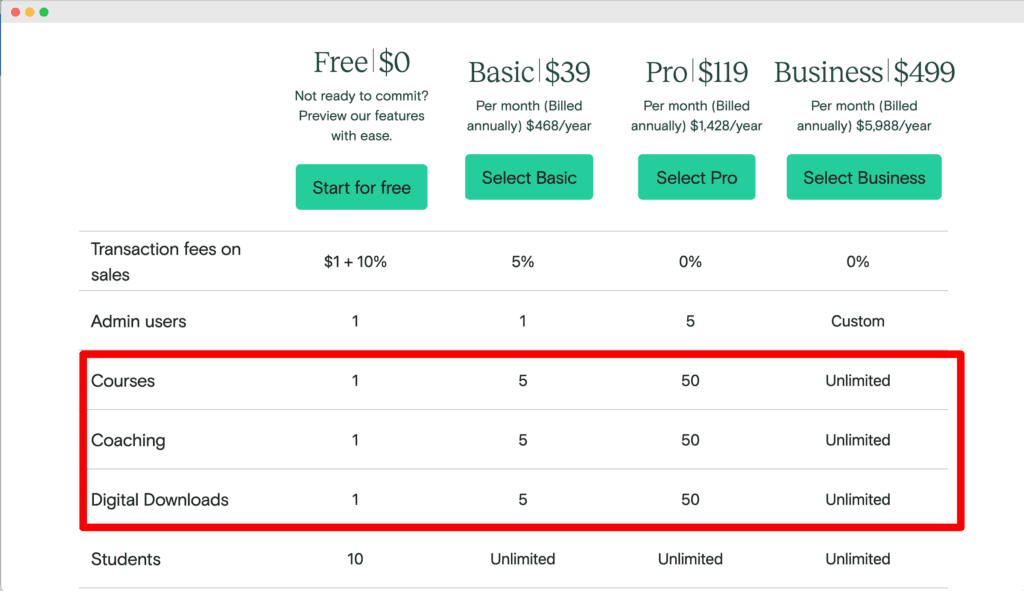 Now, Gumroad on the other hand, is like an open field.
They've given you unlimited space to sell as many products or courses as you want. 50, 100, 200? Bring it on! There's no ceiling holding you back.
So, if you're the kind of creator who wants to sell a lot of different products (either to test out the waters, or because its your business model), Gumroad is your go-to unless you're on a Teachable Pro/Business plan.
It gives you the freedom to sell a vast array of products, all at once.
🔐 Protecting & Hosting your course videos
Video hosting ain't cheap.
In fact, platforms like Vimeo charge from $12/mo to simply host your videos.
And when you're going down the "self hosted" path: i.e: hosting your videos.
Both Gumroad and teachable allow you to host your videos on their platform.
Which means that you don't need to subscribe to an external video hosting platform.
However, Gumroad has an advantage over Teachable right here: because Gumroad allows you to automatically generate close captions to your videos. Which Teachable doesn't.
This is extremely interesting if you're selling to audiences where English ain't their primary language or people with hearing disabilities.
🇪🇺 🇬🇧 Taxes and EU/UK VAT
Everybody hates taxes.
But they're a necessary part of your business you need to take care of. Else, you'll find yourself swirling in troubles crashing your creator's journey.
And what could be more annoying than going through the European/UK VAT maze as a creator…
Did you know that you need to remit VAT for every European customer from the first $1 you make?
That's right.
Every month you have to go through the tedious process by yourself instead of growing your business.
You simply don't have the time for that.
Both Gumroad and Teachable allow you to outsource VAT and taxes. Which means that both platforms will remit taxes on your behalf.
Notice that you need to enable teachable:pay on Teachable.
💳 Payment Processors
Both Gumroad and Teachable require you to set up a Paypal / Stripe account to process your earnings. The exact terms vary based on your location. But if you're in a Stripe supported country, you could get away by only adding a Stripe Express Checkout Account to your account.
Design and, interface and Customization
🎨 Design
If you're a millennial or younger, you'll love Gumroad.
It's got a playful look, bursting with colors that'll tickle your visual taste buds. But, let's say you're targeting boomers, you'll find them scrunching their noses at it.
For them, the jazzy, vibrant design screams 'scam', not 'learn here'.
Take a look by yourself: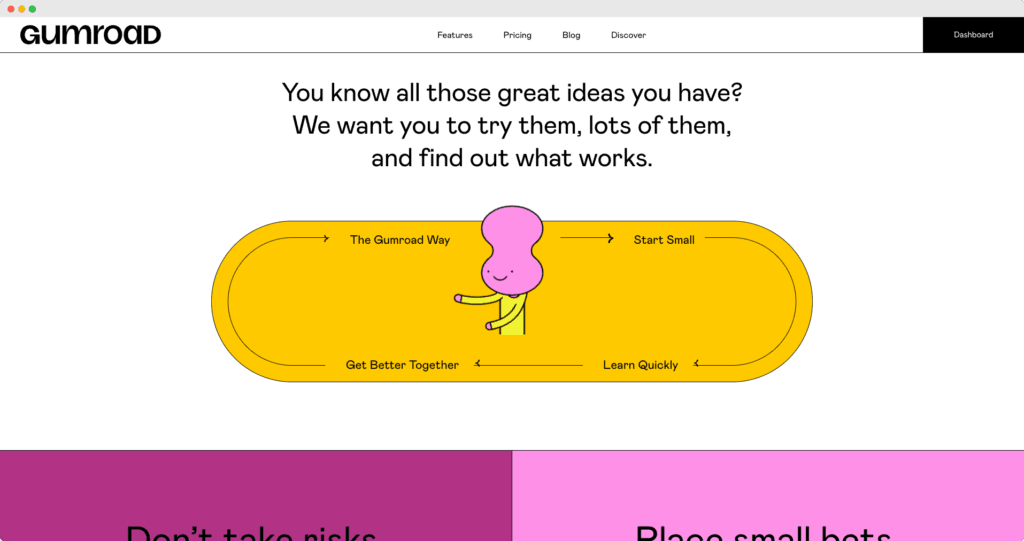 On the other side of the ring, we've got Teachable.
It wears a more traditional face which makes the interface look more professional.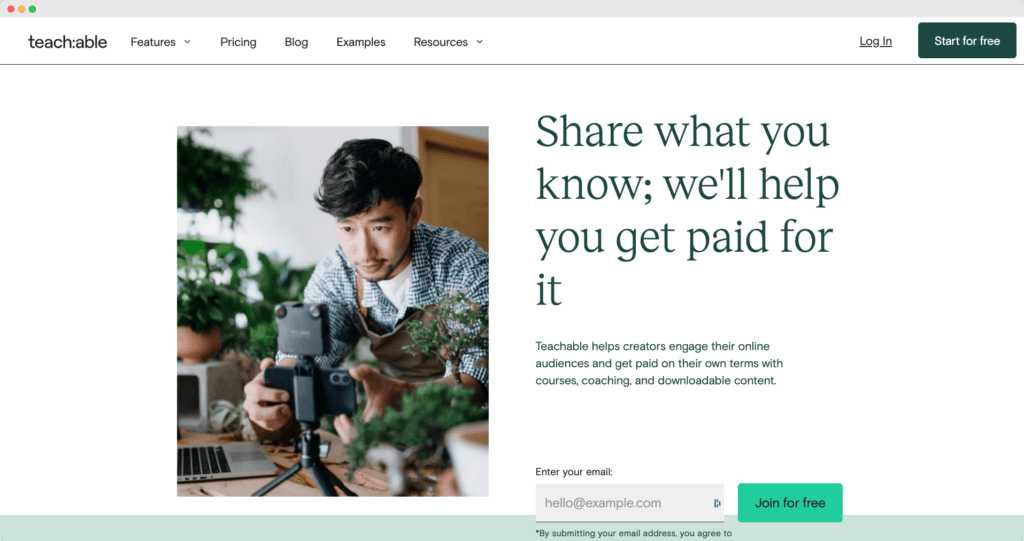 🛠️ Backend user-friendliness
Navigating Teachable's backend feels like wandering in a labyrinth.
Simple tasks? Prepare to click your life away!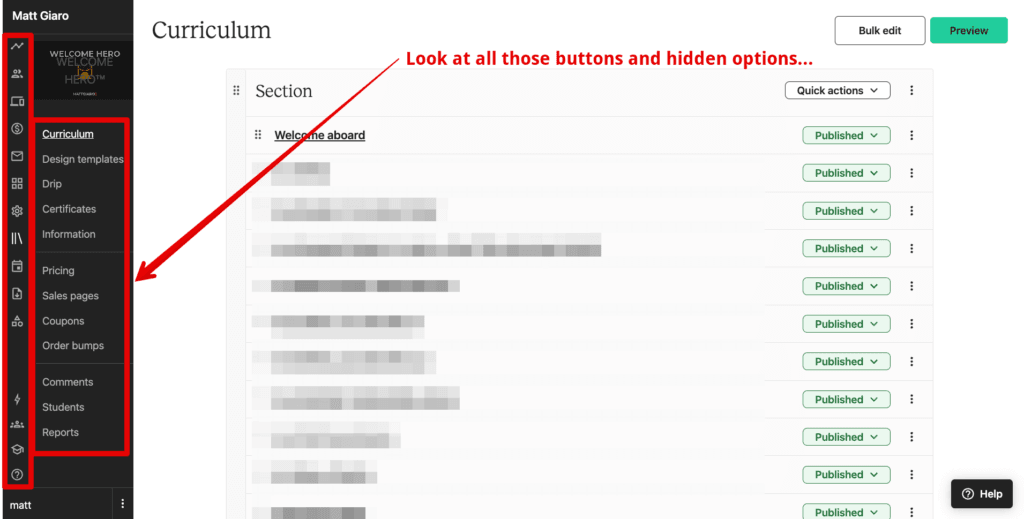 Hidden options are everywhere, turning what should be straightforward into a frustrating game of hide and seek.
On the flip side, the Gumroad user face is simple and very intuitive. You can get your course up in no time.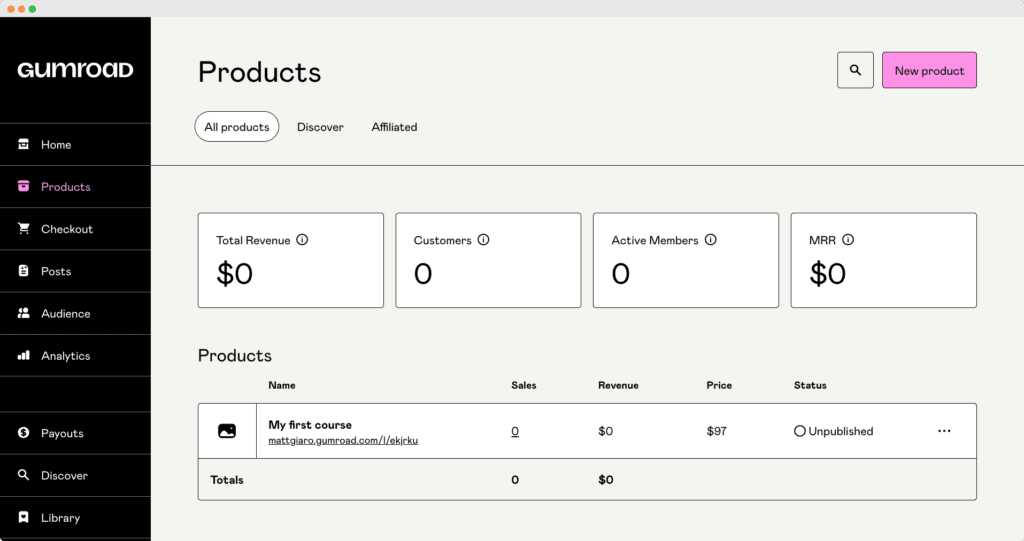 If you look for a simple user interface, Gumroad wins head and shoulders over Teachable despite the funky color scheme.
🖥️ Custom Domains
In the digital landscape, your domain name is more than just an address, it's your brand.
Custom domains aren't just a vanity; they pack a real punch in bolstering your online course.
They allow to access your course/digital product with a unique domain like: https://learn.yourdomain.com
They boost your credibility, giving your course a professional edge. Plus, they make it easier for your students to find and remember you. It's your little corner on the internet, a place that's uniquely 'you'
Both Teachable and Gumroad allow you to use custom domains.
Since Gumroad charges a flat 10% fee per transaction, this feature is included right of the gate.
On Teachable however you need to be on a Basic plan and up (at $468/year+).
🎟️ Embedding Checkout Buttons
Having a custom checkout button on your own website is a nice feature to have.
It provides a seamless shopping experience, keeping your audience engaged in your own digital universe. No detours, no distractions. Plus, it reinforces your branding and builds trust. A custom checkout button can be the key to turning 'maybes' into 'definitelys'.
With Gumroad, embedding a checkout button is a breeze.
You can drop it anywhere on your site, keeping your buyers in the familiar surroundings of your own branding. It's like having a little Gumroad cashier right in your online store.
Teachable, though, doesn't offer the same flexibility. The checkout process requires a hop, skip, and jump over to their platform. You have to redirect your students to the teachable checkout page.
It's like sending your customers on a little detour. Not a deal-breaker, but it does pull your buyers out of your own digital world and into Teachable's…
🤑 Managing affiliates
Affiliates can be your golden ticket to skyrocketing your course sales.
Harnessing the power of others to market your content can multiply your reach, and with it, your revenue.
Both Gumroad and Teachable allow you to create your own affiliate program.
Gumroad gets it. Their 10% flat rate include managing and paying your affiliates on autopilot.
No hidden fees, no sneaky charges.
It's as straightforward as it gets, allowing you to reward your affiliates without breaking the bank or investing any mental bandwidth to it.
Teachable handle also affilaites but with a twist.
Want to automate affiliate payouts? Prepare to pay a premium.
You'll need to activate Teachable BackOffice, which adds an extra 2.8% fee on top of EVERY transaction, regardless if it has been driven by an affiliate or not.
The convenience is there, but it comes at an extra cost which I found not justified especially when you're already paying over a grand every year to host your courses there.
👛 Pricing: Teachable vs. Gumroad Which is cheaper?
Let's get real about pricing. It's a two-headed beast.
First, there's the amount you shell out to the platform.
Second, there's the cut your payment processor (like Stripe or PayPal) takes from your sales.
Gumroad plays a flat game: they snatch 10% off every sale, but they won't charge you a dime in monthly fees.
It's a simple, no-fuss approach.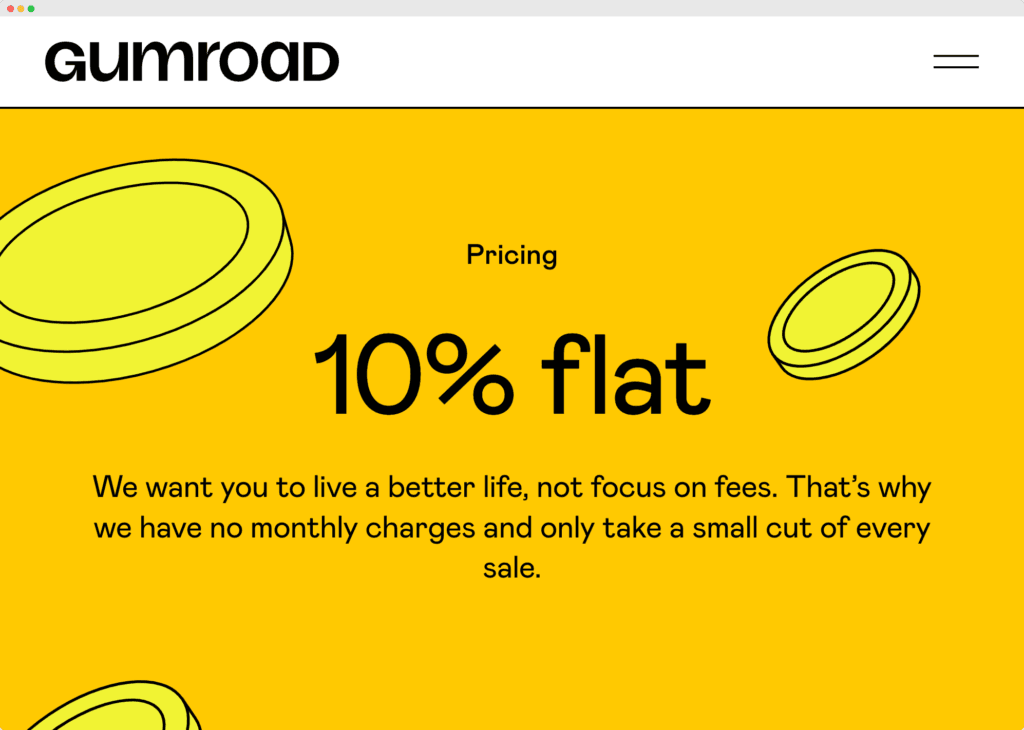 Teachable, though, has a sliding scale.
On the free plan, they'll take 10% and an extra dollar per sale. This makes it more expansive than Gumroad.
The basic plan slices it to 5%. And if you're on a higher plan, they won't take a cut.
But don't get too excited.
That 0% isn't the whole picture.
Because you're still facing the processing fees. For instance, Stripe will take a bite of 3.9% plus 30¢ for each transaction. So, remember, while you might avoid the platform's fees, the payment processor is still waiting with its hand out.
Below a screenshot from a $20 sale on the Teachable Pro plan: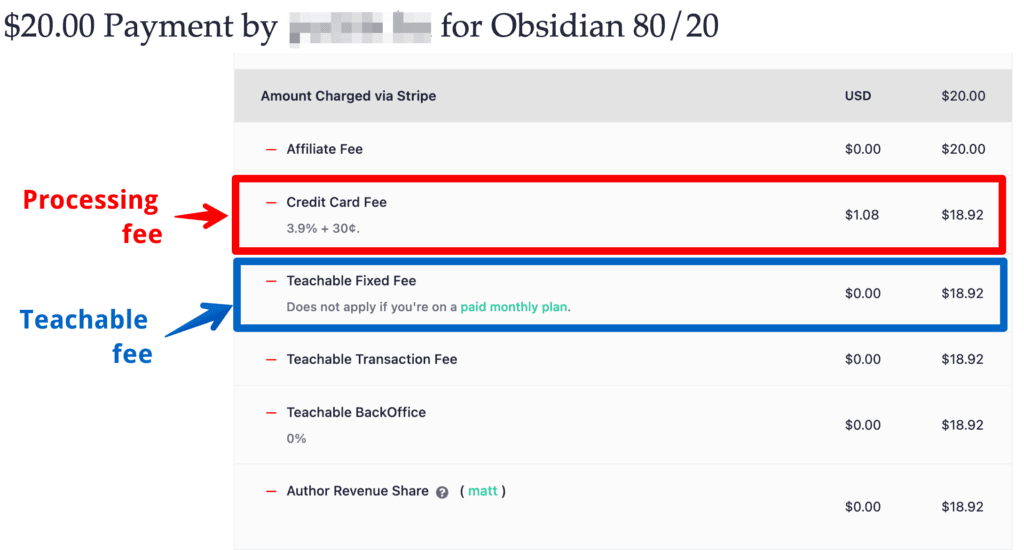 As you can see, I have a 0% fixed fee since I'm on the Pro plan.
But there's a 3.9% + 30 cents card processing fees that goes to Stripe.
If you're just dipping your toes in the e-learning waters, committing to a monthly fee can feel like a big leap.
You're looking for a platform that is easy on the pocket, yet doesn't compromise on the essentials.
And that's where Gumroad shines.
Sure, they'll take 10% off your sales. But in return, they offer a platform that's user-friendly.
Plus, the absence of monthly fees is a blessing for those just starting out. It keeps costs predictable and manageable, freeing you up to focus on creating and selling quality content.
So, if you're just starting your e-learning journey, Gumroad might just be your best buddy.
It takes the worry out of platform fees and lets you concentrate on what really matters – sharing your knowledge with the world.
📱 Mobile App
As a course creator, it's important to put yourself in the shoes of your student.
And dropout rates on online course make me cringe.
It's anywhere between 85-96% according to edX, Coursera, and MIT.
So you want to do everything possible to get that number down.
One of the solutions? Mobile apps instead of web browsers.
Mobile is the future. Heck, it's the present!
Studies show that the majority of online activity now happens on mobile devices, not desktops. So, having a native mobile app isn't just a 'nice to have' anymore; it's a 'must-have'.
Both Gumroad and Teachable have mobile apps for Android and iOS. But let's be honest, not all apps are created equal.
Gumroad's mobile app is a solid performer, doing what it's supposed to do without a fuss.
Teachable's app? Well, it's more like a rusty old car.
It's had its fair share of issues, from playback speed controls going rogue to the offline mode pretending to be a mythical creature.
My personal experience as a student? It's like wrestling with a cantankerous mule.
Now, Teachable has announced a shift away from focusing on their mobile app. While changes may come, currently, it's not a pretty picture.
So, when it comes to mobile app experiences, Gumroad takes the trophy.
It's reliable, user-friendly, and doesn't make you want to pull your hair out.
🧑‍⚖️ Conclusion: Which is better?
Teachable and Gumroad are two popular (and reliable) course platforms. You can't go wrong by choosing one over another. The features are quite similar.
Here's the final takeaway:
When you should use Gumroad over Teachable?
🏆 Perfect for Beginners And Occasional Course Sellers
Simplicity
Unlimited products
When you're just starting out
Don't want to pay monthly fees
When you should use Teachable over Gumroad?
🏆 Perfect for Confirmed Course Sellers Making A Lot Of Volume
Want for a lot of features
Want a solid look for your online school
More cost effective (especially when selling high-priced courses)