INTRODUCING…
THE ART™ FRAMEWORK
A Simple Framework to help busy content creators strip away all the complexity, boring and time-sucking tasks to focus on…
GETTING BACK THEIR TIME,
THEIR FREEDOM,
AND THEIR SANITY!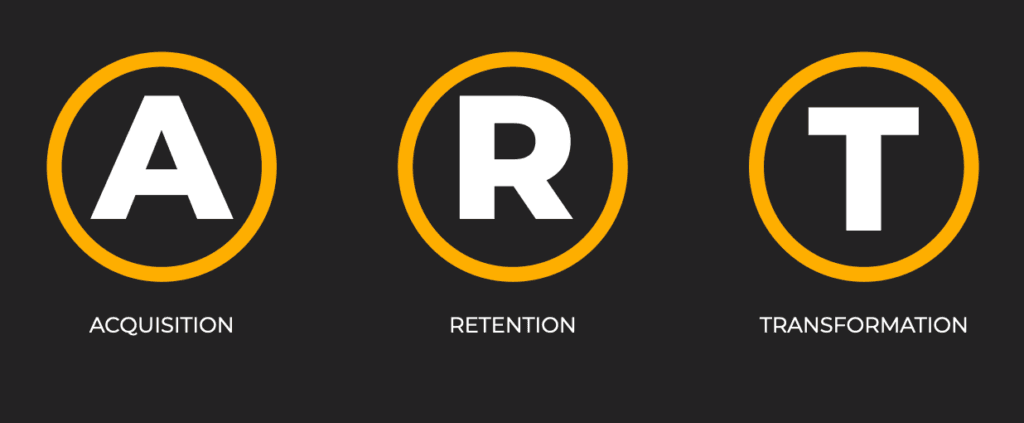 WHAT IS A.R.T.™?
An easy to remember acronym to turn your ideas into an income…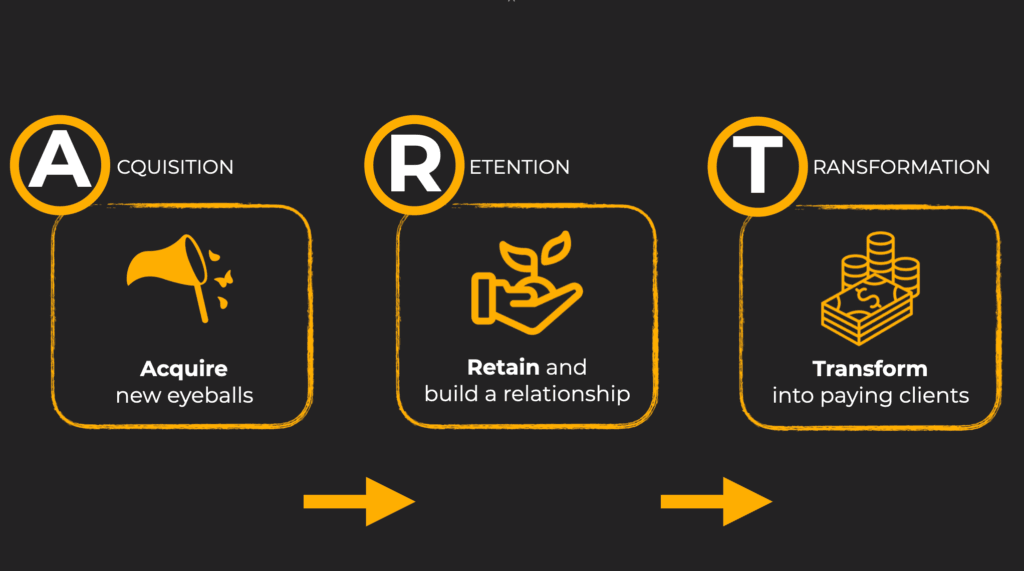 Acquisition:
Your best content is worthless if you have nobody who knows about it.
This is why you need to get new eyeballs on your content.
You want to get people aware that you exist.
And once they know you exist, you want to them to take the first action to enter your world. This can be a follow or a signup to your newsletter.
Retention:
Once you have people's attention (a follow, a signup,…) you have to start building a relationship.
When did you buy a product from a creator that you just discovered? Chances are… never.
This is why you need to first establish report.
People only buy when they know that they can trust you. 
Transformation:
Ultimately, you want to transform those people into paying (and happy) customers.
You don't have a business unless you're getting sales.
I know, On paper, those 3 Elements make Perfect sense.
But in reality,
it's damn hard to find the right balance!
Here's an example:
Let's say you're working on "transformation". You want to create and sell a product.
First, You have to find offers, create the sale page, write the emails, record the videos, upload them, create the order forms, etc.
In the meantime you can't give up on getting new eyeballs, or keep building your relationship with your audience, populating your twitter feed, etc.
This is when the game becomes hard to play.
You see, I have a podcast where I interview content creators. (It's called Build Your Thing). Before hitting the record button I always have a chit chat. Do you know what I discovered? I found out that…

90% OF CREATORS STRUGGLE BALANCING
BETWEEN THE 3 ART ELEMENTS!
So here's the secret:
If you can find a way to balance your everyday actions around the 3 elements you're ahead of the competition.
There may be people who are better than you in getting eyeballs… but if they only work on amassing followers without crafting offers… you win the game.
There may be people who create a lot of products, but if they only spend time creating without working on getting more eyeballs on their work… you win the game.
If this makes sense, sign up for my private email to help you implement ART™ in your business:
LEARN HOW TO WORK SMARTER, NOT HARDER
(And Without Sacrificing Your Results!)

I share my best techniques inside my private daily emails.
Opt-in now, opt-out anytime:
Enter Your Best Email Below👇