Grow your audience on Twitter and learn…
HOW TO CREATE 1 MONTH'S WORTH OF TWEETS
IN JUST 1 AFTERNOON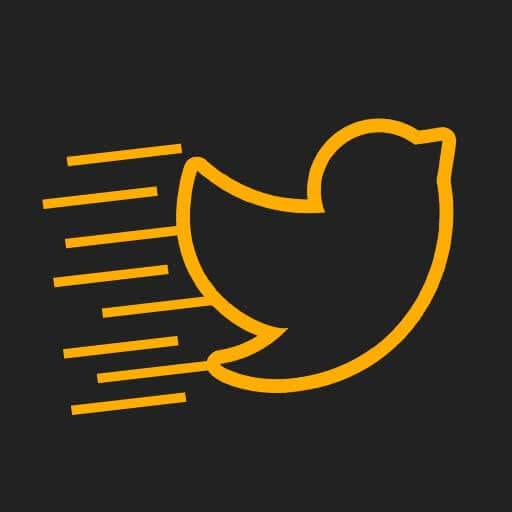 Dear Friend & Subscriber,
If you'd like to build your personal brand, grow your audience using Twitter, and create 1 month's worth of Tweets in just 1 afternoon, then this page will show you how.
I WAS BLOWN AWAY AFTER GOING THROUGH IT:
THIS WILL SAVE ME
5 TO 10 HOURS EVERY MONTH
Can You Relate?
👉 You want to build your personal brand on Twitter but you realize that it's harder (and more time-consuming) than expected
👉 You sometimes struggle with writer's block and don't know what to tweet about
👉 Your tweets are getting no (or low) engagement
👉 You'd like a simple process to follow to crank out a lot of quality tweets in a short amount of time so that you can spend more time building connections on Twitter
👉 You want to build your audience on Twitter and don't want to dedicate more than 30 minutes per day
If the answer is "yes" to any of the above,
read this page carefully.
Twitter is a audience building machine.
And I've spent weeks studying and understanding how to grow on Twitter.
I've reverse-engineered the "big names" that are crushing it there right now. I've even be coaching by a Twitter influencer.
And what I discovered may surprise you.
If you can stick to what I'm going to share with you, you'll be able to build and grow your audience on Twitter within the next few weeks.
HERE'S HOW TO GROW ON TWITTER
Growing on Twitter ain't complicated.
As with everything in business, Twitter growth obeys the mighty 8020 rule.
Here's the 8020:
Number 1: you need to publish high-quality tweets 2 times per day. Tweeting is not about brain farts or platitudes. It's about short-form educational content.
Number 2: you need to interact with others in your niche (Just in case you didn't know: Twitter is a social platform)
That's it.
If you can freakin' stick to those 2 rules, you'll grow.
It's like weight loss. Eat less, better, and exercise more.
But… knowing the secret sauce is useless if you don't apply it.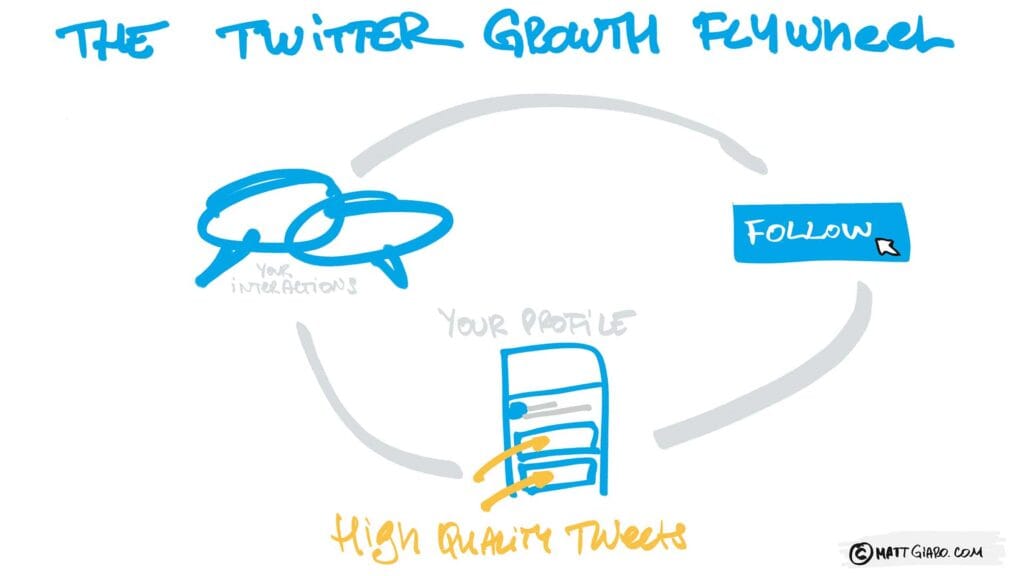 Interacting helps you get in front of MORE people than just writing tweets in your basement.
But here's the catch: You need to be on both fronts at the same time.
You need to both produce and interact.
So why not just interact?
The reason for that is simple.
If what you share in your interactions with others seems interesting, then people will go check out your profile and your tweets…
But you have to give them a reason to follow you.
The micro-commitment of checking out your profile ain't enough.
So how you do give them enough reasons to hit the follow button (and check out your website?)
The answer to that is simple.
It's by having a feed that features high-quality tweets (nobody wants to follow crap) published consistently (nobody will follow if you tweet out once every month.)
If your feed does not obey to those rules… 99% of people will ignore you.
Interaction + HQ Tweet = Growth
It's a well-oiled machine that needs to work in sync.
An engine without fuel is useless. Gas without an engine, too.
If you dare to ignore the 8020, you're doomed to harvest indifference.
Most people start interacting first and then have no more mental bandwidth to produce something…The others simply write tweets and don't interact. So all their efforts go to waste.
Don't be like that.
While I can't help you interact with others… (I can't even help myself as a die-hard introvert! Haha)
I can help you in getting your tweet-writing process right.
In fact, you'll avoid 66% of the pitfalls and you'll produce the following:
1- high-quality tweets
2- at a predictable clockwork frequency
And I can help you create 1 month's worth of original, unique tweets in just 1 afternoon…
Checking off the tedious tweet creation part in just 1 afternoon allows you to dedicate 1 hour per day to interacting with others…
This is how you'll grow on Twitter.
I'm sharing the details of every step inside my new course called…
THE TWEET GENERATOR™
A Self-Paced Online Course + Private Access To my "In-House-Tool" That Shows
The step-by-step process to create 1 month's worth of Twitter content in just 1 afternoon
Here's some of what you'll learn inside the course:
👉 The exact step-by-step process to craft your online course in just 48 hours (even if you've never created a course before)

👉 How to create compelling tweets by simply answering 7 questions (and the psychology behind it)

👉 How to avoid your tweets being boring platitudes, nobody cares about.
👉 How many times to tweet per day (and at what times)

👉 How many topics you should tackle in your Tweets
👉 A sneaky way to "hack" your productivity when it comes to writing Tweets

👉 Private access to my "in-house" Tweet generation tool

👉 And much more…
WHY THIS COURSE WORKS:
First, we utilize your mental states to let your brain perform at its best and get more done in 1 hour than most people in 1 month (no kidding.)
Second, we use high-converting templates.
Templates are proven structured that allows you to turn any idea (even the most boring one) into tweets that generate engagement. I've dug deep into Twitter to find those high-converting structures, cherry-picked them, and turned them into reusable templates.
Third, we use automation to generate compound interest in our efforts.
Once you access the Tweet Generator™, you can access a secret page on my website to generate 20 tweets in just a few minutes by answering 7 simple questions.
It then sends you all the tweets to your personal email.
Then, simply use a scheduling app like Buffer to schedule those tweets out over the next couple of weeks.
Done.
ARE THOSE TWEETS BETTER THAN USING AI?
Answer this question by yourself.
Here's what ChatGTP generated for me (feel free to double check by yourself):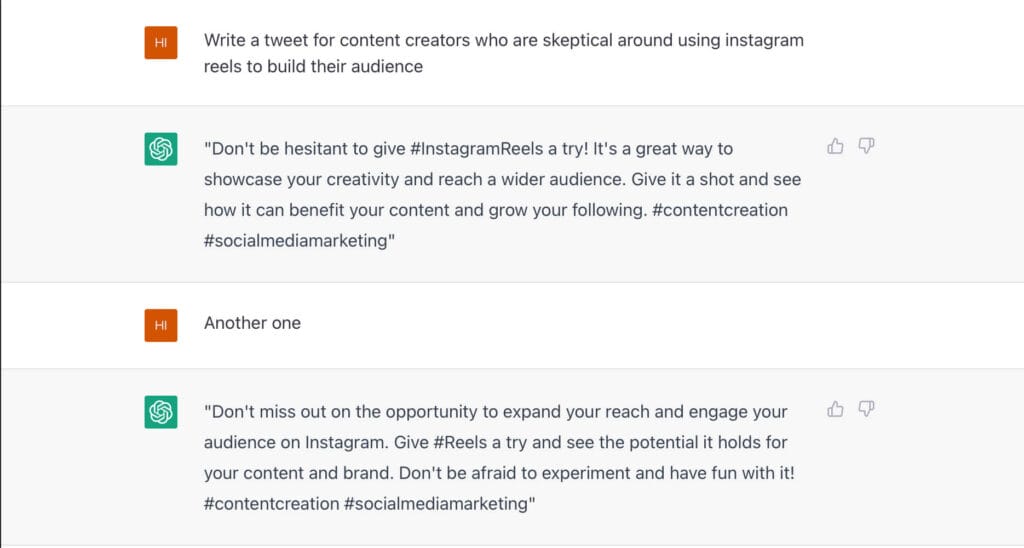 Okay, let's try again…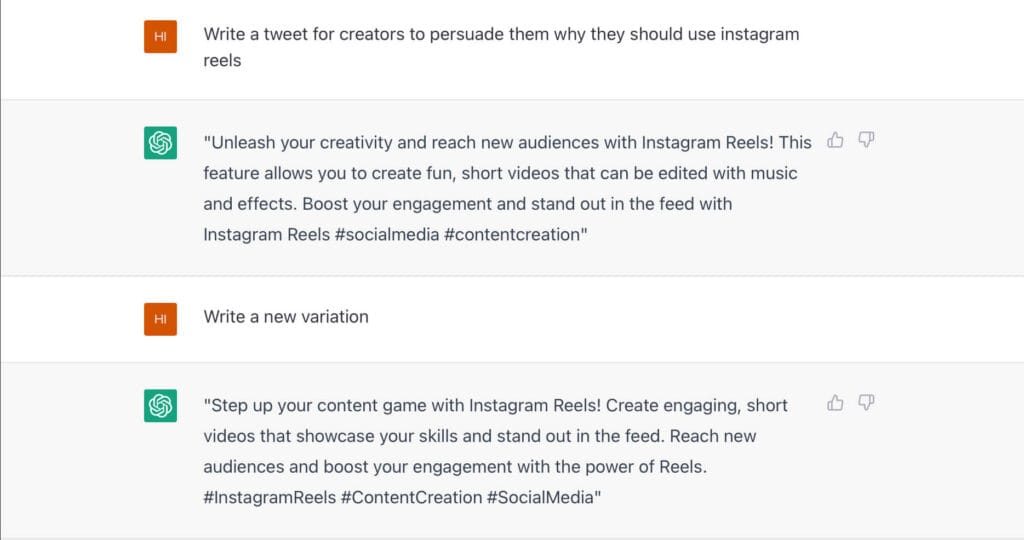 Here's ONLY one tweet generated with Tweet Generator™: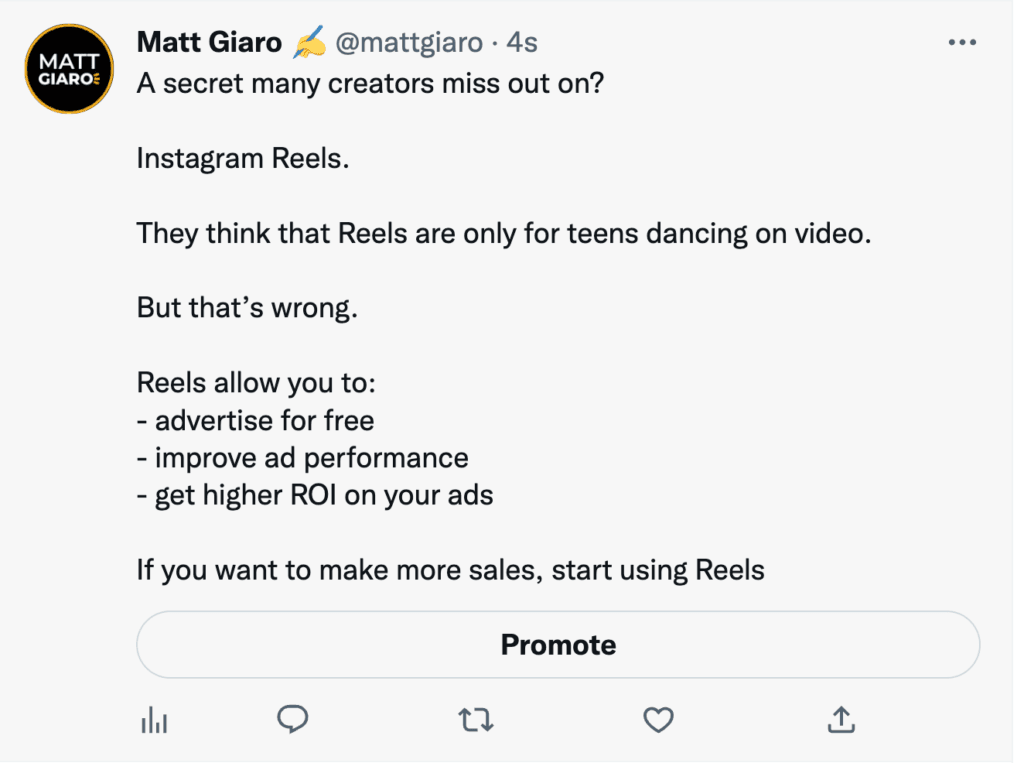 YOU DECIDE WHICH ONE'S BETTER…
By the end of this Training:
✅ You'll know exactly how to create 1 month's worth of tweets
✅ You'll have more time to dedicate to interacting with others on Twitter to fuel your growth
✅ You'll have a high-quality Twitter portfolio that will build trust with your target audience.
EVEN IF…
👉 You don't have time
👉 You don't know where to start
👉 You've never wrote Tweets before
THIS TRAINING
WON'T
COST

YOU ANYTHING!

Let me ask you a simple question:
how long does it take you to create one month worth of tweets?
One hour? Two hours? Three…? Probably way more than right, right?

Okay. And how much is your time, and your mental health actually worth?
$20, $50, $100 / an hour… Probably WAY MORE than the ridiculously low amount you'll invest in this course.

And how many tasks in your business did you neglect to write prerforming twitter content?

Given the fact that this course will help you save at least 5 hours each month…

You'll make the investment for this course back at LEAST 10 times…
🏅 100% RESULTS – GUARANTEED! 🏅
I have total confidence that this course will help. But don't take my word for it – try it for yourself for one FULL YEAR. If after putting this course into practice you aren't able to create tweets blazing FAST, then I'll work with you personally 1 on 1 to create one month's worth of content WITH YOU! No more excuses.
IF YOu're DEAD serious…
There's simply NO WAY you can lose!
I WAS BLOWN AWAY AFTER GOING THROUGH IT!
THIS WILL SAVE ME 5-10 HOURS:
JOIN THE TWEET GENERATOR™ NOW
And create 1 month's worth of Twitter content in just 1 afternoon
You'll get immediate access to:
🎓
ONLINE COURSE
VALUE $150.00
🧰
MATT'S IN-HOUSE TOOL
VALUE $99.00
Combined Value Of: $249
For One-Time Investment Of
ONLY $150
🔐 ✅ The checkout process is fast and secure
WHAT OTHERS SAY:
⭐⭐⭐⭐⭐ 4.8 / 5 (based on 121 students)
🤔 NOT SURE IF THIS COURSE IS FOR YOU?
Ask before you buy : matt[at]mattgiaro.com
You can expect an answer within 24 hours.