How to get your
FIRST 1,000 MEDIUM FOLLOWERS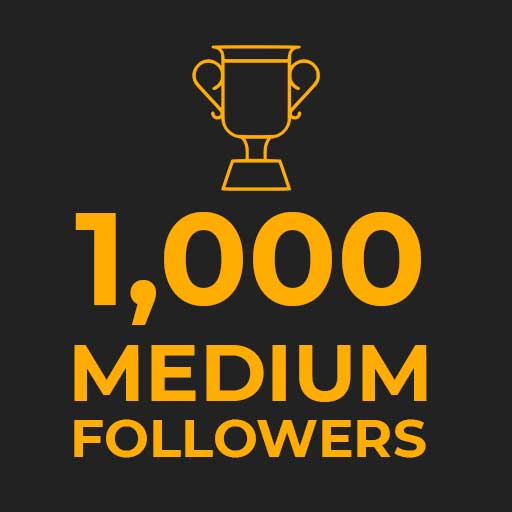 Dear Friend & Subscriber,
If you'd like to kick off your career as a Medium writer, then this page will show you how to get your first 1,000 Medium Followers in as fast as in the next 90 days…
Can You Relate?
👉 You're desperately looking to find a way to get your first 1,000 Medium followers fast
👉 You want to be recognized for your work and your ideas and want to stop being a "nobody."
👉 You want to grow your Medium followers for free & without ads
👉 You're tired of talking into an empty room, and looking for a way to finally get claps, engagements, and grow your follower-base on Medium
👉 You're looking for a way to grow your audience on Medium organically, and part-time (without the need to spend endless hours)
If the answer is "yes" to any of the above,
read this page carefully.
Here's the story:
Getting visibility on Medium is hard!
But hey, that's not only on Medium… but anywhere on the Internet!
Here's why: The barrier of entry is so low… that everyone and their dog create content online.
I remember when I started creating content back in 2010…
You still needed some kinda tech experience to create content.
But over the years, all these tech barriers have been removed.
Today, you can create a Medium account in literally 2 clicks and start publishing right away…
It gets even worse:
The number of daily stories on Medium has doubled in the last few years.
The last number I found stated that 47k stories are published every day on Medium…
That's a whopping….
2,000 stories PER hour!
This means that there are a lot of writers you're competing against.
But within all this competition and apparently "bad" news, there's still some hope.
See: I joined Medium less than one year ago. But I was able to grow there relatively fast.
(It took me precisely 35 days to get my first 100 Medium followers. And I haven't looked back since.)
Truth is, you can succeed on Medium.
Yes.
Even in this year (when everything seems crowded!)
Even if you're not a native English speaker.
Even if you're starting from scratch.
You only need the right tools and strategies… and a strong desire to get there.
HERE'S HOW TO GET YOUR FIRST 1,000 FOLLOWERS:
YOU ONLY NEED TO BECOME A ⭐ VIP…
VIP is an acronym that stands for: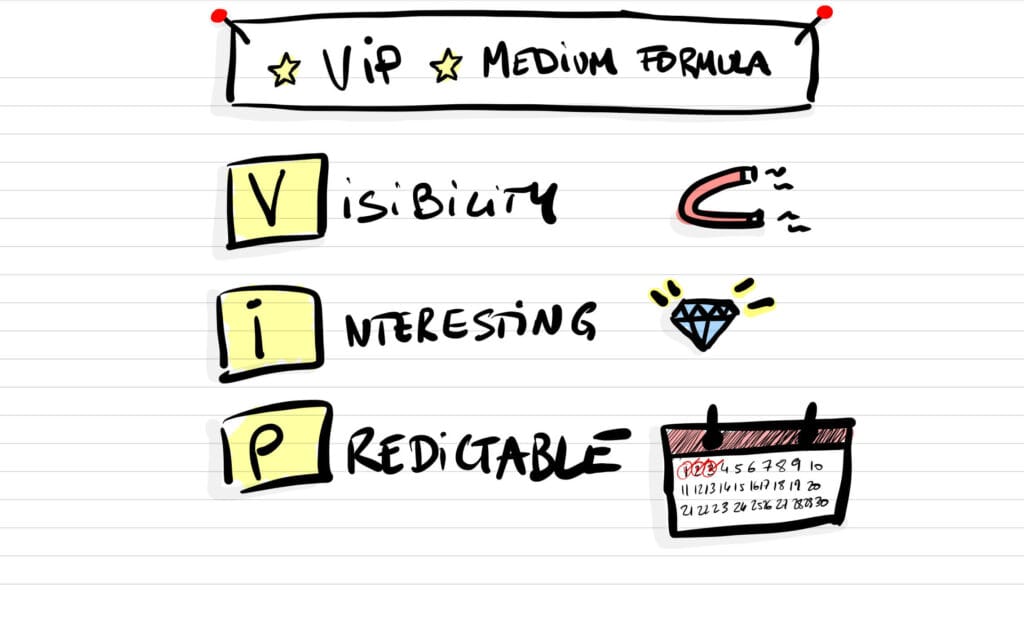 First, you need to get visibility.
With more than 47k new articles published every day, there's a lot of competition out there.
So you want to find a way to hack your visibility and get eyeballs on your content.
And once you get the eyeballs, comes part two.
You want to write in an interesting way.
No one likes to get bored. And no one will give you any attention if your writing is not interesting.
Writing interesting content is the key to gathering more followers without you even asking them. 90% of this involves a psychological trick every successful writer applies (either consciously or unconsciously.)
Third, you need a way to create content in a predictable way.
Don't ever think that you could get traction on Medium simply by publishing 1 or 2 articles. Personally, it took me 30 articles to reach that point. (For you, it could take more or less.)

But all this brings us to one conclusion:
You must be consistent and publish regularly—ideally, every day.
And to be consistent, you need a process!
This is the reason why I've created this new training *originally* called:
"YOUR FIRST 1,000 MEDIUM FOLLOWERS"
A Self-Paced Online Course To Grow From 0 To 1,000 Followers In As Less As 90 Days.
Here's some of what you'll learn inside the course:
👉 A simple trick to make people hit the follow button even without you needing to ask (this happens on a completely unconscious level and is as simple as effective
👉 The best way to start writing on Medium
👉 How to avoid the common traps and end up being an "average" Medium writer
👉How to become a "Top Writer" on Medium… as fast as humanly possible
👉 The difference between "okay" and "good" writing (and how you can improve your writing easily)
👉 Hands down the two most important parts of your stories that you need to master to get people drawn into your writing
👉 The literally best way to edit your raw first drafts into publishable pieces of content on Medium
👉 The 2 ways to get noticed on Medium as fast as humanly possible
👉 My "content-matrix" that will show you how to come up with 120 content ideas for your articles in just 10 minutes. (This should be enough to keep you writing for the next 6 months!)
👉 Why commenting and asking for follow backs is useless and a waste of time (and what to do instead)
👉 The #1 secret that most writers forget about when it comes to creating compelling content
👉 The quickest way to get more visibility on Medium (even when you're just starting out.)
👉 Why most writers are inefficient on Medium and how not to be one of them
👉 3 Words you need to DELETE and BAN from every article you write
👉 A simple trick to improve effortlessly by every article
👉 A simple 3-stage process to crank out Medium articles fast, so that you can get more visibility and out-beat your competition (even if you're a complete beginner)
👉 And much more…
By the end of this Training:
✅ You'll know exactly how to get your first 1000 followers on Medium.
✅ You'll have enough content ideas to be consistent
✅ You'll know how to create compelling content and engage with your audience
✅ You'll know how to stand out
✅ You'll be able to monetize your writing using the Medium Partner Program
EVEN IF…
👉 You're just starting out (and don't have a Medium account yet)
👉 You're in a saturated niche
👉 You're not an English native-speaker and if your writing is "mediocre"
THIS TRAINING
WILL PAY FOR ITSELF 10 TIMES…
Let me ask you a simple question:
How much time, energy and money did you already lose in trying to get your first 1,000 Medium followers?

At the best, days, weeks, or even months?

Okay. And how much is your time actually worth?
$20, $50, $100 / an hour…

Probably WAY MORE than the price of this course…
Giving the fact that this course will help you save endless hours of frustration, give you back your mental clarity and sanity… You'll make the investment for this course back at LEAST 10 times…
🏅 100% RESULTS – GUARANTEED! 🏅
I have total confidence that this course will help.
But don't take my word for it – try it for yourself for one FULL YEAR.
If after putting this course into practice you did not get your first 1,000 Medium Followers then I'll work with you personally 1 on 1 until you get there!
IF YOu're really serious…
There's simply NO WAY you can lose!
GET YOUR FIRST 1,000 MEDIUM FOLLOWERS:
$297
One-Time Payment of
$150
🔐 ✅ The checkout process is fast and secure