CREATIVE NOTES™

Unleash your full creative power by Using the Power of Linked Notes
Dear Friend,
If you'd like to know how to set up a proven note-taking system that will help you solidify your knowledge, come up with creative insights, and generate unique ideas, then this page will show you how.

CAN YOU RELATE?
👉 You're tired of taking notes to merely "store" ideas without revisiting them
👉 You have a feeling of WASTED POTENTIAL and know deep in you that you could do something better with your notes.
👉 You have the feeling of being OVERWHELMED with all the information: gathering it, saving it, and (most importantly) applying it
👉 You have a hard time finding out HOW TO ORGANIZE your notes in the most effective way.
👉 You are looking how to implement your own digital Zettelkasten
If the answer is a BOLD "YES" to one (or more) of these questions, then this course will help you.

BY THE END OF THIS COURSE:
✅ You'll have a complete system that will allow you to finally take FULL ADVANTAGE of your notes
✅ You'll experience MORE JOY when taking notes.
✅ You're going to become a NOTE MAKER, and stop being merely a NOTE-TAKER
✅ You'll THINK BETTER and MORE CLEARLY because this system is going to relieve the floating anxiety in the back of your head
✅ You'll going to experience the TRUE CREATIVE POTENTIAL of your notes
✅ You'll RETAIN INFORMATION more effectively, solidify knowledge so that you can APPLY what you've learned in your life.
This course is not theoretical stuff.
I'm using what I'm going to teach you day in, day out.
Here's a snapshot of my notes:

In this course I'm going to show you the complete step-by-step system so that you can create a network of interconnected notes, too.
You're going to build a future-proof system that will last for you forever.
THIS COURSE WILL SHOW YOU HOW TO IMPLEMENT THE 4 EFFECTIVE STAGES OF

CREATIVE

NOTE-TAKING: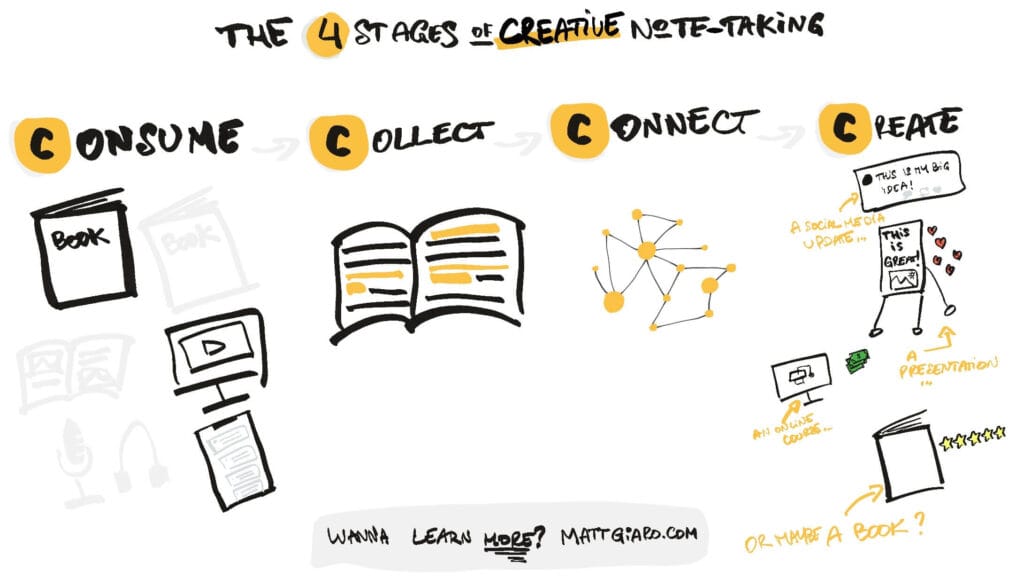 ✋ But before going further
let me warn you:
This self-paced online video course will help you, but at 1 condition:
You need to be open to change.
This means that you have to be open to do things differently (even if they seem counter-intuitive.)
Humans are, by default, reluctant to change.
But remember that positive change happens outside your comfort zone.
I'll be here to help you through this.
And once you'll have your system in place, believe me :
You'll thank me and never look back again.
---
Here's some of what you'll learn inside Creative Notes™:
---
👉 The 3 Different Types of Notes Your System Needs to Have (And How to Implement Them Easily Without the Technical Fluff!)

👉 How to set up your "Digital Zettelkasten" quickly and simply (without the technical jargon and al the fluff)

👉 How to set up a "Future Proof" note-taking system that will last with you… FOR LIFE!

👉 Why Chasing New Complicated Note-Taking Apps Won't Move the Needle And is nothing else than a waste of time (And What to Do Instead)

👉 The 2 Crucial Components of a Successful Note-Taking System (And How to Set them up correctly)

👉 Why Most Note-Taking Systems Are Doomed to Failure (And How to Set Up Yours to Succeed)

👉 The Difference Between PKM, Zettelkasten, Second Brain, and Otter "Catchy" Terms. (most People Don't know the subtle differences and mix everything together which makes them not achieving anything Significant)

👉 the contrarian approach on how to manage to manage information effectively

👉 How to escape the "information Overload Treadmill" and gain back your mental sanity and focus

👉 How to Classify Your Notes the Right Way

👉 The Multi-Entry Door Technique to Be Sure to Retrieve Any Information in Your Note-Taking System in 15 Seconds (Or Less)

👉 The 4 Rules You'll Ever Need to Create an Effective Note (and Optimize it Easily for further reference)

👉 The Most Underrated Productivity Principle (that you probably already know but barely apply) That Will Allow You to Cut Through the Noise and Become a Note-Maker Instead of a Note-Taker

👉 A Simple Technique to 10X Your Knowledge by Identifying Your Information Gaps

👉 How to Start Thinking Critically and Stop Being a "Sheep" That Simply Saves Information and regurgitate Other's People Thoughts

👉 What To Do With Your "Old Notes" (Walk-Through of My "Stress-And-Hassle-Free" Approach on Migrating Notes)

👉Why Blindly Implementing Niklas Luhmann's Zettelkasten is stupid and a waste of time (and what to do instead)

👉 the in-depth process on the best way to capture information effectively

👉 How to capture information from almost any source (Books, Audio Books, Videos, Podcasts, Seminars…)

👉 The step by step plan on how to correctly distill information and create notes in your Digital Zettelkasten

👉 My Complete "No Folder" & "No Tag" Approach To stop being an archivist who never re-uses his notes!

👉 I'll Show You How My System Works Behind the Curtain: How I Create, Retrieve, and Utilize Notes Step-by-Step.

👉 How to stop being a note-taker and start becoming a note-maker

👉 How to get rid of "collecting Notes" for real!
👉 and Much more…
---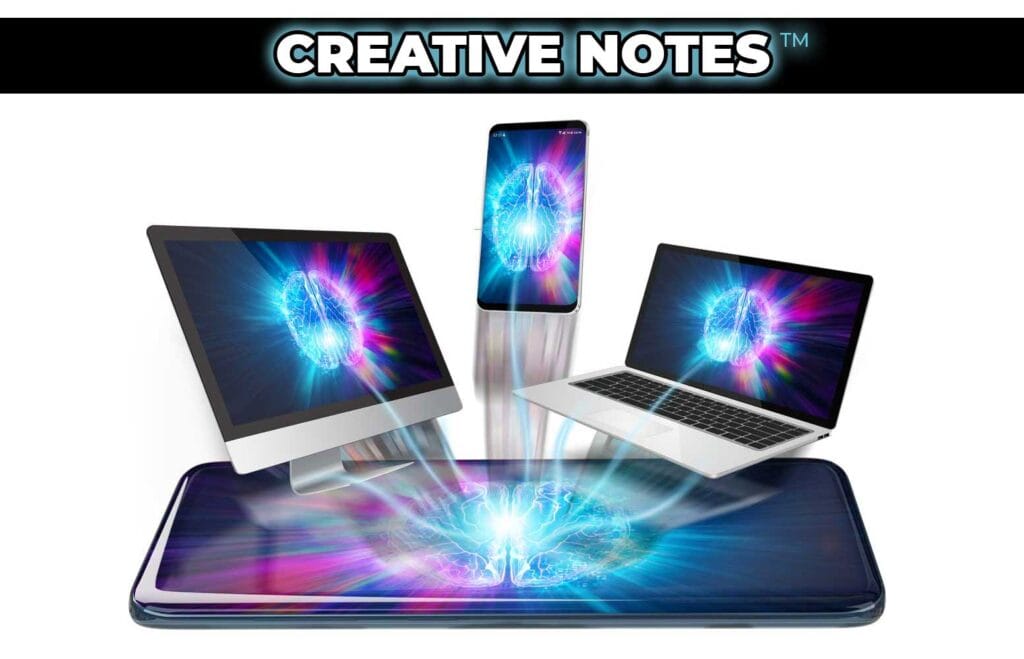 Your Notes Are Probably Already a Mess (Like It Was My Case Not That Long ago..).
Could It Go Worse? Probably Not…

What Do You Have to Lose to Give Creative Notes™ a Try?
The Answer: NOTHING!
And Here's The Proof:
🏅 100% MONEY BACK GUARANTEE 🏅
We all hate risk.
And if you're on this page – You already know that my content is solid.
This course is no exception. I am working hard and have full trust in this material.

But hey: Don't take my word for it – try it for yourself.

In case you're not satisfied with the value you got out of the course – here's a "no brainer" money-back guarantee:
Simply send me an email to [email protected] within 30 days of purchase and I'll refund your FULL money within 48 hours.
Any questions before joining the course?
Don't buy anything now. Hit me up first at: [email protected]
(I usually reply within 24 hours, most of the time even less!)
⏰ ENROLLMENT IS OPEN NOW
AT SPECIAL LAUNCH PRICE

How much does it costs?
Click the orange button above to see the up-to-date pricing.

But please don't procrastinate – I reserve the right to raise the price or de-activate the coupon at any moment without any prior notice.

So if you're reading this right now..
It's still time to grab the whole course at this special price point.
Here's What

Others

Say About My Courses:
"A SOLID COMBINATION OF THEORY AND PRACTICE!"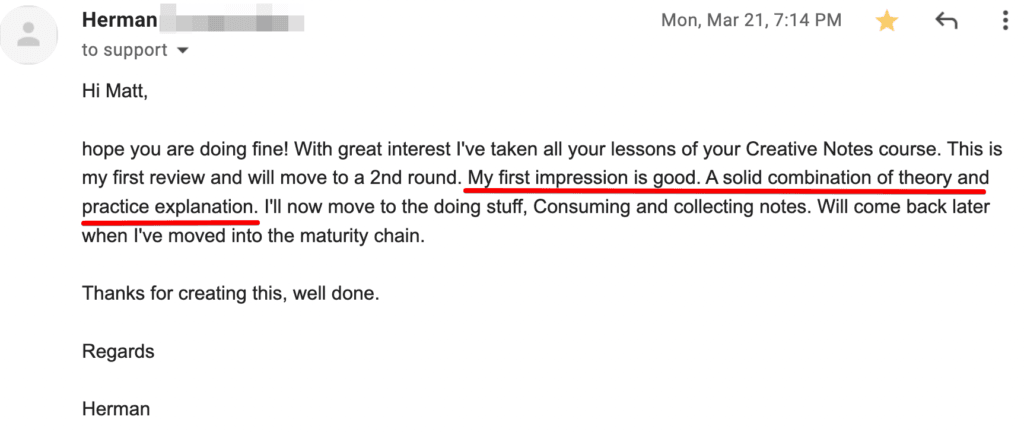 "ENGAGING WITH THIS COURSE HAS HELPED ME FINE-TUNE MY NOTES!"

"I'M ENJOYING THE COURSE AND LEARNING A LOT!"

"I TREAT IT AS A LITTLE REVOLUTION!"

Frequently Asked Questions:
👉 Is this course only for creatives?
No. It's for everyone who wants to retain information better and make sense of it.
👉 What is Creative Notes™?
Creative Notes™ is a self-paced Online Course that will show you how to set up a note-taking system based on the power of linking your notes between them.
👉 Who's this course for?
For Knowledge workers, self-development enthusiasts, and people who deal with information every day and would like to make more out of it than just "saving".
👉 What's the difference between Creative Notes™ and 3-D Notes™?
Creative Notes™ is an advanced note-taking course. It shows you how to leverage the power of linking your notes and literally build your "thinking assistant."
3-D Notes™ is a beginner course that will show you how to merely store and retrieve information on demand.
👉 What's the difference between the Zettelkasten and Creative Notes™?
This course uses the advantages of the Zettelkasten while stripping away the complexity and inconvenience of an offline Zettelkasten. In short, this course will show you set up your digital Zettelkasten step-by-step with real-life examples.
👉 Do I have to use a specific tool? Is this course technology agnostic?
Yes, it is. This means that you can use whatever software you want as long as it supports linking.
👉 Is Creative Notes™ a course to learn how to use Obsidian?
No, this is not a course about how to use Obsidian.
Creative Notes™ shows you principles and workflows that can be applied with any tool (as long as it supports linking). As I like to say: "I focus on the way to tick, not where to click." If you only want to only know how to use Obsidian, check out my Obsidian 80/20 course.
👉 When will the discount ends?
Honestly speaking, I don't know. I'm not a fan of fake marketing scarcity campaigns. But what I know is that I'm going to raise the price for sure in the near future. Once it will go up, it will be too late. And I don't want to upset those who bought at the higher price. (This is not how I treat my clients!) So either you want the course, or you don't.
So if you want it, one advice: don't procrastinate further.

Matt Giaro's work has been featured on Major Publications like: