How to set up a complete system so that you can
START FROM SCRATCH
IN JUST 48 HOURS!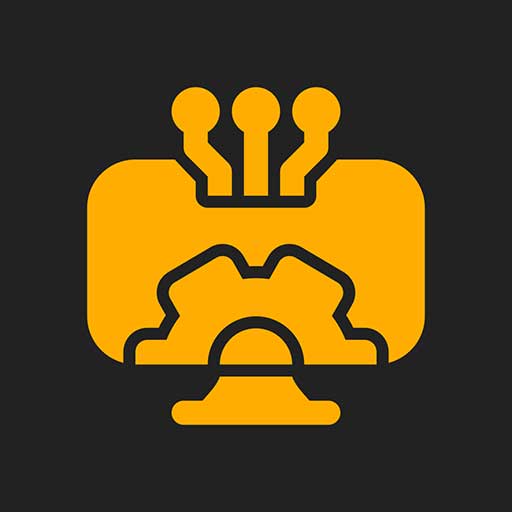 Dear Friend & Subscriber,
If you'd like to start creating content online but are completely bogged down by all the different options out there (from what platforms to choose, to what tools to use…), then this page will show you how to set up a complete system in just 48 hours from now.
Can You Relate?
👉 You want to create content but don't know where to start
👉 You're tired of handling contradictory information online when it comes to what to do, and what tools to choose
👉 Your focus is completely diluted across different things and do a little bit of everything but with no result
👉 You're looking for a way to build a business creating content but need a clear roadmap to get started
👉 You're afraid of setting up the wrong system (and thus losing days or even weeks trying to fix your mistakes by yourself or hiring an expensive third party provider to do it for you!)
👉 You tend to overthink, are overwhelmed and have a hard time making a decision about which path to follow (and deciding which one is the most effective for your unique situation)
👉 You're procrastinating because you don't know what's the best way for you to get started
If the answer is "yes" to any of the above,
read this page carefully.
Here's untold truth about content creation:
You not only need to create content…
but you need to run an entire business!
Running a business as a creator is like an iceberg: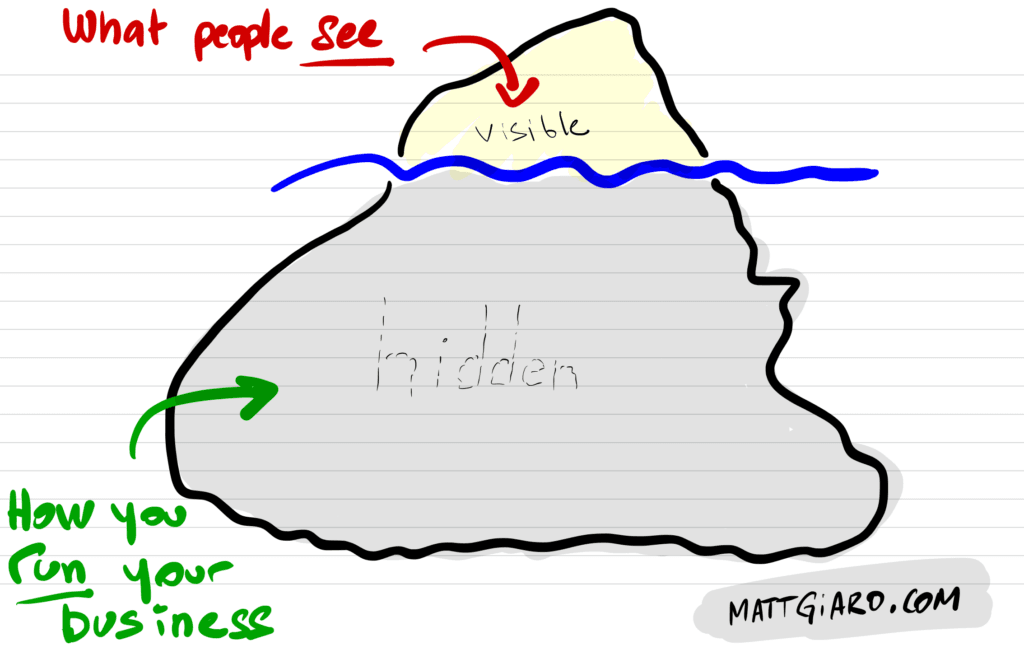 You have the visible part: the obvious one that everyone sees.
And you have the hidden part: the part that maintains your business… in business.
The hidden part is everything that happens without others truly noticing what's going on.
In other words, it's the operating system.
It's the foundation
It's how everything works and ties together.
So now comes the question: What is going on under the water?
HERE'S HOW TO BUILD THE RIGHT SYSTEM:
You need to set up a minimum viable strategy using ART™.
ART™ is an acronym that stands for 3 key elements: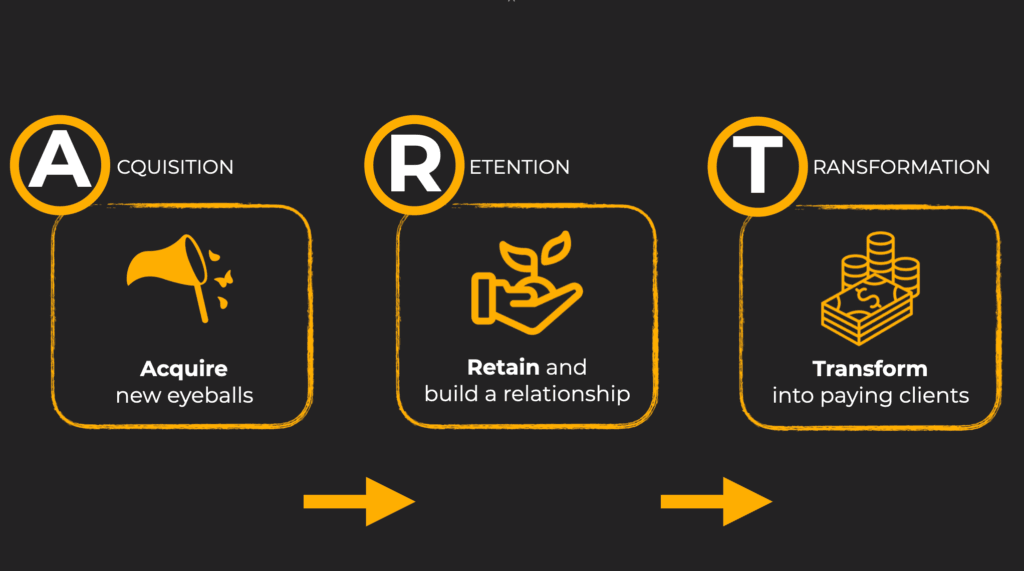 All this is nice on paper, but how do you actually get started?
What system do you need to put in place so that everything works smoothly and is humanly manageable?
Random people just see content.
But what is going on under the hood… Part by part?
Some "under the hood" questions like:
How do you create an acquisition plan?
What is the best way to retain attention and build a relationship with your audience?
How do you handle the back-end of creating and delivering offers?
And what tools do you really need to get started?
What are the most cost-effective options?
And the list goes on…
Finding the exact answers to these questions is daunting and time-consuming.
While there are thousands of tools out there supposed to make your life easier
Tools are only as good as
knowing how to use them!
Remember the saying: "If all you have is a hammer, everything looks like a nail!"
Plus, there are still so many things you could do wrong as a beginner…
I know that because I went through the process myself.
(And still do regularly to keep my expertise up to date.)
I've been creating content for over a decade and have tested and used dozens of tools.
I've switched, learned, and unlearned so many things… This alone made me waste a lot of time. I became a tech guy instead of focusing on what matters (and what I enjoyed) the most: creating content.
And when you're starting out, you can't afford to go down the rabbit hole alone.There are just too many things to master.
I mean, theoretically, you could.
But doing that is like attaching yourself to a heavy anchor, throwing it into the deep water, and trying to swim.
Trying to find things out yourself is playing the game on hard mode!
What would you say if you could pick my brain and if I could pass and package all my experience to get you started in as quick as 48 hours?
This is the reason why I've created this new training called:
THE CONTENT CREATOR STARTUP
OPERATING SYSTEM
A Self-Paced Online Course That will show you exactly everything you need to get started in just 48 hours….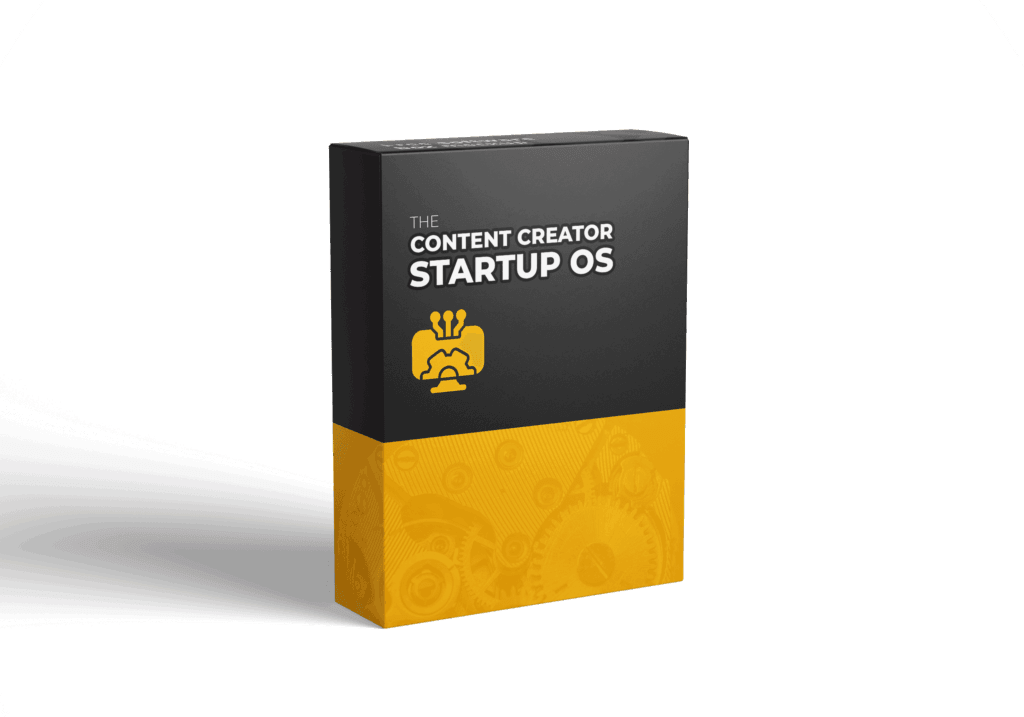 Here's some of what you'll learn inside the course:
👉 The absolute FIRST THING to do even before starting to create a single piece of content (I learned this from Gary Vaynerchuk probably the biggest social media guru & advocate of the last 20 years… Yet it has nothing to do with social media. I also witnessed successful people ignoring this advice ending up paying thousands of dollars trying to fix this stupid $10 mistake down the road)
👉 How to build a minimum viable system to get started on the right foot
👉 The exact reason and "quick fix" to why so many creators fail miserably in creating content online (and how to not be one of them)
👉 Why trying to get everything perfect and tuned-in from day one is the biggest mistake you can make (and what to do instead)
👉 The best time to launch your website… (and exactly why!)
👉 How to create an agile system where you're in control (you'll not be tied or locked into a proprietary system and will be able to switch tools in the future for any reason)
👉 Should you use a blog or publish on social media? (and what's the exact thought process you need to adopt… and the solution if you're not "social media friendly")
👉 What's the exact best way to monetize your content when getting started: ebooks, online courses, coaching,…? (Or maybe something else?)
👉 How to actually sell and set up your first funnel
👉 How to choose a good hosting service (Most of them charge a fortune for no good reasons… and the one I use located in a neutral country that uses facial recognition and "vein scanning" to keep their datacenter secured)
👉 How to choose between Square, Wix, WordPress and co?
👉 The only 3 themes that I would recommend running your website on (and the reason why I picked them)
👉 Which platforms should you use? Twitter, Youtube, Facebook, …?
👉 The number 1 reason why 95% of tools creator use are useless and overpriced (and my exact "cutting through the noise" process)
👉 Why using overcomplicated tools are a waste of time and money (and the stupid simple solutions I use)
👉 An easy-to-skim PDF with all my recommandations to build your tech stack quickly, effectively, and without breaking the bank (But be warned: no biased recommendations here! I'm even going to offer you free crash courses for some of them… All details provided inside the course)
👉 Is email really the best and only way to build a relationship with your audience? Are there better alternatives out there? (If yes, what are they?)
👉 Why the vast majority of autoresponders are nothing else but thieves, unethical, and totally overpriced… (and the only 2 cost effective solutions that work for beginners, intermediates, and even pros! – I've recently reviewed my list to keep only what I think are the best options out there.)
👉 The only way you should set up your autoresponder effectively (Forget about complicated funnels that take 2 weeks to set up… This alone is the conclusion of sending out millions of emails myself as as one-man band!)
👉 How to choose your autoresponder the right way: Exactly how to pick the right one and make the right decision. (This is in my biased opinion the most ethical recommendations that you'll find on the internet because it's a result of using autoresponders for over a decade)
👉 And much more…
By the end of this Training:
✅ You'll know exactly how to structure your business to get started
✅ You'll have a clear (and freakin' simple) roadmap to follow
✅ You'll know exactly what tools (and most importantly: WHY to choose them)
✅ You'll be able to get started with the confidence of doing things the right way
THIS COURSE IS FOR YOU IF…
👉 You're just starting out
👉 You're completely lost
👉 You don't have a lot of time
👉 You're not a tech-savvy person
👉 You want to get started on the right foot as fast as possible
THIS TRAINING
WON'T
COST

YOU ANYTHING!

Let me ask you a simple question:
How much time, energy and money did you already lose in trying to get started?

At the best, days, weeks, or even months?

Okay. And how much is your time actually worth?
$20, $50, $100 / an hour…

Probably WAY MORE than the price of this course…

Given the fact that this course will help you save endless hours of frustration, give you back your mental clarity and sanity… You'll make the investment for this course back at LEAST 10 times…
🏅 100% RESULTS – GUARANTEED 🏅
I'm not going to offer you a boring money-back guarantee. Money back-guarantees are stupid and don't move the needle. I'm going to offer you something better… Yes:
TANGIBLE RESULTS!
If you're here, you have a problem and you want a solution. And I know that this course will help you. But don't take my word for it – try it for yourself for one FULL YEAR.
Put it into practice, and if you don't see results, I'll work with you personally 1 on 1 FOR FREE until you get there.
IF YOu're really serious…
There's simply NO WAY you can lose!
STOP WASTING YOUR TIME IN TRYING TO FIND EVERYTHING OUT BY YOURSELF…. BE OPERATIONAL WITHIN THE NEXT 48 HOURS

SET UP YOUR COMPLETE
OPERATING SYSTEM NOW:
Full Access To The Video Course
For Only A One-Time Payment of $150
🔐 ✅ The checkout process is fast and secure
🤔 NOT SURE IF THIS COURSE IS FOR YOU?
Ask before you buy : matt[at]mattgiaro.com
You can expect an answer within 24 hours.